It's not "charity," but an investment in a future of peace and freedom. That's how President Volodymyr Zelenskyy described US support for Ukraine during his powerful speech to a joint session of Congress in December. Nine days earlier, in a statement following their virtual meeting with Zelenskyy, the leaders of the Group of Seven (G7) similarly highlighted this theme of investing in Ukraine for the long term, including encouraging "private sector led growth" in plans for Ukraine's post-war economy.
Even as they confronted the war's near-term challenges, such as Russian attacks on Ukrainian energy and civilian infrastructure, G7 leaders recognized the urgent need to establish a body to coordinate the planning and execution of the enormous rehabilitation and reconstruction effort Ukraine will require. The leaders directed the creation of a "Donor Coordination Platform" and a supporting secretariat. Senior officials from each G7 nation and Ukraine met on January 26 to begin organizing the platform.
When the Donor Coordination Platform next convenes in March, the agenda must include identifying ways to mobilize Ukrainian and international companies to support the reconstruction effort—for example, by establishing a private-sector advisory board for the Donor Coordination Platform. Humanitarian aid and direct government budgetary support are rightly the short-term priorities of today's civil assistance to Ukraine. Along with military equipment and training for Ukraine's armed forces, this aid must continue for Ukraine to survive the winter. But it will take more than government aid alone to rebuild Ukraine's economy.
The private sector can make a substantial contribution to this rebuilding campaign. There are international infrastructure firms ready to invest in Ukraine's future. Private companies could offer donors and international institutions valuable project-management expertise learned from their work in other post-disaster and post-conflict zones. Companies can streamline logistics and provide oversight of the operationalization of funds in challenging environments. They can leverage private-sector financing to complement financial and insurance guarantees that we trust governments and international financial institutions will make available. The recent announcement that Kyiv and the US-based investment firm BlackRock will coordinate "potential investors and participants" in reconstruction is a useful first step, if it then connects to the G7 platform and encourages wider private-sector involvement.
There is not yet any engagement mechanism for the private sector that parallels the "Ramstein" effort established in 2022 to produce, procure, and deliver military equipment to Ukraine. Getting the private sector involved now will pay future benefits. It will enable Ukrainian firms to establish partnerships with international companies that can create employment and economic growth, which can then attract more investment. These partnerships can help create a productive, competition-based, and law-abiding economy, which, given Ukraine's history of corruption, Ukrainians will want and international donors will require.
Mobilizing the private sector is also one antidote to donor fatigue, which has grown as governments have committed more taxpayer money to support Ukraine. A recent poll by the Chicago Council on Global Affairs found that 40 percent of Americans favor continuing the current level of assistance to Ukraine indefinitely, down from 58 percent in July.
Getting the private sector involved, however, will not be easy. Ukraine remains under fierce Russian attack. No one knows how much rebuilding will really cost or when it can begin at large scale.
These challenges can be met in partnership with the Ukrainian government. Kyiv is focused on securing the seventeen billion dollars that the World Bank has identified as Ukraine's "first stage, rapid recovery" needs in 2023. While meeting these needs, private-sector donors can put anti-corruption benchmarks into aid contracts, which in turn could serve as a template for future investment agreements through the Donor Coordination Platform and a catalyst for political reform. Zelenskyy's recent moves against corruption in the government are also a strong signal to Ukrainians and to international investors that Ukraine is a full partner in fighting corruption.
On the donor side, the World Bank Group's Multilateral Investment Guarantee Agency should finish its work on a preliminary risk insurance framework for firms seeking to operate in Ukraine. This will provide a template for the export credit agencies of individual nations, which should also be authorized to provide full risk insurance (including acts of war) to national firms willing to invest in Ukraine's recovery.
In Washington, Zelenskyy reminded Americans and the world that today's fight against aggression is about what life should be like tomorrow. G7 leaders have identified an important coordinating mechanism to help create a brighter future for Ukraine. The sooner systematic planning for the country's rebuilding begins, and the earlier and more fully those conversations include the private sector, the better placed nations will be to further support Ukrainians in their quest to become a free and prosperous nation.
---
Marc Grossman is a former US undersecretary of state for political affairs and US ambassador to Turkey. He is a vice chairman of The Cohen Group, which has clients in the architecture and engineering sectors operating globally, including in Ukraine.
Kurt Volker served as US special representative for Ukraine negotiations from 2017 to 2019 and as US ambassador to NATO from 2008 to 2009. He is a distinguished fellow at the Center for European Policy Analysis.
Earl Anthony Wayne is a former US ambassador to Argentina and Mexico, and assistant secretary of state for economic and business affairs. He is a nonresident senior fellow at the Atlantic Council's GeoEconomics Center, a public policy fellow at the Woodrow Wilson International Center for Scholars, and a distinguished diplomat in residence and professorial lecturer at American University's School of International Service. 
Further reading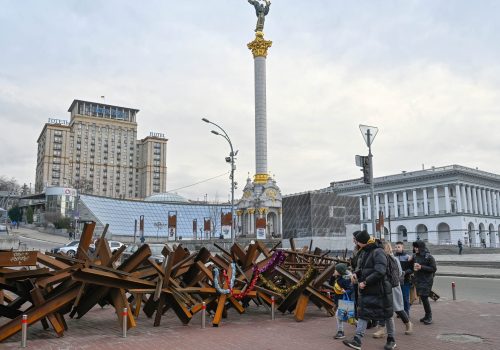 Wed, Feb 1, 2023
UkraineAlert By Seba Salim, Sarah Page
There is still no end in sight to the Russian invasion of Ukraine but the international community must not delay efforts to revive Ukraine's economy by supporting the country's vibrant SME sector.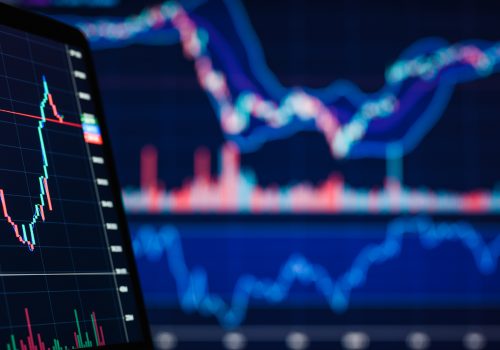 Thu, Jan 26, 2023
Econographics By Charles Lichfield, Maia Nikoladze, and Castellum.AI
The effects of sanctions on the Russian economy; Venezuela's pursuit of lifting energy sanctions; the plans for screening EU-US outbound investment going into China.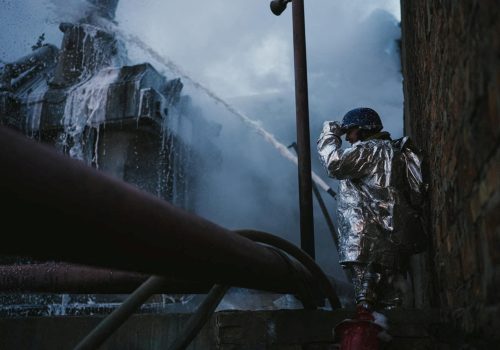 Fri, Jan 13, 2023
UkraineAlert By Suriya Evans-Pritchard Jayanti
Efforts to repair damage to Ukraine's electricity system caused by Russia's strategic bombing campaign are being hampered by a shortage of critical transformers, writes Suriya Evans-Pritchard Jayanti.