This article was updated on June 21.
Imran Khan, Pakistan's former prime minister, has been on the warpath in the streets of Pakistan against the military-led establishment ever since he was voted out by parliament last year. Once seen as the military's darling and reportedly assisted by the military and its intelligence agencies in the elections that brought him to power in 2018, he has now turned on the army and its chief. In an interview with the Atlantic Council this week, he also claimed that the former army chief General Qamar Javed Bajwa told him "frequently" that the army was not equipped or prepared for a war with India.
In the interview, conducted June 18, Khan confirmed that there was indeed an opening for peace with India—despite New Delhi's rescinding of disputed Jammu and Kashmir's semi-autonomous status in 2019—and the Pakistani army chief favored it. (Bajwa had previously revealed this plan to reporters.) Normalizing trade between the two nuclear-armed countries was reportedly one of the steps that was to be taken before Indian Prime Minister Narendra Modi could visit Pakistan.
Watch the full interview
However, despite successfully deescalating a military standoff in 2019, Khan couldn't explain why he faltered on trade normalization with New Delhi after India changed its relationship with the disputed territory of Kashmir by removing its special status in the Indian union. Khan responded to India's Kashmir move by closing the border for trade with India.
"I don't remember the trade talks," Khan said. "All I know is that there was supposed to be a quid pro quo. India was supposed to give some concession, give some sort of a roadmap to Kashmir, and I was going to then host Prime Minister Modi in Pakistan. But it never materialized."
Bajwa's plan, which included a ceasefire with Indian forces on the Line of Control in Kashmir, was a lost opportunity for establishing long-term peace with Pakistan's archrival. "I tried everything, but I came across this brick wall," Khan said. "And I realized it's something to do with the RSS-BJP [the Modi-aligned ideological movement and political party] mentality where they've cashed in on hostility with Pakistan. That's all."
Currently, Khan says he is facing nearly 160 legal cases, ranging from terrorism to corruption to conspiracy against the state—a roster that keeps him busy court-hopping to secure bail or relief. The seventy-year-old former cricket champion-turned-populist firebrand spends his weekdays commuting from city to city in protective gear to attend court hearings. Every evening, he addresses his followers on YouTube from his residence in Lahore, which just last month was surrounded by security forces.
Khan said he fears that he may be incarcerated over the next two weeks but admitted that he's "prepared for everything," including the prospect of being assassinated. (Khan was wounded in an assassination attempt last November and claims to have survived another plot in March.)
Reviewing his performance as premier, Khan admitted to political blunders during his tenure, including granting an extension of service to Bajwa, who Khan claims was responsible for engineering his ouster. He did not elaborate on the exact reasons for their break-up.
Khan confessed that he was dependent on the military's clout to push his reforms through parliament because he had a weak coalition government with a razor-thin majority. But this admission—needing the military to remain in power—runs counter to his claim that he didn't need or get the military's support to achieve power in the 2018 general elections.
"If you want a reform program and to take on the big mafias, you cannot do it if you have a coalition with government, with a thin majority, you can't do it," Khan said. "So that is the mistake I made. And that's why I became more and more dependent on the army chief, because he could get a budget passed because they have the clout. It's exactly what's happening right now. If the military withdraws support, this coalition would fall apart in days."
Crucially, Khan also said he sacked the current army chief, General Asim Munir, from his previous position as the director-general of the Inter-Services Intelligence (ISI) because he "couldn't work with him." He did not explain why. Yet he went on to declare his willingness to talk to the all-powerful chief of army staff now—but not to his civilian counterparts—an unsustainable position in a multi-party parliamentary democracy that he wants to lead again. Claims by former members of Khan's own party suggest that Khan sacked Munir because he had alleged that Khan's wife was involved in corruption; Khan has denied these allegations.
While Khan defended his economic and foreign policy record and claimed that his Pakistan Tehreek-e-Insaf (PTI, or Movement for Justice) is the most popular party in the country's history, he also claimed that ceding further space to Pakistan's all-powerful military while he was in power was the right thing to do—until it wasn't.
But as Pakistan faces the prospect of economic default, and his quest for an immediate election seems to be waning, Khan stands isolated. Over one hundred of his party leaders, including many senior deputies, have left the PTI, through what he claims is coercion by the military. Thousands of party workers face trials over the riots of May 9, when many Pakistanis took to the streets to attack government and military installations while protesting what Khan says was his provocative detention, designed to trigger mass outrage.
"The country is going into a black hole," he said. "The only policy is to get rid of Imran Khan. That's no policy. I mean, what is the future of Pakistan?"
Meanwhile, the military-backed regime continues its legal and information crackdown against sections of the press and public who dare to support Khan on mainstream and social media. Also, as the military claims that Khan and the PTI leadership tried to sow dissent in the rank and file of the all-powerful army—treason by definition and law—Khan has denied that he has any active links to senior military leadership.
None of Pakistan's foreign friends and allies have issued any statements in favor of Khan. The US State Department said last week that it would refrain from comment as Khan is a "private citizen"—a categorization that he shrugged off without expressing regrets about his bashing of the United States following his ouster. Khan continued to blame a senior US official for, as Khan claims, making his removal as prime minister a condition for US assistance and goodwill—a claim that he watered down earlier this year while blaming Bajwa for poisoning the US view of Khan through Husain Haqqani, Pakistan's former ambassador to Washington. (Haqqani has rejected Khan's allegations as baseless and his attorney has issued a cease-and-desist notice to Khan, threatening legal action if Khan keeps on alleging Haqqani's involvement in the former premier's ouster. The US State Department has said that "there is not and there has never been a truth to" Khan's claims that the United States was involved in removing him from power, adding that "we will not let propaganda, misinformation, and disinformation get in the way of any bilateral relationship, including our valued bilateral [partnership] with Pakistan.")*
Further evidence of Khan's shifting position is his party's active support for lobbying efforts inside the United States, including letters from members of the US Congress admonishing the Pakistani military's crackdown. Furthermore, not a single influential member of the fifty-seven-state Organization of Islamic Cooperation (OIC), a grouping that Khan claims to have galvanized, has come out in support of him.
Khan has responded by saying that as long as he has the people of Pakistan behind him, he doesn't need foreign help. How he will do this now is unclear considering that many of his party's senior leaders have deserted him after having been arrested and released by the authorities. Khan claims they were coerced and has named new, younger members to replace them. He believes strongly that he is still the most popular political leader in Pakistan and this will help him yet again in the elections that currently are expected to be held in October or November.
Khan said that popularity is the reason why his enemies have tried to kill him. "As long as that reason is there, they could try again," he said. "So, in that sense, mentally, I mean I have overcome the fear of dying. I feel that I should be prepared for everything."
---
Wajahat S. Khan is a nonresident senior fellow at the Atlantic Council's South Asia Center and an Emmy-nominated journalist and author. He is the former bureau chief in Kabul and Islamabad for NBC News.
This article was updated to include the US State Department's denials of Khan's allegations about US involvement in his ouster.
Further reading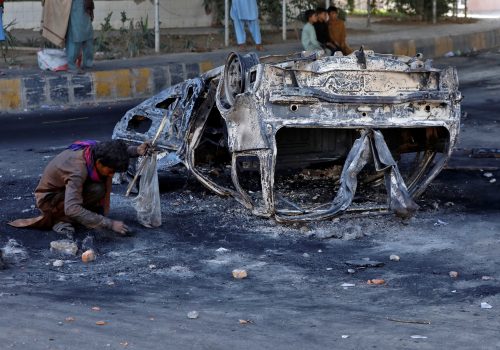 Mon, May 22, 2023
SouthAsiaSource By Roohan Ahmed
Imran Khan, Pakistan's populist former prime minister, is facing the biggest test of his political career as he challenges the very same security establishment that accelerated his journey to power in the 2018 elections.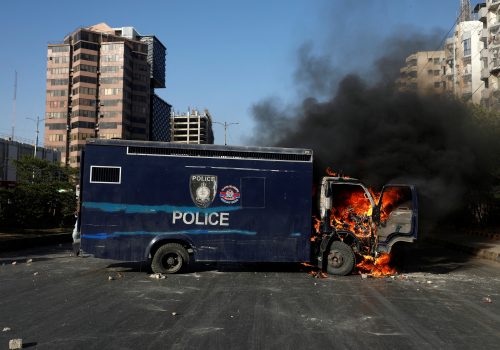 Wed, May 10, 2023
SouthAsiaSource By South Asia Center and other experts
On March 9, 2023, former Prime Minister of Pakistan Imran Khan was arrested over corruption charges. We asked experts to react to this decision.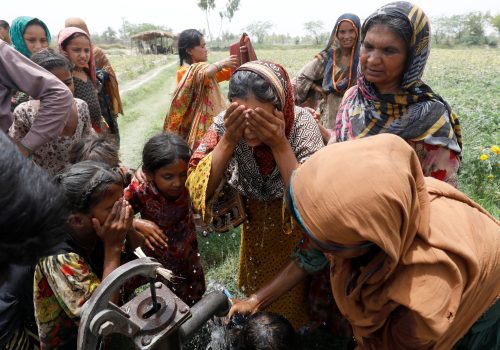 Wed, May 3, 2023
SouthAsiaSource By Fatimata Ndiaye, Ishani Srivastava, Estelle Thomas, and Yiran Zha
A field study of women entrepreneurs in urban Pakistan, commissioned by the South Asia Center in conjunction with Johns Hopkins University and the American Pakistan Foundation, revealed how technology solutions can support women to jumpstart their entrepreneurial ventures.