A lasting legacy of India's G20: Trade opportunities for small businesses
India's presidency of the Group of Twenty (G20) runs until December 1, when the rotating position will pass to Brazil. But even with several weeks left, it is an opportune moment to take stock of what India's leadership has accomplished. There is, of course, the September 9-10 G20 leaders' summit in New Delhi and the meaningful communiqué that came out of it, for which India is rightfully being lauded for its adroit navigation of immensely challenging circumstances. As the Atlantic Council's Kapil Sharma has highlighted, India demonstrated a new model of diplomacy built on consensus, inclusiveness, and solutions.
The G20 Summit's highest-profile outcomes include progress on digital public infrastructure, crypto regulation, climate financing, and reform of multilateral development banks. But the India-led G20 has also delivered several outcomes that, while lower-profile, nonetheless could result in big gains, most notably for micro-, small-, and medium-sized enterprises (MSMEs). For example, the G20 declaration refers to the Jaipur Call for Action, which highlights the need to enhance MSMEs' access to information. The declaration also endorses the Regulatory Toolkit for Enhanced Digital Financial Inclusion of MSMEs and the Financial Inclusion Action Plan, both aimed at improving credit access for individuals and MSMEs.
But arguably the most concrete and impactful outcome for MSMEs is in the "Unlocking Trade for Growth" section of the G20 declaration. This section includes a reference to the High-Level Principles on Digitalization of Trade Documents, which former Assistant US Trade Representative for South and Central Asian Affairs Mark Linscott pinpointed for their importance. And one of the thrusts of these high-level principles is the digitalization and interlinking of countries' trade documentation systems.
It is vital to build on this vision. And e-way bills offer an excellent potential starting point to build momentum toward much more ambitious outcomes, such as paperless trade.
Accelerating the e-way
Waybills are documents issued by carriers of goods containing details and instructions about shipments. The details usually include information about the sender and receiver, the point of origin and destination of the shipment, and the route to be taken. Waybills might seem arcane and mundane to many. But to businesses, especially MSMEs, waybilling processes can make or break their ability and appetite to participate in global trade.
Delays in generating or approving waybills can leave shipments stuck in customs for prolonged and unpredictable durations. These delays and uncertainties are detrimental to the credibility of MSMEs, which must earn and grow their reputations by delivering quality goods on agreed-upon timelines. In addition, the cost escalations and working capital issues caused by customs delays and uncertainties can wreak havoc on the often-fragile balance sheets of MSMEs.
Conversely, electronic waybills—or e-way bills—and interlinked e-way billing systems can dramatically increase MSMEs' ability to participate and compete in global trade. India's implementation of the nationwide Goods and Service Tax regime—with e-way billing playing a vital role—reduced turnaround times for trucks in road transport by 18 to 20 percent within a year of its introduction in 2017. This represents a dramatic improvement in times and costs for all businesses, but even more so for MSMEs.
E-way bills and the interconnection of e-way billing systems may also be an area ripe for immediate agreements between countries on bilateral or multilateral bases. E-way bills could thereby help build further momentum toward more ambitious digitalization and the integration of trade documentation, potentially along the lines of Singapore's TradeNet and Taiwan's TradeVan. TradeNet's impact has been revolutionary: it helped traders to reduce their processing times in Singapore for trade documentation from fifteen to twenty days prior to its introduction in 1989 to less than fifteen minutes in subsequent years, saving businesses four million dollars per year in associated process fees. Similarly, following its launch in 1990, TradeVan helped speed up Taiwan's customs processes from four hours to less than fifteen minutes.
Based on TradeNet, TradeVan, and other efforts, an Asia-Pacific Economic Cooperation report estimates reductions in transaction costs of 15-45 percent, depending on the extent of paperless trading implemented by a country. The report also highlights the potential impact of paperless trading on MSMEs' access to the new opportunities in world trade.
India's G20 presidency has therefore quietly but tangibly elevated the important topic of digitalized trade systems on the agendas of the leading governments, economies, and multilateral development bodies of the world. In doing so, India's G20 presidency has laid the groundwork for substantial improvements in MSMEs' access to global trade. India's Ministry of Commerce and Industry, which led the G20's Trade and Investment Working Group, deserves substantial plaudits for championing the High-Level Principles on Digitalization of Trade Documents. The ministry did so out of recognition of both the importance of these principles and the higher potential for consensus among G20 members on this aspect of trade facilitation.
Small steps, big effects
In the months ahead, countries can build on these foundations to harmonize and interlink their customs systems, with e-way billing offering a good starting point. They could do so bilaterally or as groups. The supply chain pillar of the Indo-Pacific Economic Framework for Prosperity (IPEF), for instance, presents an opportunity for increasing digitalization and further interlinking the customs processes of all the countries involved.
To be sure, harmonization of customs processes—even just for e-way billing—is by no means easy or assured. It will involve negotiation and potential compromises from the countries involved. Authorities in these countries may need to change parts of their systems and may hesitate to do so. Ironically, even some MSMEs that are already thriving in the current environment might oppose any change. MSMEs that are already reaping the gains of global trade might prefer to maintain higher barriers to entry for other MSMEs, which would be new sources of competition.
However, in a global environment that is ever-more challenging for trade negotiations, the digitalization and interlinking of waybilling represents a low-hanging fruit that is ripe for the picking. G20 countries—perhaps India among them—will hopefully pick this fruit, leveraging the momentum generated by the G20 Trade and Investment Working Group. This would help to further increase the momentum, potentially enabling IPEF members and other countries to follow suit.
The most incremental-seeming improvements can often unleash dramatic results by virtue of being easier and quicker to implement. It is encouraging to see India's Ministry of Commerce and Industry prioritizing such often overlooked and yet immensely valuable gains for MSMEs alongside higher profile issues.
---
Gopal Nadadur is a nonresident senior fellow at the Atlantic Council's South Asia Center and is also vice president for South Asia at The Asia Group.
Further reading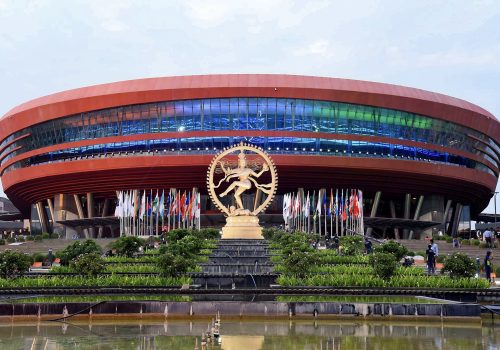 Thu, Sep 7, 2023
New Atlanticist By Hung Tran
New Delhi has raised the prospect of G20 membership for the African Union, reform of global financial institutions, restructuring of sovereign debt, and additional climate financing.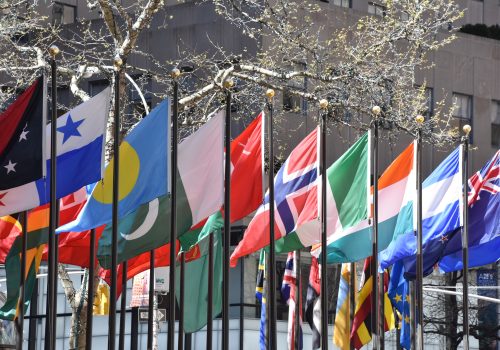 Thu, Jul 27, 2023
Econographics By Hung Tran
The G20's recent meeting failed to make progress on sovereign debt restructuring, disappointing low and middle-income countries. Zambia's deal favored China's preferences, revealing the challenges in establishing an equitable framework for debt relief.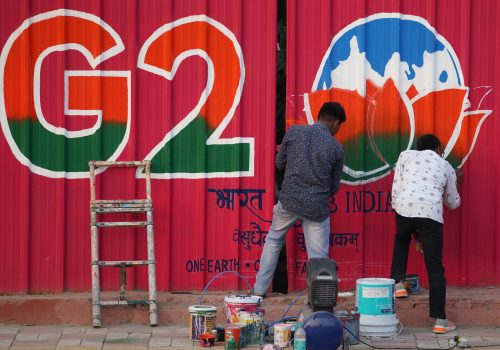 Tue, Aug 8, 2023
New Atlanticist By Mark Linscott
The upcoming summit in India can focus on hammering out statements that move the needle in limited ways on health, trade, digital governance, and climate change.