India has rolled out the red carpet in 2023 for the largest economies in the world. Already, it has hosted dozens of meetings for Group of Twenty (G20) government officials across the breadth of the country, from Goa to Bengaluru, and no doubt these foreign visitors have been bedazzled by the breathtaking color and diversity that is India. This is all leading up to September 9, when G20 heads of state and government will meet in New Delhi.
Amid the hoopla and meetings, the G20 deserves a critical examination of its relevance so that observers can set realistic expectations. Certainly, the G20 is an important forum for promoting global engagement across the range of issues that bedevil collective efforts to seek a better, more prosperous, happier planet. Like previous hosts, India has been serving up a wide-ranging buffet of global issues, including finance, trade, energy, climate change, health, and even tourism during its year-long G20 presidency. It is hard to argue against the value of gatherings among top officials of nations that account for more than 80 percent of the world's gross domestic product, three-quarters of world trade, and more than two-thirds of the world's population.
Is there sufficient common ground among the world's largest economies to allow for specific achievements?
However, it is a pertinent question whether the G20 can produce transformational results that measurably advance its members' shared interests. Is there sufficient common ground among the world's largest economies to allow for specific achievements? A survey of recent communiques from previous G20 leaders' meetings might leave the casual reader perplexed, as they devote a lot of words to statements that offer little to impress.
I confess to having a biased perspective based on my limited personal experiences as the first US representative to the G20 Trade and Investment Working Group, established in 2016 during China's presidency, and as an assistant US trade representative from 2012 to 2016. Then, my focus was on defending and projecting US trade interests to avoid any communique language that might prejudice our positions in the World Trade Organization (WTO) or in regional groupings, such as the Trans-Pacific Partnership negotiations. This kind of damage control was hardly a visionary approach to finding opportunities for the world's leading economies to develop consensus on ambitious outcomes. In fact, the most specific results achieved on trade in 2016—commitments from China related to WTO negotiations on freeing up trade in environmental technologies and creating an effective global forum on over-capacity and over-production in the steel sector—collapsed soon after the ink was dry.
This year, the war in Ukraine has stymied progress on multiple fronts.
The G20, however, has been effective in the past. During the 2008 global economic downturn, for example, G20 members gathered in Washington to pledge coordinated fiscal stimulus to prevent the financial crisis and global recession from worsening. In 2009, G20 leaders used summits in London and Pittsburgh to reinforce the actions initiated the year before. Since then, the G20 has also provided critical moments for bilateral meetings between leaders, which may be the most durable value these summits offer, now and in the future.
This year, the war in Ukraine has stymied progress on multiple fronts. At a meeting last month, the G20 finance ministers failed to conclude a joint statement as they tussled over how to frame the conflict and assign blame to Russia. Nonetheless, the massive G20 agenda continues to attract stakeholders' attention in very diverse global policy areas. Discussions so far have covered post-pandemic mechanisms to ensure accessibility and equity in delivering vaccines to citizens in all nations. Supply chains, stretched thin in current crises, are also a hot topic, getting focus in several separate G20 working groups. Responses to climate change continue to climb up the G20's agenda, as well. And a range of digital issues present ongoing challenges, even as India promotes its vision of digital public infrastructure.
When very serious economic downturns occur and threaten global financial collapse, the G20 governments should be expected to muster forces and attempt coordinated deployment of their fiscal and monetary tools to avert disaster. But when a global economic downturn is not in the offing, then perhaps it is more realistic to expect—and to be content with—generally modest results on a wide-ranging agenda.
This month's G20 in India can focus on hosting important discussions, establishing person-to-person contacts, and hammering out statements that move the needle in very limited ways on health, trade, digital governance, and even climate change. As such, this and future G20 meetings can play an important supporting role to other international groupings, such as the WTO, the World Health Organization, and the United Nations Framework Convention on Climate Change, which will also seek to make an impact in these areas. At the same time, India and future G20 presidents can continue to showcase their tourist hotspots and cultural heritage as the centerpieces of their year in the spotlight. After all, to paraphrase Shakespeare, all the world is a stage, and this is India's moment to play its role.
---
Mark Linscott is a nonresident senior fellow with the Atlantic Council's South Asia Center. Prior to joining the Atlantic Council, Linscott was the assistant US trade representative for World Trade Organization (WTO) and multilateral affairs from 2012 to 2016 with responsibility for coordinating US trade policies in the WTO.
Further reading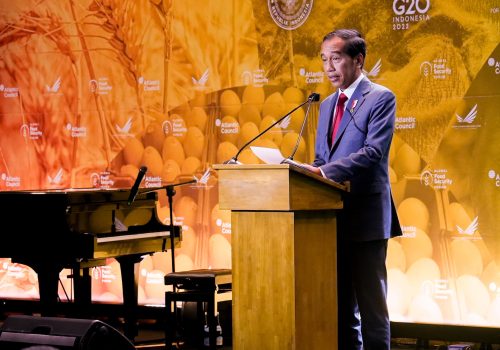 Sun, Nov 13, 2022
New Atlanticist By John Cookson and Daniel Malloy
The Atlantic Council's first Global Food Security Forum brought together elected leaders, policymakers, and experts to tackle a worsening international crisis.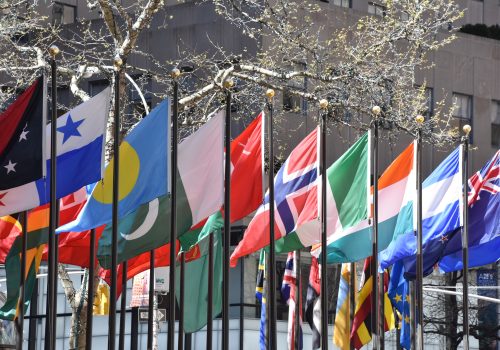 Thu, Jul 27, 2023
Econographics By Hung Tran
The G20's recent meeting failed to make progress on sovereign debt restructuring, disappointing low and middle-income countries. Zambia's deal favored China's preferences, revealing the challenges in establishing an equitable framework for debt relief.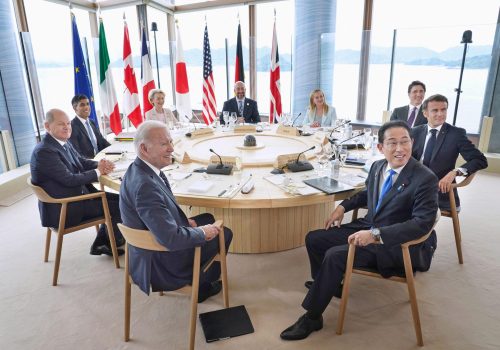 Sat, May 20, 2023
New Atlanticist By Atlantic Council experts
As leaders of the Group of Seven countries gather in Hiroshima, Atlantic Council experts share their insights on what is coming out of the summit about Russia, China, the global economy, and more.