Experts react: Did India's G20 just crack the code for diplomatic consensus?
Last month, India successfully landed its Chandrayaan-3 spacecraft on the moon. This weekend, at a futuristic convention center in New Delhi that looks like a flying saucer, another landmark landing was achieved. The Group of Twenty (G20) approved an eighty-three-paragraph leaders' declaration, covering issues ranging from plastic pollution to terrorism. While consensus among the world's wealthiest countries is always difficult—and the absence of Chinese leader Xi Jinping and Russian President Vladmir Putin lowered expectations further—Indian Prime Minister Narendra Modi guided home the declaration, which welcomed the African Union as a new member to the group, among other important points.
Below, Atlantic Council experts explore the communiqué and other milestones from the G20 Summit, along with the new diplomatic frontiers that lie ahead.
Click to jump to an expert analysis:
Kapil Sharma: India forges a new model of inclusive diplomacy
Michael Schuman: Modi cemented his leadership of the Global South, while Xi 'contained' himself
Rama Yade: As it joins the G20, the African Union could accelerate its own reforms
Josh Lipsky: Don't expect Xi to snub the G20 again next year
Jonathan Panikoff: New rail plans mark the end of a tumultuous US-Saudi period
Hung Tran: Modi delivers useful, if not spectacular, results
Nicole Goldin: The G20 communiqué was ambitious, but had a few major holes
Olga Khakova: G20 leaders should have called out Russia for global food and energy insecurity
Joseph Webster: Coal is the greater climate problem, but hydrogen takes center stage
Mark Linscott: India pulled off a well-managed G20 that found a way forward on trade
---
India forges a new model of inclusive diplomacy
In the lead-up to the 2023 G20 Summit, there was much focus on Putin and Xi choosing not to attend the meeting. Observers believed that their absence was a direct affront to India and would ultimately overshadow India's presidency and its G20 objectives. But as the summit came to an end, it was clear that India's objectives were not derailed, and three key themes emerged: consensus, inclusiveness, solutions.
Consensus: Russia's war in Ukraine loomed throughout India's presidency and had divided G20 countries. It was unclear if and how the conflict would be addressed and whether it would prevent the agreement of a final G20 communiqué. However, after three hundred bilateral meetings, two hundred hours of negotiations, and fifteen drafts, Modi and his team were able to bring consensus on the Russia-Ukraine paragraphs in the final G20 communiqué.
Inclusiveness: As part of India's positioning to be the voice of the Global South, India shepherded the African Union's inclusion as a permanent member of the G20. India also pushed for, and countries agreed to, major reforms at global institutions such as the World Bank and International Monetary Fund.
Solutions: India successfully promoted its Digital Public Infrastructure plan as an exportable tech solution for financial inclusion. While it's unclear whether other countries are capable of replicating India's digital plan, it has found a niche that goes above and beyond simple capital financing.
With more than two hundred meetings in over sixty Indian cities, Indian officials were intent to make their presidency about representing marginalized voices and the Global South. While India was disappointed not to have Putin and Xi present, this G20 Summit was not about how diplomacy has been done, but rather how diplomacy can be done. In the end, India's diplomacy demonstrated its ability to take on current geopolitical disagreements and represent those countries who have felt marginalized for decades.
—Kapil Sharma is the senior director of the Atlantic Council's South Asia Center.
---
Modi cemented his leadership of the Global South, while Xi 'contained' himself
This year's G20 summit will be remembered not for who was there and what they did, but for who wasn't: The absence of Xi was the big story and will cast the longest shadow over world affairs. Xi's decision not to attend was likely an attempt to discredit the G20 as a forum for international cooperation and represents his intensifying opposition to the established world order and resistance to multilateral cooperation. Setting Xi's G20 snub next to his appearance at the August summit of the BRICS economic grouping of Brazil, Russia, India, China, and South Africa, and the planning of the third Belt and Road Forum in October, suggests that he intends to promote alternative and competing organizations that he can more easily manipulate or control to serve China's global interests.
This G20 also represents an acceleration in the contest between China and other major powers for influence in the Global South. Modi proved that he is becoming a more important figure in the Global South and a counterweight to Xi within the developing world. While Xi apparently plans to rally the developing world in support of China's anti-American agenda, Modi is offering an alternative vision of North-South relations that is focused on enhancing the voice of developing countries in global governance while at the same time cooperating—rather than confronting—the West. Modi's advocacy of G20 membership for the African Union was a wise geopolitical maneuver that makes the forum even more inclusive.
In that way, Xi turned out to be the biggest loser of the summit. By vacating the scene, he allowed Modi and Biden to promote their own views and influence. Rather than Xi's snub spoiling the summit, the G20 went on without him. Chinese leaders seem to fear being "contained" by the United States and its partners; with his withdrawal, Xi is doing a pretty good job of containing himself.
The summit, therefore, highlighted China's growing isolation from most of the world's major powers. In that way, it could also be a worrisome sign that international cooperation on key issues such as climate change could become even more challenging.
—Michael Schuman is a nonresident senior fellow at the Atlantic Council's Global China Hub and a contributing writer for the Atlantic magazine.
---
As it joins the G20, the African Union could accelerate its own reforms
The first decision of the G20 Summit held in New Delhi under the chairmanship of Modi was to admit the African Union (AU) as a member of the group. For India, it is a success: The country has proved its ability to promote the so-called Global South at the highest level. After almost a decade of advocacy, the AU, with its 1.4 billion people and three-trillion-dollar gross domestic product, will be seated at the same table as another regional organization, the European Union, and the world's richest countries.
According to the G20 communiqué released by India: "We welcome the African Union as a permanent member of the G20 and strongly believe that inclusion of the African Union into the G20 will significantly contribute to addressing the global challenges of our time."
Bola Tinubu, Cyril Ramaphosa, and William Ruto—the presidents of the leading African economies, Nigeria, South Africa, and Kenya—as well as the current chairman of the African Union (Comoros President Azali Assoumani), were present for this "historic moment," as Senegal's Ministry of Foreign Affairs put it. "Congratulations to all of Africa!" added Senegalese President Macky Sall, who chaired the African Union in 2022 and has never stopped being a vibrant advocate of AU integration with other multilateral institutions.
Until now, only South Africa, a permanent member of the club, could represent the continent, and the African Union was only invited as a guest. Africa's entry into the G20 is a true success, coming a few days after the enlargement of the BRICS group. Given their strong presence in both the BRICS and the G20, Africans are embracing their culture of geopolitical neutrality that they have been advocating for in recent years, while also reaching a central position in multilateral discussions.
As a full member, the African Union will weigh in on G20 commitments and prioritize its primary interests, such as debt restructuring, the reform of the international financial architecture, and climate funding—as long as African countries, like European countries, overcome their divisions. It may take a stronger AU Commission to harmonize African countries' various positions. AU Commission Chairperson Moussa Faki should be able to be a credible interlocutor for European Commission President Ursula von der Leyen.
The necessity to bring a more unified African voice in these international gatherings could accelerate African integration and stronger reforms of the African Union as the organization celebrates its twentieth birthday. The AU is still too dependent on foreign support, which makes up 65 percent of its budget. How can it occupy the G20 seat and make its own choices without budgetary sovereignty? The G20 is only a step, as Africans know that only a seat at the United Nations Security Council will position their continent to wield true political sovereignty. The charge is historic for African Union leaders. But anything less would do a disservice to a continent that, by 2050, will have 2.5 billion citizens emerging on the world stage.
—Rama Yade is senior director of the Atlantic Council's Africa Center and senior fellow for the Europe Center.
---
Don't expect Xi to snub the G20 again next year
The G20 proved its relevance and resilience this weekend. From World Bank reform to adding the African Union as a member to climate commitments, the group made progress on the issues it laid out over one year ago. US President Joe Biden stepped into the void left by Xi and secured new infrastructure deals aimed at connecting India, the Middle East, and Europe. The United States was even awarded the 2026 G20 presidency, reportedly over China's objections.
But to be truly successful long-term, the question of what China wants from the G20 will have to be answered. In the wake of Xi's decision to skip India's G20 Summit (the first ever no-show from a Chinese leader), there's speculation about what China's engagement will be like for Brazil's G20 presidency year—which officially begins Monday.
But it's actually unlikely Xi will skip next year's leaders summit. Why? Look at the numbers:
No one knows quite why Xi didn't show in India. It could be the need to be seen focusing on domestic problems, or China-India rivalry, or a broader signal about how China wants multilateralism to work after BRICS expansion. But one thing is clear: Xi didn't think there was a price to pay for missing the meeting.
Next year, when Brazilian President Luiz Inácio Lula da Silva convenes world leaders, Xi may not be able to make the same calculation.
—Josh Lipsky is the senior director of the Atlantic Council's GeoEconomics Center.
This reaction is adapted from the GeoEconomics Center's weekly Guide to the Global Economy newsletter. If you are interested in getting the newsletter, email SBusch@atlanticcouncil.org.
---
New rail plans mark the end of a tumultuous US-Saudi period
This weekend saw the announcement of the India-Middle East-Europe Economic Corridor (IMEC)—a ship-to-rail transit network that will connect India and Europe through the United Arab Emirates, Saudi Arabia, Jordan, and Israel. The plan is not just a win for US allies in Europe, for the Middle East, and for India. It also provides the most concrete effort to date by the West to counterbalance China's economic investments in the Gulf.
Those in the region who remain concerned about the United States' commitment to the Middle East may minimize the impact of such an agreement; perceptions can be harder to change than reality. If implemented fully in the coming years, however, IMEC has the potential to shift both.
It also should be seen as unofficially marking the end of one of the more tumultuous periods in US-Saudi relations since September 11, 2001. Just over a year ago, it was not clear that the relationship between Washington and Riyadh would improve much before the end of US President Joe Biden's term, and the July 2022 fist bump between Biden and Crown Prince Mohammed bin Salman did little to calm tensions. Three months later, in October, relations appeared to get worse upon Saudi Arabia's decision to cut oil output ahead of the US midterm elections.
But as engagement between Riyadh and Beijing heated up, and as Saudi Arabia sought to calm tensions with Iran to try to ensure its Vision 2030 would not be undermined by security threats, new US efforts to engage Saudi leaders also emerged. Most prominently, efforts toward a deal that would result in Saudi-Israeli normalization continued. That endeavor and a bevy of behind-the-scenes bilateral tracks, on issues such as 6G networks and space exploration, kept the relationship moving forward, albeit slowly.
The US strategic focus will remain on China and on Russia's war in Ukraine. But the Biden administration clearly, and rightly, recognizes that the Middle East cannot be geographically wished away; this is reflected not only by IMEC but also, for example, by additional efforts to negotiate a deal to work with Saudi Arabia to secure lithium and other metals in Africa. The result may be a more realpolitik approach to the region than Biden promised when he campaigned in 2020. But it's also one far more likely to ensure the United States' economic and national security interests in the years to come.
—Jonathan Panikoff is the director of the Scowcroft Middle East Security Initiative at the Atlantic Council's Middle East Program.
---
Modi delivers useful, if not spectacular, results
The 2023 G20 Summit, without Xi and Putin, has delivered practically everything Modi had wanted, with many compromises. Those include a consensus declaration (by not mentioning Russia in the section about the war in Ukraine), the admission of the African Union as a permanent member (a good step forward), continued efforts to deal with climate change (but no hard commitments in phasing out fossil fuels), support for climate financing to assist developing countries (but no hard targets except extending the 2010 pledges by developed countries to transfer $100 billion a year to developing countries to 2025).
The G20 also took on reforms to the multilateral development banks (MDB) to include climate financing in their core missions (no capital increases now but optimizing the MDB balance sheets so they can lend $200 billion more over the next decade) and support for the improvement of the Common Framework for Debt Treatment to facilitate the restructuring of low-income countries' debt. But the Common Framework remains vague without a roadmap specifying a sequence and timeline of steps to be taken once a debtor country asks for a restructuring. In addition, the group adopted several concrete and potentially helpful initiatives such as mapping the global value chain to help countries identify risks, the digitalization of trade documents to expedite trade transactions, and the development of public digital infrastructures to promote financial inclusion and productivity. Also notable is the launch of an India-Middle East-Europe economic corridor connected by railways and ports—in direct competition with China's Belt and Road Initiative.
Overall, the outcomes of the G20 Summit will bolster India's claim to be the voice of the Global South—being able to articulate the demands of developing countries and to engage in negotiations with developed countries to produce useful, if not spectacular, results. This is a good template for Brazil to take up the G20 presidency in 2024 and South Africa in 2025.
—Hung Tran is a nonresident senior fellow at the Atlantic Council's GeoEconomics Center, a former executive managing director at the Institute of International Finance, and a former deputy director at the International Monetary Fund.
---
The G20 communiqué was ambitious, but had a few major holes
With expectations high, the G20 delivered a comprehensive communiqué with wide-ranging, ambitious commitments from digital infrastructure to debt treatments, climate finance to cultural preservation. The outcome is so broad that what is not included could be seen as more notable than what is—though certain detailed elements such as care infrastructure for women's economic empowerment and the creation of an international reference classification of skills and qualifications did not go unseen.
For example, despite a focus on poverty reduction, inclusive growth, and jobs, the communiqué has no mention of informal work, which accounts for a significant share of employment in lower- and middle-income countries—especially among women, migrants, and marginalized populations. Similarly, the communiqué devotes ample attention toward reducing inequality generally and improving the economic and social wellbeing of women and girls, but is devoid of concrete discussion of generational demographic dynamics of older persons and youth who account for the majority of populations. This omission comes even as the G20 is expanding to include the African Union, representing the youngest continent where more than 60 percent of the population is under the age of twenty-five. By 2035 there will be more young Africans entering the workforce annually than in the rest of the world combined.
The addition of the African Union is nonetheless significant, bringing more voice from and relevance to the Global South, especially as the BRICS grouping expands in an effort to counter 'Western' economic dominance and bring more balance to the international order. Achieving—or even getting closer to—the United Nations sustainable development goals, inclusive prosperity, and peace will require inclusive governance at all levels, and India's G20 took many welcome if not high-level steps in this direction. Whether we see real action to reach the destination remains to be seen as the conversation moves to the United Nations General Assembly and the G20 baton passes to Brazil.
—Nicole Goldin is a nonresident senior fellow with the Atlantic Council's GeoEconomics Center and global head, inclusive economic growth at Abt Associates.
---
G20 leaders should have called out Russia for global food and energy insecurity
The G20 leaders united around the importance of addressing food and energy insecurity as part of a broader fight against poverty in their declaration coming out of the summit in New Delhi. But no consensus was reached in calling out Russia's outsized role in exacerbating these global challenges—derailing energy markets and triggering food insecurity to reach its genocidal agenda for Ukraine. This glaring gap in the statement is a missed opportunity to address Putin's evident intention to cause economic and social harm to communities around the world. Europe has spent more than a trillion dollars addressing the energy crisis, money which should have gone to climate action at home and abroad.
Meanwhile, developing nations were outcompeted for energy supplies on the global market thanks to artificial supply shortages orchestrated by Moscow. Moreover, Russia's sabotage of Ukraine's agricultural exports will continue impacting access and affordability of food for millions, spreading famine in the most vulnerable communities. These developments are just the tip of the iceberg in the total bill of Moscow's atrocities. Weak political statements, such as the G20 leaders' declaration, embolden bad actors to continue pursuing egoistic geopolitical agendas at cost of the world's poorest.
—Olga Khakova is the deputy director for European energy security at the Atlantic Council's Global Energy Center.
---
Coal is the greater climate problem, but hydrogen takes center stage
Coal is a far dirtier and emissions-intensive fuel than oil or natural gas and accounted for approximately 44 percent of global emissions from fuel combustion in 2021. One might therefore anticipate that the official communiqué from the G20 convening would discuss coal at length. One would be wrong.
Coal remains too politically sensitive for the G20 to come to a consensus. While coal burn is widely acknowledged as a major contributor to climate change, as well as a cause of certain cancers and asthma, it is also cheap, reliable, and available. Consequently, many countries regard coal as a necessary evil for their energy mix.
The G20 statement's only mention of coal states that it "recognizes the importance . . . [of] accelerating efforts towards phasedown of unabated coal power, in line with national circumstances and recognizing the need for support towards just transitions."
The G20's call for a "phasedown" of coal—versus a more aggressive "phase out"—is notable and a continuation of previous climate statements, including at the twenty-sixth United Nations Climate Change Conference of the Parties (COP26) summit in 2021.
Hydrogen earned an entire section in the G20 statement, but its prominence in the communiqué outstrips its importance in fighting climate change. Let's be clear: Hydrogen is a vital decarbonization technology with many viable use cases, including for the refining sector, fertilizers, steelmaking, shipping, inter-seasonal electricity storage, and more. World leaders need to be talking about hydrogen and other decarbonization pathways. Yet hydrogen also has several limitations, while scarce decarbonization resources are often better deployed in removing coal and greening the electricity grid. That is especially true for China, which accounts for more than half of world coal consumption.
While energy access is undeniably critical for combatting energy and economic poverty, future generations will not be pleased with the G20's failure to address coal more systematically.
—Joseph Webster is a senior fellow at the Atlantic Council's Global Energy Center, where he leads the center's efforts on Chinese energy security, offshore wind, and hydrogen.
India pulled off a well-managed G20 that found a way forward on trade
While the G20 is not renowned for transformational outcomes, except when the occasional global economic meltdown occurs, it is the crucial forum for annual engagement among the world's top economies. In the run-up to the leaders' meeting, it appeared that the hoopla of the August 22-24 BRICS Summit might have stolen the show already, but India and Modi pulled off an extremely well-managed series of ministerials, working group meetings, and private sector engagements that deserve more attention.
The results on trade were respectable but limited. The consensus on World Trade Organization (WTO) reform is familiar and will have virtually no impact on what happens in Geneva. Beyond this, the trade ministers highlighted the importance of global value chains, but it is difficult to see real progress when one group aims to shift value chains away from a fellow G20 member (China). Transparency is welcome in assistance and facilitation programs for micro-, small-, and medium-sized enterprises, but there are no game-changer results in this area. However, the outcomes related to digitalization of trade-related documents could be important.
Trade facilitation and the digitalization of trade documents and importing and exporting procedures have been one of the few bright spots in the deteriorating environment of trade relations and trade negotiations for several years now. In 2014, WTO members concluded an historic agreement—the Trade Facilitation Agreement. The initiative pushed by India on digitalization builds on the WTO agreement and seeks to take it forward in collaborative ways. As the world's major economies continue to fragment and regroup in their trade relationships, G20 efforts on trade facilitation show that there still can be common ground.
—Mark Linscott is a nonresident senior fellow with the Atlantic Council's South Asia Center and former assistant US trade representative for South and Central Asian Affairs.
Further reading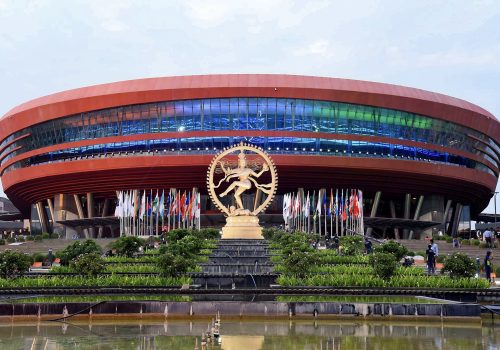 Thu, Sep 7, 2023
New Atlanticist By Hung Tran
New Delhi has raised the prospect of G20 membership for the African Union, reform of global financial institutions, restructuring of sovereign debt, and additional climate financing.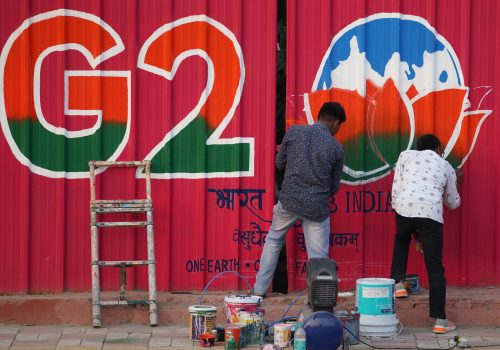 Tue, Aug 8, 2023
New Atlanticist By Mark Linscott
The upcoming summit in India can focus on hammering out statements that move the needle in limited ways on health, trade, digital governance, and climate change.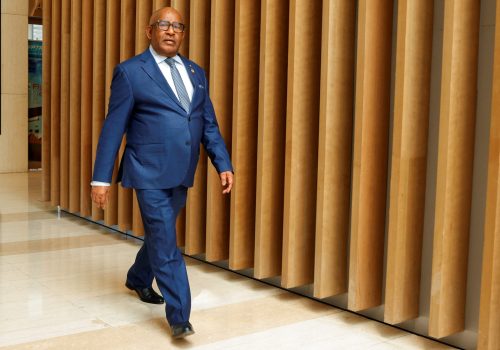 Thu, Feb 23, 2023
AfricaSource By Rama Yade
The African Union needs to be strong inside to be strong outside. The new chair will need to kick off an exploration of the Union's organization, identity, role, and means.