In the year since Russian President Vladimir Putin issued the order for his full-scale invasion of Ukraine—the most naked aggression seen in Europe since Adolf Hitler started World War II by invading Poland in 1939—Biden administration officials and members of Congress from both parties have echoed former US President Franklin D. Roosevelt's famous description of the United States as the "arsenal of democracy." Over the past year, the United States—just as it aided the United Kingdom in its finest hour—provided Ukraine with munitions and weapons systems to hold back Russian invaders. US President Joe Biden reiterated his administration's commitment during his February 20 visit to Kyiv, saying that the United States is prepared to support Ukraine for "as long as it takes."
However, the arsenal of democracy here in the United States has hit a snag: Even with a Russian offensive about to start, US procurements of the munitions and weapons systems Ukraine urgently needs—and that Washington has promised—are delayed because the Pentagon cannot process and sign new or expanded procurement contracts fast enough. Congress needs to urge the administration to cut through these delays and move procurement from a peacetime to a wartime footing.
A series of conversations over the past months by several Atlantic Council experts with knowledgeable officials in government and private industry have revealed a concerning pattern. Administration policy officials at the White House and the Pentagon have publicly (and often with fanfare) promised, both to Ukraine and to Congress, that they would deliver much-needed munitions and weapons systems, including by drawing from existing US and allied stockpiles that are in excess of training requirements. However, the services, especially the US Army, need to sign procurement contracts with defense contractors to produce new munitions or backfill systems being sent to Ukraine. This is where the bottleneck exists.
White House and Pentagon policy officials should be praised when they recognize the urgency of getting Ukraine the munitions it needs to blunt Russian offensives. The fast delivery of munitions has strategic importance: It could mean the difference between a victory for democratic Ukraine, which would deter further aggression from Putin, and a war that drags on for years.
However, government contracting officials and the private-industry executives that supply the military each follow a different set of priorities. Government contracting regulations are complex, and contracting officers are taught, with only a few exceptions, that if they sign contracts without appropriated funds in the right account and without formal authorization, they could lose their jobs or even go to jail. Corporate executives are accountable to boards of directors and shareholders if they start up production lines and build systems without a paying customer and a signed contract in hand.
The delivery of munitions is being slowed down at this crucial moment because the procurement bureaucracy—the thousands of people required to prepare, review, authorize, and approve defense procurement contracts—is not moving fast enough to keep production lines running at capacity and turning out the munitions and weapons that Ukraine urgently needs. There currently aren't enough procurement officials, and those working hard on the job are not currently authorized to work overtime on evenings and weekends, as they would if procurement were on a wartime footing. For example, when Washington goes into crisis mode, according to lore, pizza deliveries to the Pentagon soar. Emails from contracting officials to defense contractors would regularly arrive late at night or on Saturdays and Sundays. We have seen no such reports that defense procurement is currently in crisis mode—but it should be.
Moreover, if there were ever a situation that called for contractual incentives for accelerated performance and penalties for delays, the urgent need to get munitions to Ukraine would be it.
US leadership, which has been a hallmark of the Biden administration's approach to defending Ukraine, extends to defense production and procurement. Accelerating Pentagon contracting and procurement would also send a strong signal to US allies to do the same with their own deliveries to Ukraine's forces in the field.
The recent visit of US Rep. Mike Gallagher (R-WI) to Taiwan revealed that officials there are also concerned about the slow delivery of munitions that Taiwan will need to deter a Chinese invasion. Officials in both Washington and Taipei appreciate that successful Western support for Ukraine against Russia could influence Chinese thinking about a possible invasion of Taiwan. Among the best ways to deter a Chinese attack are Western help to Ukraine to repel Russian invaders and munitions ready in sufficient quantities to repel an amphibious assault against Taiwan. If China sees its defeat as likely, the Indo-Pacific will remain at peace.
Congress can help accelerate the production and delivery of urgently needed munitions and weapons. Although a few Republicans have called for a slowdown in US support for Ukraine, which would only strengthen Putin's brutal hand, a strong majority of both parties understands the United States' national interest in helping defend Ukraine against Russian aggression. Generalized statements calling for faster delivery of munitions to Ukraine would be welcome, but far more valuable would be highly focused congressional calls on the Pentagon to accelerate contracting and authorize overtime for procurement officials and contractors. Meanwhile, Congress should schedule urgent hearings on what can be done to accelerate contracting and procurement without compromising public integrity. Cautious bureaucrats need to see a strong, bipartisan congressional demand for urgency.
The world needs the United States, again, to be the arsenal of democracy. The United States urgently needs to get munitions to Ukraine to thwart an imminent Russian spring offensive and to build up US and allied stockpiles to deter a future China attack on Taiwan. Congress should urge the Department of Defense to shift procurement to a wartime footing. Victory for Ukraine and peace in the Indo-Pacific are worth having the arsenal work overtime.
---
Tom Warrick is a senior fellow at the Scowcroft Center for Strategy and Security's Forward Defense practice at the Atlantic Council. He served in the Department of State from 1997 to 2007 and as a deputy assistant secretary in the Department of Homeland Security from 2008 to 2019. Follow him on Twitter: @TomWarrickAC.
Further reading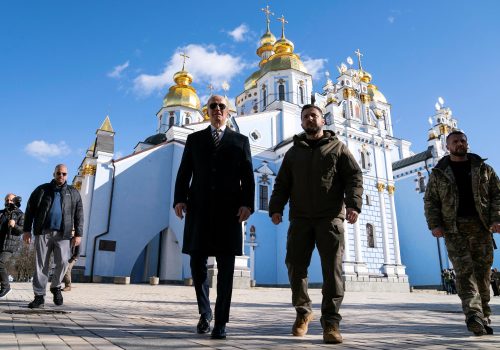 Mon, Feb 20, 2023
New Atlanticist By Atlantic Council experts
Atlantic Council experts share their insights on the importance of Biden's surprise trip to Kyiv and more at the one-year mark of Russia's full-scale invasion of Ukraine.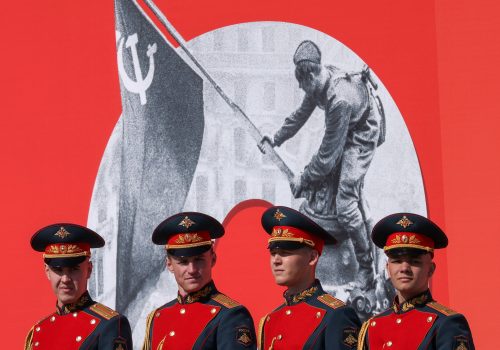 Wed, Feb 22, 2023
New Atlanticist By Alexander Vershbow
To prevent further damage to the rules-based international order, the United States and its allies will need a strategy of containment to deter Russia militarily and decouple Russia from the international community, until Moscow has earned the right to be considered a partner once more.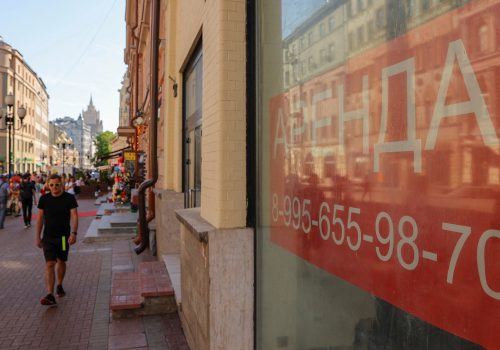 Thu, Feb 23, 2023
New Atlanticist By Brian O'Toole, Daniel Fried
The Russian economy has begun to look like a leaky ship. All hands are on deck bailing it out, but at some point, they won't be able to keep up.