During their summit this week in Washington, South Korean President Yoon Suk Yeol and US President Joe Biden discussed alliance measures to improve deterrence against North Korea, including the establishment of a new Nuclear Consultative Group.  Going forward, the allies should focus on this type of strategic measure rather than on a reactive approach to North Korea's weapons tests and demonstrations.
Earlier this month in one of the latest tit-for-tat rounds, the alliance responded to North Korea's testing of its new solid-fueled intercontinental ballistic missile, the Hwasong-18, with air drills. South Korea's defense ministry stated that the drills were to demonstrate "the powerful strength of the alliance and the United States' will to provide extended deterrence against the recent series of North Korea provocations."
There are many ways to strengthen the US-South Korea alliance, including through planned military exercises that demonstrate alliance cohesion and resolve. But it is far from clear that quick drills in response to North Korean provocations—the short-order shows of force that risk becoming more and more frequent as Pyongyang tests more missiles than ever—are effective. They might even be counterproductive. So why does the alliance continue to respond in this manner?
Efforts to regain public confidence
After a few troublesome years for the US-South Korea alliance, Yoon and Biden moved to reestablish large-scale exercises and quick responses to North Korean "provocations" in order to display efforts to strengthen deterrence, with the aim of regaining public confidence. Under the previous administrations in Seoul and Washington, the alliance had dramatically scaled back its military activities in an attempt to better enable diplomacy with North Korea. As it became clear that there was no acceptable deal to be made with Kim Jong Un on his nuclear and missile programs, North Korea resumed, and then escalated, its missile launches and nuclear rhetoric. Coupled with former US President Donald Trump's disparaging of the alliance, the South Korean public's faith in US security guarantees deteriorated. As a result, now most of the South Korean public supports Seoul developing its own nuclear weapon capability—in part because they are losing faith in the deterrence extended by the United States, particularly the "nuclear umbrella."
As Robert Abrams, former commander of the South Korea-US Combined Forces Command, attests, the return of large-scale alliance military exercises is appropriate, particularly considering North Korea's evolving capabilities. But the alliance should focus on using its military exercises to strengthen readiness instead of as a response measure. In the last year, the alliance has been attempting to militarily respond and deter North Korea's testing of its advancing military capabilities that are arguably not only militarily undeterrable but do not represent indications of an impending armed conflict, in the assessment of Admiral John Aquilino, head of US Indo-Pacific Command.
Though these response activities are designed, at least in part, to reassure the South Korean public, they may have the opposite result. With the anticipated North Korean launch of a reconnaissance satellite and continued expectation that North Korea will conduct a seventh nuclear test, the alliance is at risk of being pulled into a spiraling escalation cycle if it continues its current trajectory. Doing so risks heightening the public's concern of escalation and thus diminishing the public's confidence that the alliance can deter armed conflict. Amid expectations for increased tensions, the alliance has continued to promise to punish North Korea for its provocations, but these promises seem empty and set unrealistic expectations about the ability to stop North Korea's launches.
Do not just follow the leader
The alliance must avoid the political pressure and pitfalls of continuing to respond to North Korea's antics.
First, the United States and South Korea should avoid using military drills as a form of retaliation. They should instead stress that it's normal and expected for militaries to train—just as North Korea continues its military training exercises and has done so even in times where the alliance scaled back its activities to provide diplomatic space for negotiations.
Second, the alliance should seek to maintain readiness and deterrence without tying its military activities to the perceived level of "tensions" on the Korean peninsula. Maintaining a set alliance exercise schedule instead of using ad hoc exercises to respond to "provocations" will aid in defeating perceptions that alliance activities are inflammatory. In addition, the alliance should refrain from offering to scale back readiness exercises in its attempts to negotiate with North Korea. Making exercises a negotiating point adds salience to the regime's false claims that exercises are threats to North Korea's security that justify its weapons programs, while impeding training threatens alliance military readiness. In addition, the end of both long pauses in large-scale drills and limitations on live-fire training have led to the perception among peninsula observers that the alliance is escalating tensions rather than simply returning to its normal routine of training activities that it had maintained since the 1990s.
Third, the alliance should strengthen deterrence and public reassurance by evolving its combined defense posture toward North Korea's emergent capabilities.
For instance, analysts assess North Korea's development of solid-fueled missiles reduces the potential warning time for North Korean missile launches, as liquid-fueled missiles have to be fueled immediately ahead of launch making their detection easier via satellite imagery. Thus, improving the alliance's ability to detect and defend against North Korean missile launches on short notice is a worthwhile endeavor toward deterrence and reassurance. Currently, South Korea is pursuing its own independent missile defense capability rather than alliance integration of missile defense efforts, in part because of China's opposition to US missile defense cooperation with regional allies. Maintaining separate missile defense systems is hardly a recipe for confidence in the alliance's counter-missile efforts. Moving to strengthen alliance missile defense will go farther toward strengthening deterrence and public reassurance than trying to match each activity by North Korea.
More broadly, as North Korea advances its nuclear capabilities, there are mounting questions surrounding the effectiveness of South Korea's unilateral "Three Axis" deterrent system, which stands apart from alliance military efforts. The system consists of a plan, a first axis, to incapacitate North Korea's leadership in response to aggression through "Korea Massive Punishment and Retaliation." The second axis is a "kill chain" that will enable rapid strikes on mobile targets. The third axis is South Korea's Air and Missile Defense System. Rather than strengthening the alliance's combined posture and reassuring the South Korean public, portraying these capabilities as independent of the US military just feeds the narrative that the United States cannot be relied upon. Thus, absent a diplomatic resolution to aid in regaining and strengthening the South Korean public's confidence, the alliance should focus on ensuring that it continually evolves its combined abilities.
Yoon and Biden took an important step this week to strengthen cooperative decision making on nuclear deterrence by enhancing dialogue and information sharing regarding growing nuclear threats to South Korea and the region. Their task now is to stick to the plan and make sure they do not get distracted by the next North Korean provocation.
---
Jessica Taylor is a nonresident fellow in the Indo-Pacific Security Initiative at the Atlantic Council's Scowcroft Center for Strategy and Security. She served in South Korea from 2019 to 2021 as an international relations strategist for the headquarters command staffs of United Nations Command, ROK/US Combined Forces Command, and US Forces Korea.
Further reading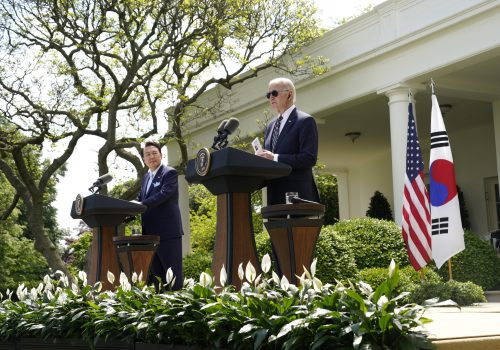 Wed, Apr 26, 2023
New Atlanticist By Atlantic Council experts
US President Joe Biden and South Korean President Yoon Suk Yeol are navigating political tensions around nuclear weapons and microchips to find a common future.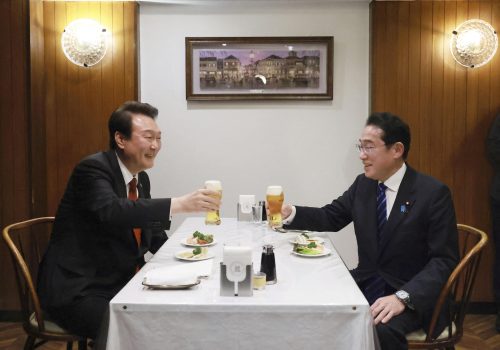 Mon, Mar 27, 2023
New Atlanticist By Thomas Cynkin
The more that Japan shows its relationship with Korea is a two-way street, the more sustainable it will be in the face of Korean public opinion.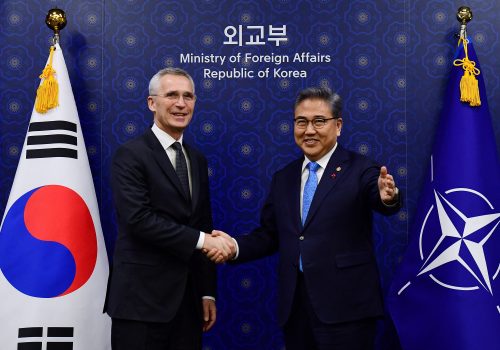 Mon, Feb 6, 2023
New Atlanticist By Sara Bjerg Moller
NATO Secretary General Jens Stoltenberg's visit to Japan and South Korea trip was striking both for its timing and for its messaging shift on China.