In recent decades, Peru's economy has grown at around double the rate of other economies in Latin America and the Caribbean. Its remarkable ability to grow despite a series of political crises over the last decade has made it an outlier in the region. However, on August 1, the Peruvian Economy Ministry announced that the country entered a technical recession (meaning its economy shrank for a second consecutive quarter) in a period of global economic recovery. Less than a year after former Peruvian President Pedro Castillo was removed from power after attempting to dissolve Congress, and after months of protests against President Dina Boluarte's government, it appears that Peru's continued political instability has spooked private investment and is affecting the country's economic performance.
While it might be tempting to dismiss this downturn as a temporary anomaly, Boluarte's government should nonetheless take steps to put the country on a stronger economic footing. To do so, the state will need to renew its social contract with Peruvians, which was so badly damaged during the COVID-19 pandemic and in the years since.
Why 2023 is different
Peru's economic performance from 2000 until 2019 was astounding. While Latin American and Caribbean gross domestic product (GDP) grew at an average rate of 2.4 percent per year, Peru's average GDP growth almost doubled it, at an average rate of 4.4 percent per year. Furthermore, Peru's strong macroeconomic fundamentals (a stable currency, a healthy debt-to-GDP ratio, and large foreign currency reserves) allowed it to come out of the 2008 recession strong and recover quickly from the pandemic. Excluding those two global events, Peru had only recorded one monthly contraction between 2008 and 2022. So far this year, however, Peru has recorded three monthly contractions.
The immediate reasons behind the economic contractions in 2023 have been the uninterrupted social protests and unfavorable climatic phenomena. First, Castillo's attempted self-coup in December 2022, during which he tried to dissolve Congress to get out of impeachment proceedings, and the subsequent tumultuous transition of power to Boluarte triggered protests in Peru's southern regions. These demonstrations quickly spiraled into violent clashes between government forces and protestors, killing more than sixty people. Additionally, Peru's southern region, home to much of the country's mining sector—a pillar for growth—has borne the brunt of the economic downturn, enduring paralyzed labor, blocked roads, and closed markets. In a context of political turmoil, corporations are increasingly reluctant to invest in medium- to long-term mining projects. The economic downturn marked by mass unrest has been further exacerbated by the arrival of El Niño to Peruvian coasts, whose floods have affected irrigation canals and crop yields as a result. However, the Peruvian economy has been able to withstand El Niño phenomena in the past. Somehow, this year's cyclical climatic event caught Peru off guard.
A broken social contract
The protests are symptomatic of a deeper issue: the expiration of the underlying social contract that had governed Peru for the last thirty years. Since the government of President Alberto Fujimori in the 1990s, Peruvians experienced remarkable improvements in standards of living, and displayed one of the starkest reductions of poverty in Latin America. While the economy grew at a fast pace, Peruvian political and judicial institutions crumbled as rent-seeking politicians established themselves in high office, and corrupt practices became entrenched throughout government (as evidenced by the 2016 Lava Jato scandal). As part of the contract, Peruvians accepted the trade-off so long as they saw basic improvements in their economic status. The refrain "roba pero hace obra" (they steal, but at least they build) became commonplace in Peruvians' vocabulary. However, when the COVID-19 pandemic struck Peru after it had neglected its political institutions for decades, the social contract was swiftly upended.
As the need for effective policymaking grew, the political class further exacerbated the crisis. Tensions between the legislative and executive branches crated political gridlock that resulted in numerous ministerial reshufflings, impeachments, and three presidents governing the country in quick succession. For foreign investors, Peru became an increasingly unpredictable country in which to do business.
Elected in 2021, Castillo was the outsider who emerged from the 2020 crisis and offered quick-fix solutions to these problems. But when his government proved antidemocratic and unable to overcome the political gridlock, Peruvians' frustration grew. Amid accumulating dissatisfaction, Boluarte, who became president by constitutional succession, started her administration commanding a government crackdown against protestors, which exacerbated Peruvians' perception of a government unable to offer solutions to those most in need. Peruvians' frustration toward the current government has been inevitably grasped by private investors, who perceive her government—although business-friendly—as highly unstable. As a result of the political instability, Fitch Ratings downgraded Peru's sovereign credit rating in April of this year.
Political solutions to economic problems
Political discontent is intrinsically linked to investors' wariness about investing in Peru. Thus, it becomes evident that Peru needs a political solution to its economic problem. First, Boluarte's government needs to offer concrete political solutions to the protestors, who are tied to the private sector's perception of her government. Her government has not assumed political responsibility for the protestors' deaths, and while she initially offered to reschedule elections at an earlier date, she has since declared her intention to continue governing until 2026. A concrete political solution her government could offer is to advance the electoral cycle to 2024 and allow Peruvians to elect a new slate of politicians in the executive and legislative branches with more legitimacy than the current ones. The outlook of a political renewal could defuse the tension with protestors and give investors a stable political timeline.
In addition, the government should make new efforts to bridge the gap with the protestors, particularly in Peru's south. Social dialogue campaigns and more frequent ministerial visits to the affected region could validate citizens' concerns. Boluarte's government should make it a priority to advance large public investment projects, such as the South Peruvian Gas Pipeline (Gasoducto Sur). Showing reconciliation efforts with Peru's south would potentially broaden her narrow base of support, and in turn, help signal political stability to investors.
Peru, a natural resources powerhouse, has great potential to capitalize on current economic trends and to be part of global solutions to climate change through the energy transition and preservation of the Amazon. However, to join the likes of Chile, Brazil, and Colombia, which are all welcoming large investments in their clean energy sources, it will have to address its political weaknesses first.
---
Martin Cassinelli is a project assistant at the Atlantic Council's Adrienne Arsht Latin America Center.
Further reading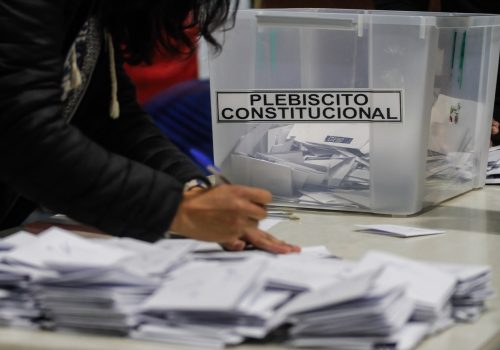 Tue, May 16, 2023
New Atlanticist By Ignacia Ulloa Peters
Chileans just elected members to the council meeting soon to deliberate about a new constitution. Two-thirds of the seats went to center-right and far-right candidates, who now need to agree on a constitution Chileans will vote on in December.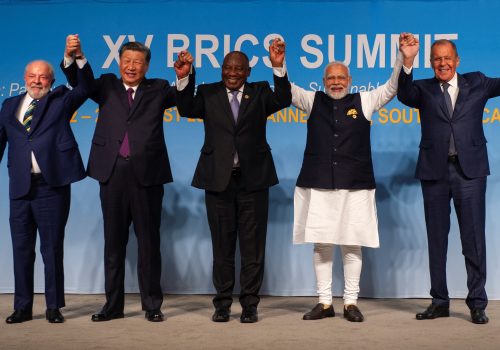 Thu, Aug 24, 2023
New Atlanticist By Atlantic Council experts
Atlantic Council experts share their insights on what the addition of Argentina, Egypt, Ethiopia, Iran, the UAE, and Saudi Arabia to the group might mean.
Fri, Aug 11, 2023
Issue Brief By Geoff Ramsey, Ignacia Ulloa Peters
Venezuela's crisis has generated a large and complex global emergency. Recent negotiations have resulted in agreements between the Maduro regime and the opposition, including a $3.2 billion Social Agreement. This issue brief highlights five key recommendations for leaders in the United States and abroad to help shape the way for its successful implementation.