Experts react: The West finally sends in the tanks. What will they mean for Ukraine's fight?
The armor is en route. After months of haggling and delay, both the United States and Germany are sending the battle tanks requested by Ukraine for its extended fight against Russia. German Chancellor Olaf Scholz announced Wednesday that Berlin will send Leopard 2 tanks—and allow other European nations to do so. Meanwhile, the United States will send its own M1 Abrams tanks. What difference will these weapons make on the battlefield? How will Russian President Vladimir Putin react? And is this a turning point for Germany's participation in arming Ukraine? Our experts lay out what's next.
Click to jump to an expert reaction
John Herbst: These tanks could spearhead a Ukrainian counteroffensive
Jörn Fleck: Germany's decisionmaking has been torturous. Here's how it can lead now.
Daniel Fried: Germany finally sees what Putin's Russia has become
Christopher Skaluba: Western unity is restored, but Zelenskyy's next ask might get more complicated
Rachel Rizzo: There's no going back for Germany's relationship with Russia
John T. Watts: The war in Ukraine will prove that tanks still matter—and Leopards will outclass their Russian counterparts
Michael John Williams: Watch out for a Russian offensive before the tanks reach the battlefield
These tanks could spearhead a Ukrainian counteroffensive
Germany's decision, at last, to permit other European states to send Leopard 2 tanks to Ukraine, and to send its own Leopards as well, is a significant step forward in Western support for Ukraine. The concurrent decision by the United States to send Abrams tanks, which seems to have encouraged Berlin to do the right thing, also adds to the value of the weapons package the West is sending Kyiv. The timing is important as Moscow's months-long offensive in the Donbas near Bakhmut and Soledar has made minor gains in recent days, and Moscow has begun small offensive operations in the Zaporizhzhia region. The tanks will help Ukraine defend its positions with fewer casualties in both locations. They will also prove invaluable if Moscow launches a major offensive from Belarus or elsewhere this year, something that Ukraine's intelligence services expect. If the tanks reach Ukraine in the next few months—which cannot be taken for granted—they could also be deployed by Ukraine in its own planning for a new counteroffensive. On the flat terrain in Ukraine's east and south, they could spearhead the counteroffensive.
The delay in sending tanks to Ukraine is part of the pattern of undue US and German caution in arming Ukraine. A well-conducted influence operation by Moscow to suggest that any Western provision of sophisticated arms could prompt Putin to escalate with nuclear weapons has kept the West from moving with dispatch to provide Ukraine the arms necessary to defeat Putin faster on the battlefield. And despite this welcome decision on tanks, this caution is still a factor. (Indeed, the US decision to send the Abrams tanks through the Ukraine Security Assistance Initiative means that delivery will be many months in the future—not in time for a Ukrainian offensive this year.)
Tanks are important to increase the capability of Ukraine's military, but they are not the most important factor. What Ukraine needs most to stop in its tracks Moscow's current operations in the Donbas and Zaporizhzhia are longer-range artillery and missiles with a range up to three hundred kilometers. Currently the United States has only sent artillery with a range of eighty-five kilometers, which has prompted Moscow to set up logistical centers one hundred kilometers from the front lines. Were the United States to give Ukraine the longer-range fires, Russia would have to move its supply depots much farther back. Even more than tanks, these weapons would enable a fast and successful counteroffensive; but early last week the Biden administration repeated that there were no plans to meet these Ukrainian requests. At some point, Washington will likely relent and send these systems. But the delay only increases the cost for Ukraine in casualties and lengthens the war. The United States can and should do better.
—John Herbst is senior director of the Atlantic Council's Eurasia Center and a former US ambassador to Ukraine.
Germany's decisionmaking has been torturous. Here's how it can lead now.
German Chancellor Olaf Scholz's decision to deliver Leopard 2 main battle tanks to Ukraine follows a familiar pattern that has proven torturous to allies, coalition partners, and, most of all, Kyiv. Once again, Scholz wasted more than one opportunity to shape German leadership and a new, truly European or transatlantic initiative to help Ukraine. Instead, Berlin's lengthy, self-absorbed decisionmaking process risked undermining its own credibility and reliability in the alliance by seemingly delaying, evading, and blocking the inevitable. Unfortunately, Scholz missed yet another chance to live up to the promise of his very own visionary, breakthrough Zeitenwende for a new, more robust German strategic posture. At the same time, the impressive domestic pressure campaign from across coalition and mainstream opposition parties to support Leopard 2 deliveries—and Scholz's eventual decision—shows not all is lost for a true Zeitenwende in Germany.
US and perhaps French tank pledges that may follow now, combined with what Poland, the United Kingdom, and others have already promised, could make the Leopard 2 decision look like a Scholzian grand strategic masterstroke after the fact: a powerful, coordinated transatlantic consortium to give Ukraine the punch to withstand a Russian spring offensive (and more). Such a coalition would also spread the risk of Russian retaliation across many partners in the alliance, a strategic goal for Scholz. But those who now want to re-interpret the last few weeks in a moment of relief and celebration should remember the pattern of German decisionmaking on nearly all major weapons deliveries to Ukraine thus far.
Looking ahead, much will depend on Germany's swift execution of the delivery of a company-sized contingent of Leopard 2A6s and the necessary training for Ukrainian forces. In order to make up for lost time and credibility, Berlin should combine the delivery with the integration of industry support for maintenance and supply-chain management at the earliest stage possible. Plus, the government should stage very "un-German" photo ops and a communications effort to go with that, which the new defense minister can ably lead from a clean slate. And, finally, to double down on today's decision and show new determination, German decisionmakers should come up with the necessary planning now to backfill battlefield losses and expand Leopard 2 deliveries, including from industry and allied stocks. Only such a proactive and concerted effort will reassure Kyiv and Germany's NATO allies that Berlin got the message this time.
—Jörn Fleck is the senior director of the Europe Center.
Germany finally sees what Putin's Russia has become
The process was messy, but the German decision to provide Ukraine with Leopard tanks is a big deal. It opens the way to strengthening Ukraine's power to hold off the Russians and liberate more of its territory. Speed of delivery of armored vehicles to Ukraine is critical. But this is no mere gesture: Leopards and Marders from Germany, Leopards from Poland and other countries; Bradleys, Strykers, and eventually Abrams tanks from the United States; and light tanks from France mean that the Free World is serious about helping Ukraine defend itself.
The German yes on tanks puts Berlin's agonizing decision-making in perspective. Skeptics say the Germans were holding back to ingratiate themselves with the Kremlin. But I think that the Germans were working through the collapse of their long-held assumptions about Russia, namely that dialogue was always the answer and cooperation was achievable. Americans had similar hopes for Russia. Putin blew these up. Berlin had to change its policy. It did so under pressure from Europe (especially the Poles) and from the United States, but mostly acted because Germans could see for themselves what Putin's Russia has become: a bloodthirsty aggressor bent on conquest and killing.
Berlin's decision on tanks is a major step toward a new policy toward Russia that Europe, the United States, United Kingdom, Group of Seven (G7), and like-minded countries need to adopt. That policy starts with support for Ukraine on the battlefield and in the future, and realism about Russia as an adversary that needs to be contained and weakened so it can no longer start wars or otherwise commit aggression. A better relationship with a better Russia is possible, but to get there the Free World needs to thwart the aggressive Russia it now faces.
—Daniel Fried is the Wieser family distinguished fellow at the Atlantic Council and a former US ambassador to Poland.
Western unity is restored, but Zelenskyy's next ask might get more complicated
Despite protests from the White House that deliberations about sending tanks to Ukraine were overblown, the issue exposed clear differences among NATO allies about how far to go in arming Ukraine. And the public nature of those differences, whatever their merits, was undermining one of the most significant strategic factors of Kyiv's success: rock-steady unity in support of Ukraine's noble efforts to defend itself. Ukrainian President Volodymyr Zelenskyy and others pressing Germany to send Leopards 2s to Ukraine clearly believed that the tactical advantages the tanks will provide on the battlefield were worth the risk of public infighting among Ukraine's supporters. It looks like that bet has paid out. With various countries now poised to equip the Ukrainian army with modern tanks, the public squabbling will be quieted and Western unity restored.
The debate around Leopards, however, was only the most recent chapter in the story of getting NATO allies to reluctantly cough up increasingly sophisticated materiel for the Ukraine war effort. Similar negotiations around long-range artillery and air-defense systems were also settled to Ukraine's satisfaction. Having now pocketed modern tanks, Zelenskyy will no doubt return to his successful playbook to pressure allies for more, including longer-range fires and fighter jets. I suspect this dynamic contributed to the brake-pumping we saw from Berlin, which is wary of a slippery slope to meeting any and all of Ukraine's materiel requests in the misguided belief that it has any control whatsoever over the war's escalatory dynamics. In any case, any serious public breach among NATO allies about provision of materiel to Ukraine would constitute a strategic victory for the Kremlin. The intensity of this most recent debate suggests Zelenskyy's balancing act will only become more difficult as he keeps pushing for help.
—Christopher Skaluba is the director of the Scowcroft Center for Strategy and Security's Transatlantic Security Initiative and a former principal director for European & NATO Policy in the US Department of Defense.
There's no going back for Germany's relationship with Russia
After a public diplomacy disaster, Germany's decision to finally "release the Leopards"—as in, send Leopard 2 tanks to Ukraine and allow other countries that own these tanks to do the same—is a major step forward. In true German fashion, the process was slow and frustrating, and it concluded only after its allies put significant pressure on Scholz and those closest to him in government.
Even though many people hoped the decision would have come sooner, Germany deserves to be applauded. This can't have been easy, because the fundamental assumption that undergirds this decision is this: Germany now understands its relationship with Russia will never look the same. There's no going back, at least not with the way things are now. Scholz set expectations sky-high with last year's "Zeitenwende" speech, and I think it's important for outside observers to understand that this moment for Germany isn't just about being a more forward-leaning actor. It's about fundamentally reshaping the German mindset. That takes time. As early as last week, I voiced my frustrations publicly about whether a Zeitenwende (or, historical turning point) was actually happening. I said I had my doubts. Those doubts still linger, but this latest decision is a big step toward that larger shift everyone has been hoping for.
—Rachel Rizzo is a nonresident senior fellow at the Europe Center.
The war in Ukraine will prove that tanks still matter—and Leopards will outclass their Russian counterparts
Numerous analysts over the years have declared the tank an outdated technology that is no longer useful. Certainly, urban terrain—where many modern battles have been fought—does not suit the tank well, and sophisticated modern man-portable systems such as Javelin missiles and Next Generation Light Anti-tank Weapons (NLAWs) have made tanks more vulnerable than they were. But while those weapons are effective and create extreme asymmetries between the cost of the weapon and the cost of the destroyed tank, they are still expensive and difficult to produce. They can also be somewhat mitigated by effective combined arms maneuver and competent tactical employment—though we have seen very little of that from Russian forces.
In reality, there are few systems that can provide the combination of fire, protection, and maneuver that a tank can. And you can't assault a fortified position with a Javelin alone. In the late 1990s and early 2000s, there were those who thought artillery had become irrelevant in modern war. But the critical nature of artillery is apparent to anyone paying even the slightest attention to Ukraine. The provision of Leopard 2 tanks to Ukraine, if employed competently and effectively—and I am confident that they will be—will demonstrate just how effective, powerful, and critical a capability the modern battle tank still is. And the sophisticated and effective armor design, advanced optics, and cutting-edge crew training that make up the modern Western main battle tank system is a very different beast than the Soviet-era equipment and training being employed by the Russian aggressors.
—John T. Watts is a nonresident senior fellow in the Forward Defense practice in the Atlantic Council's Scowcroft Center for Strategy and Security and formerly a senior policy advisor to the Office of the Secretary of Defense.
Watch out for a Russian offensive before the tanks reach the battlefield
The decision of Germany to allow allies to send Leopard 2 tanks to Ukraine, as well as Berlin dispatching its own bilateral donation, is a significant symbol of allied commitment to Ukraine, but the implications of this move should not be exaggerated. First, the move is largely symbolic. Zelenskyy requested three hundred tanks; the combined allotment of Abrams, Leopard 2, and Challenger 2 tanks is right now around one hundred. It will take time to get these materials to the field of battle and to train forces to operate them effectively. There will thus be a time lag from decision to deployment. Although one hundred tanks is better than zero, and one hundred tanks will have tactical effect, the downside of such meager deployment compared to the Ukrainian statement of requirements is that it gives Kyiv more equipment to prolong the fighting and maybe launch an offensive, but most likely not enough to get the job done. 
Second, Russia is now incentivized to launch a major offensive before this equipment is operational in the field. Why wait for the tanks to be on the ground and attack Russia? The cult of the offensive dictates a strike sooner rather than later. Thus, the allies would do well to up their tank numbers—particularly of the Leopard 2, which is easier to maintain than the American counterparts—in anticipation that Kyiv will need to launch a large-scale counter offensive. One hopes that France will join in with Leclerc tanks as well. A larger commitment may disincentivize Russia to attack knowing that the commitment will be substantial and difficult to overcome, and may better repel a Russian offensive.
—Michael John Williams is a nonresident senior fellow in the Transatlantic Security Initiative and director of the international relations program at the Maxwell School for Citizenship and Public Affairs at Syracuse University.
Further reading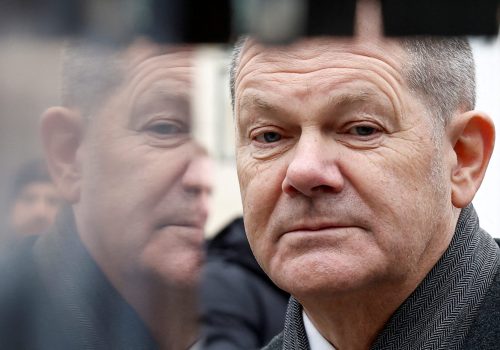 Tue, Jan 24, 2023
UkraineAlert By Bohdan Vitvitsky
Germany's reluctance to send Leopard 2 tanks to Ukraine reflects the ongoing influence of war guilt for the crimes of the Nazi era while also highlighting a failure to differentiate between modern Russia and the Soviet Union.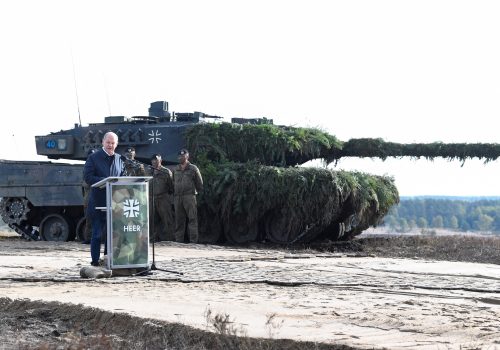 Tue, Jan 24, 2023
New Atlanticist By Eric Adamson
Two schools of thought have emerged on arming Ukraine—defeat Russia vs. avoid escalation. A recent conference hosted by the Atlantic Council in Stockholm investigated the roots of the divide.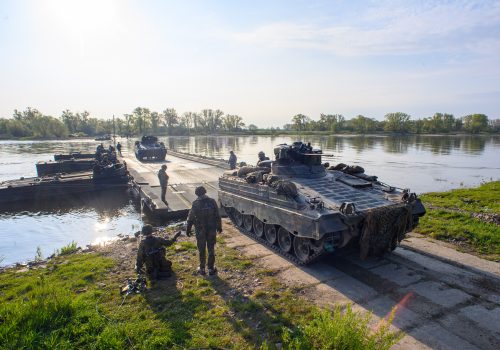 Fri, Jan 6, 2023
New Atlanticist By Atlantic Council experts
What do these additions mean for the battlefield? What do they signal about the positioning of France, Germany, and Europe as a whole in this protracted conflict?