Around the world, the United States is the most common preferred partner, or "partner of choice," for security cooperation, but it is not the only option. Dictatorial adversaries of democracy and freedom in Beijing, Moscow, and Tehran consistently seek opportunities for disruption wherever the United States might project power. The ready access to low-cost, but effective, commercially available technologies from China, Russia, and Iran render the appeal of working with these adversaries even more potent.
So, one wonders why the Biden administration would roll out a new, unnecessary, and potentially more cumbersome interpretation and implementation of Conventional Arms Transfer (CAT) policy in late February—the same week as the one-year anniversary of the Russian invasion of Ukraine, the same week that Russia officially announced withdrawal from the New Strategic Arms Reduction Treaty, the same week that China and Russia conducted military drills with South Africa, and the very same week that US industry competed against a flood of Chinese defense firms at the 2023 International Defense Exhibition hosted by the United Arab Emirates.
Arms transfers and security cooperation have long been important tools for policymakers in Washington and for ambassadors in the field to help implement US foreign policy. The consideration and fulfillment of security cooperation and security assistance, while led by the State Department, incorporates a broad and deep set of executive branch interagency processes and congressional review and oversight. Some of these processes are statutory mandates under the Arms Export Control Act  and others are informal voluntary processes.
Both the Obama administration and the Trump administration, which I served in the State Department, recognized that rising global competition in a post–Cold War world required reforming Cold War bureaucratic practices, which which were based on the presumption of absolute technological superiority and no real near-peer competition. Both administrations in varying degrees sought to refine processes, provide greater transparency and predictability for US allies and partners, and, yes, actively advance US aerospace and defense industries as the preferred choice in a global market. The State Department drafted CAT policies in 2014 and 2018 that supported US interests and strategic ends, which yielded broadly similar approval and denial rates, revealing that neither administration was overly restrictive or wildly loose in arms transfers. Both the Obama and Trump administrations also worked to reduce bureaucracy, update the International Traffic in Arms Regulations (ITAR) and US Munitions List (USMIL), modernize export licensing platforms, decrease case review timelines, and address increasingly parochial and lengthy non-statutory congressional review periods.
The Biden administration's long-deliberated 2023 CAT policy does indeed align with Biden-Harris campaign promises, and it does not come as a surprise to those of us who were consulted during the drafting process that human rights would be elevated among the categories of consideration. Also, no one would argue against the CAT consideration of human rights. In fact, it was the Trump administration that first articulated human rights as a consideration in the 2018 CAT policy.
The issue today, however, is not one of policy, but of the systems and layers of process in the implementation of arms transfers and security cooperation. US industry and foreign US security partners care less about a new policy but do care more how CAT processes may be measured, implemented, or further reformed to improve the efficacy of US security cooperation. As the Aerospace Industries Association (AIA) recently noted, "The arms transfer process is too slow and impedes our ability to get critical capabilities delivered when and where they are needed the most."
Such a statement from AIA was an extremely diplomatic response compared to the candid dismay uttered in the privacy of industry offices and board rooms of my clients at the defense consultancy I lead, but it does capture the essence of concern by operative security cooperation practitioners regardless of their respective diplomatic, military, or industry role. For the United States to remain a leader in a multipolar world, it must move away from a Cold War–style mindset that the United States is the only available option, cut down on an increasingly overlapping federal bureaucracy, be an advocate for US industry, and not introduce reforms that expand already layered processes that will impede security cooperation with stalwart allies and partners or put at risk US interests.
The United States must address the competitive environment it faces. It is true that the United States remains by far the greatest provider of direct security, via its global force posture and alliances. It is also true that the United States remains the single biggest provider of financial security assistance and defense equipment and training for countries around the world. But it is equally true that US competitors, even when tested by their own overreach, like Russia in Ukraine and China's exploitive Belt and Road Initiative, have turned to arms sales and security assistance as key tools to build their own influence around the world and weaken the United States'.
The application of CAT should enhance and enable the defense capabilities of US allies and partners, but rolling out a new CAT policy minus implementation reform makes this more difficult and helps US adversaries. To best protect US interests and further enable US allies and partners to provide for their own defense, President Joe Biden should focus on fulfillment and augmentation of tangible CAT implementation reforms started by his two predecessors, who had interagency teams experienced in security cooperation and deterrence that sought to refine ITAR, update the USMIL, and foster US industry innovation. The ability for the United States to win friends and maintain its edge over its rivals is at stake.
---
R. Clarke Cooper is a nonresident senior fellow at the Atlantic Council, the president of defense consultancy Guard Hill House, LLC, a former assistant secretary for political-military affairs at the US Department of State, and a former senior intelligence officer for the US Joint Special Operations Command.
Further reading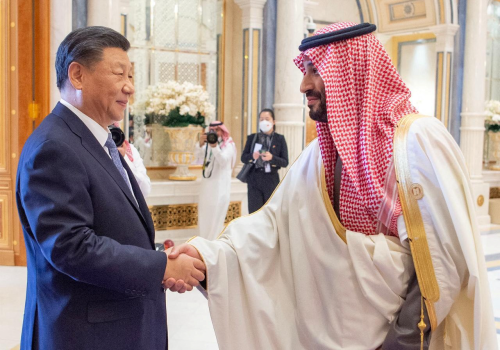 Wed, Feb 15, 2023
Issue Brief By Tuvia Gering
This report addresses two widely held beliefs about the nature of China's engagement in the Middle East and North Africa (MENA) that ought to be revisited in light of notable developments. First, while it is widely assumed that Beijing's interests in the region are limited to energy security and economic ties, this report will show how cooperation has […]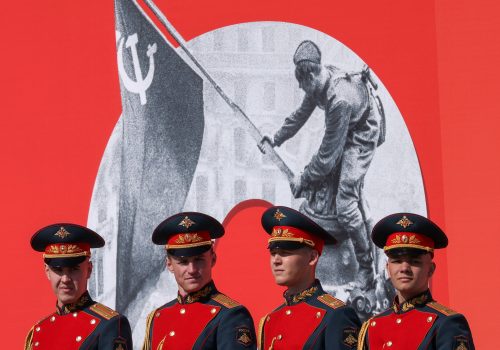 Wed, Feb 22, 2023
New Atlanticist By Alexander Vershbow
To prevent further damage to the rules-based international order, the United States and its allies will need a strategy of containment to deter Russia militarily and decouple Russia from the international community, until Moscow has earned the right to be considered a partner once more.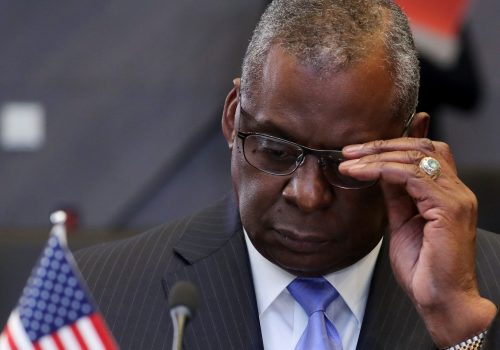 Thu, Dec 23, 2021
New Atlanticist By R. Clarke Cooper
Washington must carefully foster its partnerships and spark a level of defense innovation to keep itself and its partners truly secure.