My strongest memory from last year's Munich Security Conference (MSC) was Ukrainian President Volodymyr Zelenskyy accusing the West of not doing enough to deter Russia from attacking his country. While other leaders complimented their unity and expressed sympathy with the Ukrainians, Zelenskyy desperately tried to make the point that sending weapons was not charity. "This is your contribution to the security of Europe and the world," he said. Five days later, Russia launched its full-scale invasion.
This year, Zelenskyy spoke first at the conference. Via a video message from Ukraine, he expressed his hope that next year's MSC would be a post-war conference, celebrating a free Ukraine—which makes 2023 a crucial year to win the war against Russia. Zelenskyy stressed that Ukraine needs help now. His speech gave rise to a question: Is the West up to the challenge? Regrettably, the discussions I heard in Munich were not reassuring.
While Ukrainians show bravery in the face of Russian aggression, it seems as if fear, rather than courage, still dominates among Western leaders. There is fear of escalation, fear of having Ukraine fully in the European family, fear of a defeated Russia, and fear of a defeated Ukraine. These four fears resonate differently in various countries, thus hampering action and undermining unity.
1. Fear of escalation
This is centered around the debate over which weapons and platforms to provide to Ukraine, given their offensive capacity to hit Russian territory. Symptomatically, German Chancellor Olaf Scholz could not stress the importance of implementing the "Leopard tank coalition" without also underlining the need to remain cautious of escalation risks. One version of this fear is that Russia will interpret the mere provision of such weapons as escalatory and hit back on NATO territory, dragging the Alliance into a potential nuclear war. The Biden administration has been open about this dilemma. Another version, less explicit, is that Ukraine would use the more potent and long-range weapons in a way that would trigger Russian escalation toward NATO.
2. Fear of having Ukraine in the European family
At the MSC, European Union (EU) High Representative Josep Borrell could not stress enough how much Ukraine belonged "in the European family." Still, the timeframe for the accession of Ukraine and Moldova, which were granted EU candidate status in June last year, remains highly uncertain. Both countries need to bolster the rule of law and fight corruption, at the same time as Ukraine increases pressure to join quickly. Rushing the process and not fulfilling all criteria for joining makes some member states quite uncomfortable. In addition, Radosław Sikorski, a Polish member of the European Parliament, pointed out in Munich that having Ukraine in the EU will turn some countries from being net receivers to net providers to the EU budget, and it will shift the balance of seats in the parliament toward Eastern Europe. Expressing support and sympathy for Ukraine is one thing, having it as a full-fledged member of the EU still appears frightening to many.
Similar sentiments can be found when it comes to NATO, which has stated that Ukraine will become a member but has not specified when. The question of security guarantees to Ukraine, once there is a peace agreement, has raised voices advocating for a swift accession of Ukraine into the Alliance, which the United States and other allies push back on.
3. Fear of a defeated Russia
When French President Emmanuel Macron in an interview last summer said that "we must not humiliate Russia so that the day the fighting stops, we can build a way out through diplomatic channels," he reflected a thinking that resonates not only in Paris but also in other European capitals. The idea, related to Russia's traditional role as a great power in Europe, is that the European great powers can balance each other and comply with common principles, as with the Concert of Europe in the nineteenth century. A humiliated great power, like Germany after World War I, may seek revenge at a very high cost. Reiterating this thinking in Munich, Macron said that Russia needs to be defeated in its war with Ukraine but not "crushed."
4. Fear of a defeated Ukraine
Those countries with "empirical knowledge" of Russian occupation, as former President of Estonia Toomas Ilves put it at the MSC, fear that if Russia were to defeat Ukraine, its appetite would only increase. Moldova, Georgia, or even NATO allies could become the next targets. Moldovan President Maia Sandu, who earlier in the week had revealed an attempted state coup orchestrated from Russia, warned in Munich that Moldova might be next in line after Ukraine. During side events that I attended, the official "Ukraine must win" mantra often had a follow-up question: But what if Ukraine loses? A representative from Ukrainian civil society pointed at the apparent risk of exhaustion if the war of attrition went on for years. How would the Ukrainians endure years and years of fighting?
NATO Secretary General Jens Stoltenberg painted the bigger picture of what happens if Ukraine loses, labeling a victory by Russian President Vladimir Putin "the biggest risk of all." Russian victory in Ukraine would send a message to the Kremlin and to other authoritarian regimes "that they can use force to get want they want." Therefore, supporting Ukraine was not only morally right, but it was also in the security interest of NATO, he concluded. It follows from his reasoning that of all four fears, the fear of a defeated Ukraine should be foremost in the minds of decision-makers, because it carries the highest risk of all.
Clearly, a strategy to ensure victory on the battlefield and long-term peace in the Euro-Atlantic area is lacking. The West is moving tactically at best, in what former Danish Prime Minster and former NATO Secretary General Anders Fogh Rasmussen called "a step-by-step approach." Partly this is due to the many stakeholders that must take each step. Discussions are necessary within and between democracies on how to proceed. At the same time, coordination is lacking between entities, and decision-making is reluctant. The slow rate in getting ammunition production going in Europe, despite urgent needs in Ukraine, is one telling example, widely discussed at the conference. Scholz called for a "permanent production" of the most important ammunition, and European Commission President Ursula von der Leyen proposed using the European Peace Facility to stimulate procurement. However, when I talked to industry representatives in Munich, they were ready to produce but still waiting for orders. Why were the orders not coming? No one seemed to have a good answer.
Polish scientist Marie Curie, a two-time Nobel laureate, once said: "Nothing in life is to be feared, it is only to be understood. Now is the time to understand more, so that we may fear less." As I walked out of the conference venue at Hotel Bayerischer Hof on Sunday, I thought of her words. Hopefully, the intense discussions in Munich among leaders from the worlds of politics, academia, civil society, the military, and business will result in better understanding to overcome our fears. If the West can become not only quicker, but bolder, it might turn MSC 2024 into a victory conference.
---
Anna Wieslander is the Atlantic Council's director for Northern Europe and head of the Northern Europe Office in Stockholm.
Further reading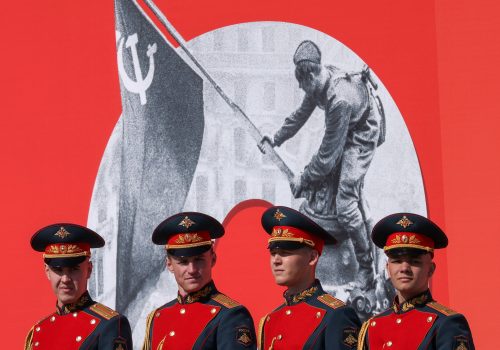 Wed, Feb 22, 2023
New Atlanticist By Alexander Vershbow
To prevent further damage to the rules-based international order, the United States and its allies will need a strategy of containment to deter Russia militarily and decouple Russia from the international community, until Moscow has earned the right to be considered a partner once more.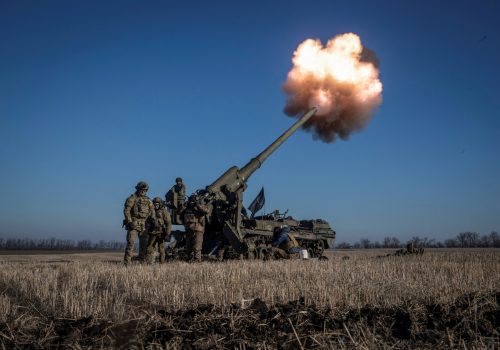 Tue, Feb 21, 2023
UkraineAlert By Dennis Soltys
Ukraine's international partners are gradually providing the country with the weapons it needs to beat Russia, but excessive caution and continued delays could still allow Vladimir Putin to snatch victory from the jaws of defeat.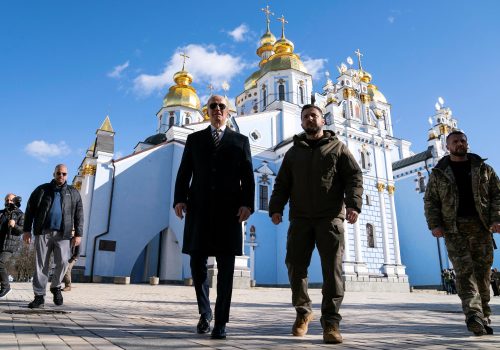 Mon, Feb 20, 2023
New Atlanticist By Atlantic Council experts
Atlantic Council experts share their insights on the importance of Biden's surprise trip to Kyiv and more at the one-year mark of Russia's full-scale invasion of Ukraine.