Ukrainian President Volodymyr Zelenskyy may finally get a meeting with Chinese leader Xi Jinping as soon as next week. The expected discussion follows Beijing's release of a position paper for Ukraine on February 24—the one-year mark of Russia's full-scale invasion. Zelenskyy, however, should be wary about what Xi truly seeks, namely the mitigation of criticism about Beijing's role in the conflict and a platform to sell his Global Security Initiative (GSI), for which Beijing released a concept paper just days before releasing its position paper. As such, it is critical that Zelenskyy provide his honest public assessment of Beijing's peace plan and role in the conflict—otherwise, he risks giving Beijing the perfect cover to refute questions about its alleged neutrality while doing little to ensure an outcome to the crisis that actually works for Ukraine.
For Xi, a meeting with Zelenskyy would be more about securing soundbites that reflect positively on Beijing's position paper and on the GSI—specifically its potential for addressing the problems in the world that, according to China, the United States and its NATO allies have wrought. The plan mirrors important elements of the GSI by calling for respecting the sovereignty of all countries and by taking countries' security concerns seriously—not only a nod to Moscow but also a clear dig at Washington, intended to warn the United States to avoid adopting a "Cold War mentality" and abusing unilateral sanctions. China's portrayal of the United States and the West more broadly as the main reasons for the world's "peace deficit" has indeed been a prominent theme in the GSI since it was unveiled last year.
Zelenskyy must also contend with the fact that Beijing's position paper does not mean that China is going to distance itself from Russia. The expected meeting with Xi will likely happen virtually and only after Xi visits Russian President Vladimir Putin in Moscow. Chinese State Councilor and Director of the Chinese Communist Party's Central Foreign Affairs Office Wang Yi was also in Moscow just days before the paper was released; more recently, Belarusian leader (and Putin ally) Alyaksandr Lukashenka visited China and met with Xi.
Additionally, the timing of Beijing's paper almost certainly was meant to deflect criticism of China as Russia's full-scale invasion reached the one-year mark, particularly in light of US intelligence indicating that Beijing is considering supplying lethal aid to Moscow. China's foreign ministry called those claims disinformation, stating that Washington is the one "fanning the flame and fueling the fight with more weaponry" in a classic example of whataboutism. The Chinese state-owned Global Times bashed the United States in an editorial, writing that Washington cannot on one hand criticize China's close ties with Russia while on the other ask Beijing to use friendly relations with Moscow to rein in Putin. It further indicated that Xi is not planning to distance himself from Putin with the release of the position paper. It also shows that Beijing believes that it can continue to profess neutrality while in reality supporting Moscow without any substantial repercussions.
Despite claiming to be open to working with all countries, Beijing is under no illusions that Washington will back its peace plan. But it does hope that the plan will appeal to the rest of the world, including countries across the Global South and possibly even some US allies and partners. The Global Times editorial highlights the impact of the war in Ukraine on developing countries and their abilities to achieve their development goals, arguing that those economic struggles are the reason developing countries are "unwilling to be forced to choose sides in the conflict." This is almost certainly a reference to US pressure on developing countries to punish Russia, in contrast to what Beijing claims is a more reasonable approach that considers these countries' interests in its paper and GSI plan. An article in Chinese Communist Party-owned China Daily published three days after the position paper was released boasted that GSI gets support from eighty countries and regional organizations. The article also quoted analysts from Japan, South Korea, and India expressing positive reactions to GSI.
Regardless of Beijing's intent, by using the publicity of its position paper to promote GSI, China has increased its visibility in—and thus its burden for—resolving the crisis. Linking the GSI to its paper may seem risky, considering that if China's efforts to achieve peace fail, so too might its effort to promote the GSI. But in the current atmosphere of diverging narratives on who is right or wrong, it is possible that Xi has already decided to spin the GSI as a program that yields success regardless of how things turn out in Ukraine or any other crises his GSI tackles, including by blaming others (i.e. Washington) for any obstacles and failures.
One thing that could seriously hamper such a plan, however, is if Xi is unable to get the sound bites he wants from a meeting with Zelenskyy. If Ukraine were to shoot down China's position paper, it would harm Beijing's veneer of neutrality and raise doubts about the GSI's ability to deliver. It is in this context that words matter, and although it is commendable that Zelenskyy is giving Beijing the benefit of the doubt, he should recognize that he would be better served by pushing for specifics.
He also should provide a full public account of the next steps that were discussed with Xi, along with his assessment of whether those steps have any merit, rather than releasing a jargony statement that might, to any extent, suggest outright Ukrainian support for Beijing's position paper and the GSI. Such a statement would only make it easier for Xi to sell the GSI—which portrays some countries trying to help Ukraine as the enemy—and make it harder to reproach Beijing for its support to Moscow against Kyiv.
Trying to curry favor with Beijing in this way will not guarantee its help in securing an end to the conflict that works for the Ukrainian people. Rather, Zelenskyy should be aware that it is arguably his direct and honest assessment of Beijing's paper and role in the conflict that Xi is worried about the most, which therefore may provide Zelenskyy with some leverage to push for and hold Beijing to specific next steps. In this sense, the actual meeting with Xi is less important than what Zelenskyy has to say about the exchange afterward.
---
Gabriel "Gabo" Alvarado is a nonresident senior fellow in the Atlantic Council's Global China Hub with previous experience at the US Department of State in the bureaus of East Asian and Pacific Affairs and Western Hemisphere Affairs. He works at Nisos, a managed intelligence services company.
Further reading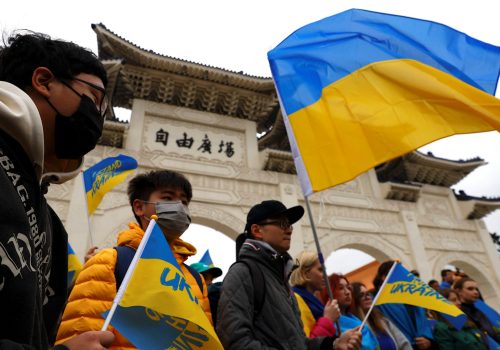 Wed, Mar 15, 2023
UkraineAlert By Kira Rudik
Taiwan has emerged over the past year as one of Ukraine's strongest supporters in Asia with many Taiwanese viewing the Ukrainian wartime experience as a model for their own potential confrontation with China.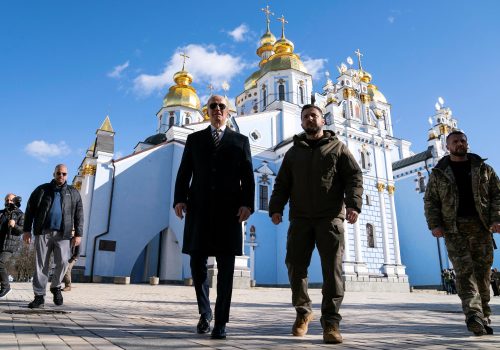 Mon, Feb 20, 2023
New Atlanticist By Atlantic Council experts
Atlantic Council experts share their insights on the importance of Biden's surprise trip to Kyiv and more at the one-year mark of Russia's full-scale invasion of Ukraine.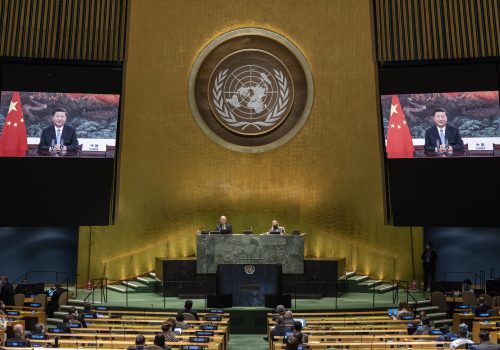 Tue, Jan 24, 2023
China-MENA Podcast By Atlantic Council
Nadege Rolland joins us to discuss China's support and dissatisfaction with the existing global order and whether the country will continue to support or try to change it via Chinese-led initiatives.