Watch the full event
If Ukraine's friends want to see faster progress in the recently launched counteroffensive, they should look in the mirror, said Anders Fogh Rasmussen, former secretary general of NATO: "So far we have provided weapons for Ukraine just to survive. Now [the] time has come to provide weapons for Ukraine to win."
Rasmussen spoke at an Atlantic Council Front Page discussion with Andriy Yermak, head of the Office of the President of Ukraine. Yermak added that aside from seeking more and better weapons, the people of Ukraine are keeping a close eye on next month's NATO Summit in Vilnius, Lithuania. They "expect that Ukraine will be invited to NATO," Yermak said. If not, they will feel a "very, very strong demotivation" on the battlefield, Yermak argued.
Yermak and Rasmussen have delivered a plan to Ukraine's supporters called the Kyiv Security Compact. It includes large-scale weapons transfers, enhanced intelligence sharing, and support to Ukraine's defense industry so that it can more independently produce weapons and ammunition.
With both security guarantees and NATO membership potentially on the table in Vilnius, Rasmussen clarified that "these security guarantees will not replace Ukrainian membership [in] NATO." They will, however, "build the bridge and will allow Ukraine to defend itself until it is covered by NATO's Article 5."
Below are more highlights from the conversation on Ukraine's road to NATO membership and Western efforts to establish security guarantees, moderated by John E. Herbst, senior director of the Atlantic Council's Eurasia Center.
Battlefield needs
The "incremental, step-by-step approach" by Ukraine's supporters, Rasmussen argued, won't help achieve victory. "You have to surprise and overwhelm your adversary," he said. "So that's why we need to use the big hammer to put a quick end to this conflict."
That big hammer, according to Rasmussen, should be forged from battle tanks, longer-range missiles, and eventually fighter jets. Yermak added that long-range missiles—including the oft-discussed Army Tactical Missile Systems (ATACMs)—are certainly on Ukraine's wish list. He believes a decision on long-range missiles will be reached with supporters in the "very, very near future."
To get around the obstacles blocking the supply of advanced weapons systems, Rasmussen said it would take "determined political leadership" to break the habit of taking long periods of time to decide what to send—and of incrementally providing support. In the meantime, Russian President Vladimir Putin "has exploited our long decision-making processes to fortify Russian defenses," he warned.
Joining the club
One of the arguments against admitting Ukraine as a NATO member is that it is currently at war. Rasmussen argued that making NATO membership dependent on the cessation of hostilities gives "Putin an incentive to continue the war."
Plus, there's precedent: West Germany joined the Alliance in 1955, and Article 5 covered its territory—not that of East Germany. "We could use exactly the same formula when it comes to Ukraine," Rasmussen proposed. But doing so would still require "careful consideration," he explained, as there will be "outstanding questions" about how Article 5 applies to areas such as the Donbas and Crimea.
For Ukraine's path to NATO, Rasmussen backed the removal of the membership action plan (MAP) requirement, saying that "Ukraine already fulfills all the criteria within the MAP" because it has "demonstrated such efficiency on the battlefield." Yermak also said that he believes Ukraine "has already passed all exams" and "is passing them every day [on the] battlefield."
Rasmussen predicted that "there will be no consensus" on NATO membership for Ukraine at the Vilnius summit. But compromise is still possible: "The second-best option," he said, would be to outline Ukraine's path to NATO membership clearly. That would include removing the need for a MAP, pledging to review NATO's enlargement at the 2024 summit, and establishing a NATO-Ukraine Council to identify what Kyiv needs to do before it can join the Alliance.
The current lack of clarity surrounding Ukraine's path to NATO membership is dangerous, Yermak argued: It is precisely in that "gray zone" that "Russia has the advantages," he said.
What's at stake
Rasmussen said that NATO membership for Ukraine would help tell Putin that he "cannot stop this process" and that NATO's door is open for Ukraine—and "[Putin is] not the doorman."
"Simply restoring the status quo [is] not [an] option," Yermak said, explaining that any Western uncertainty about the outcome of this war will amount to a Russian victory. "It will reinforce the Kremlin's narratives of Russia fighting against an Alliance expansion in Ukraine—and winning."
And with Russian presidential elections slated for next year, that narrative would only strengthen support for Putin's regime, Yermak added, both at home and across the Global South countries that are watching Russia closely.
Ultimately, an invitation to join NATO would be a "supporting element" in a quicker Ukrainian victory, Yermak said. "I am sure about it."
---
Katherine Walla is the associate director for editorial at the Atlantic Council.
Watch the full event
Further reading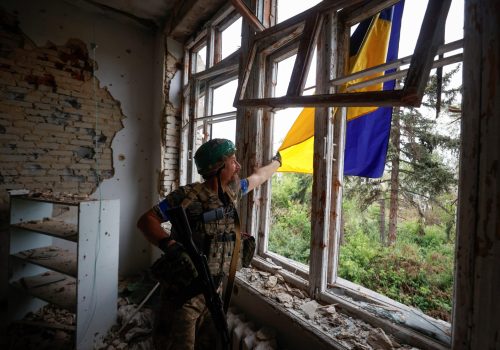 Wed, Jun 21, 2023
UkraineAlert By Yulia Svyrydenko
International attention is currently focused on the progress of the Ukrainian counteroffensive but it is also vital to make sure Ukraine wins the peace by creating a secure and prosperous country, writes Yulia Svyrydenko.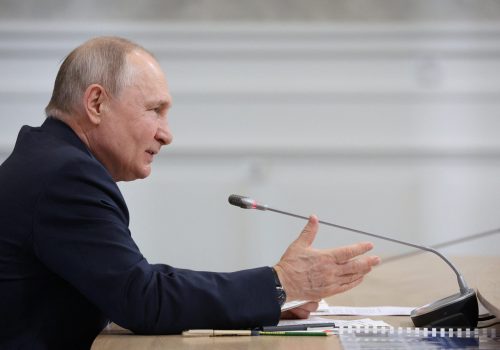 Wed, Jun 21, 2023
UkraineAlert By Diane Francis
As Ukraine's long-awaited counteroffensive gets underway, there are fears that Russia's deteriorating military predicament could lead to an escalation in Vladimir Putin's nuclear threats, writes Diane Francis.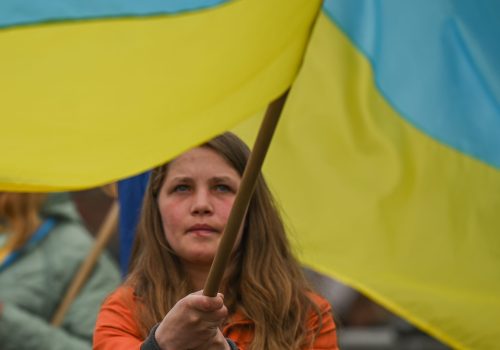 Mon, Jun 19, 2023
UkraineAlert By Peter Erben, Gio Kobakhidze
Western military aid has helped Ukraine defend itself against Russia's full-scale invasion, but the West must also support Ukraine's efforts to consolidate the country's democracy, argue Peter Erben and Gio Kobakhidze.