Reshaping the order
This month's topline events
NATO Summit and Sweden Accession. At their annual summit, NATO members declined to stipulate a timeline for Ukraine's accession to the alliance while underscoring support for Ukraine's ultimate membership in a more convincing fashion than NATO's contentious compromise on that issue at the 2008 Bucharest NATO Summit. The U.S. was initially reluctant to advance Ukraine's NATO membership but yielded in the face of building support for it among many NATO member states. In parallel, G7 members reaffirmed "unwavering commitment" to a "free, independent, democratic, and sovereign Ukraine" and announced a major, long-term security support program aimed to bolster Ukraine's armed forces. Members strengthened defense investment commitments; endorsed revised alliance defense plans for defending NATO territory from potential Russian attack; committed to deeper global partnerships, particularly with Australia, New Zealand, Japan, and South Korea; and sent clear signals to China of potential costs should Beijing support Moscow's Ukraine war. Immediately prior to the summit, following months of negotiation, Turkish President Recep Tayyip Erdoğan withdrew his opposition to Sweden's accession to the NATO alliance. Hungary, the only other holdout, followed suit soon thereafter. While Erdoğan had paved the way for Finland to join the alliance in April, he repeatedly rebuffed Stockholm's attempts due to his claims that the Nordic country was harboring terrorists. Hours after Erdoğan removed his block, the United States confirmed its intent to move forward with a $20 billion sale of F-16 jet fighters to Turkey, which the United States had previously resisted since Turkey sought out the aircrafts in 2019.
Shaping the order. While the NATO statement on Ukraine could have been stronger, the NATO statement and G7 commitments sent yet another signal to Russia that the alliance remains steadfast in support of Ukraine and will back rhetoric with sustained military assistance. While much initial commentary focused on U.S. caution, NATO's commitment to eventual Ukrainian membership signifies rejection of consigning Ukraine to Moscow's sphere of domination or to an unstable, forced neutrality in favor of Ukraine's membership in an undivided transatlantic community. Washington and NATO allies will need to build on this decision-in-principle as the war progresses. NATO's 2024 Washington Summit will be the next decision point. In the meantime, Sweden's accession to NATO, combined with Finland's recent admission, would reinforce NATO's presence in the Baltic Sea region, strengthen the alliance's eastern flank, and expand NATO's border with Russia.
Hitting home. Americans are safer with a unified NATO committed to supporting Ukraine against Russian aggression. The G7 partner commitments for long-term security and other assistance could help balance some of the burden on Washington, which has provided most arms transfers to date. Ukraine's eventual accession to NATO would end the strategic ambiguity that has tempted Putin to launch repeated attacks on that country.
What to do. Building on the momentum generated by the summit, the Biden administration should work with G7 allies to move forward on the large-scale security support program for Ukraine. The Biden administration should make good on its commitment to proceed with the F-16 sale but be careful to avoid further concessions to Ankara. The U.S. must keep pressure on Erdoğan to ensure he does not renege on his commitment to Sweden's path to NATO and further hollow out Turkey's democratic institutions. The U.S. should take the lead within NATO in developing the next steps in Ukraine's accession process.
Ukraine Gains Ground. Ukraine intensified military operations against Russia by ramping up deployments of troops and material to the southern front. Albeit at a slow pace, Ukraine achieved gains in the southeast as it seeks to cut-off or compromise Moscow's land bridge to Crimea. In an effort to gain leverage, Russia pulled out of its Black Sea Grain Deal, brokered in July 2022 by the UN and Turkey, which had enabled Ukraine to ship agricultural products from its southern ports of Odesa, Chornomorsk, and Pivdennyi. Russia accompanied this move with intensified attacks on the port of Odesa, on grain storage infrastructure, and on Ukraine's Danube River ports that had served as alternative means for Ukraine to export grain. With grain prices expected to rise, the United Nations warned that "Some will go hungry, some will starve, many may die as a result of these decisions."
Shaping the order. Moscow, in killing the deal, aims to weaken Ukraine's ability to wage war by reducing revenue to Kyiv's central bank (Ukraine produces roughly 10 percent of the world's wheat and 15 percent of corn). Yet Russia's decision also potentially highlights that Vladimir Putin is increasingly desperate to demonstrate progress in his war of choice, as the associated reduction in food availability and increase in food costs will hit countries, mainly in Africa, he has been trying to court as allies in his fight against Ukraine and the West. That only 17 African heads of state attended the Russia-Africa summit, held in St. Petersburg starting July 27, less than half the 43 who attended the first summit in 2019, potentially signals that Putin's approach is backfiring. Some of those African leaders expressed opposition to Putin pulling out of the deal.
Hitting home. Americans could face higher food prices. The Biden administration could face a spike in instability in regions affected by food shortages. Conversely, the U.S. could benefit if African nations affected by the grain deal decision in turn opt to halt, or minimize, support for Moscow's war.
What to do. The Biden administration should target near-term food security assistance to those affected countries most likely to experience instability that could impact U.S. interests. It should work with European Allies (Poland and Romania especially) to increase Ukraine's ability to export grain other than through the Black Sea. Options to challenge Russia's blockade of Ukrainian shipping in the Black Sea (e.g., naval escorts or anti-ship missiles) should be considered but may not prove practical at this time.
Kerry and Yellen in Beijing. The U.S. and China signaled cautious re-engagement on non-military issues through a series of high-level bi-lateral convenings. John Kerry, US special envoy for climate change, traveled to Beijing for three days of climate talks with his Chinese counterpart Xie Zhenhua, four months ahead of UN-sponsored climate talks in Dubai. The visit came as NASA announced that June 2023 was the hottest June on record and countries across the globe faced scorching heat waves, and other climate-related catastrophes. Treasury Secretary Janet Yellen, in her first visit to Beijing since assuming office in 2021, said the US does not seek to decouple from China and defended the Biden administration's position that the US is not pursuing a "winner take all" economic fight. Yellen's qualified conciliatory line comes after Secretary of State Blinken visited China in July and National Security Advisor Jake Sullivan's remarks in April affirming the U.S. does not seek to de-couple from China generally but instead will "de-risk" including on high priority technology and commodities.
Shaping the order. The two high-level visits sought to stabilize US-China relations after months of escalating tensions. It is unclear, however, if these talks will yield tangible progress or benefit the broader relationship. The resumption of climate talks between Washington and Beijing makes clear both nations take seriously (albeit to differing degrees) the national security threat that climate change poses. Specifically, renewed climate engagements by the world's largest polluters offers hope for more serious global commitments. However, security-related tensions risk derailing forward momentum on climate-related items. Although Yellen said she felt her trip was productive, it came just days after China announced it would restrict exports of critical minerals used in the production of semiconductors, missile systems, and solar cells, widely seen as a retaliatory move against the United States' recent restriction of AI chip exports to China.
Hitting home. The US would be damaged either by a breakdown of economic ties with China or by continuing increases in Chinese economic leverage and ability to exploit the international trade system. The Biden Administration is seeking a means to avoid both, stabilizing relations with China while steadily reducing its leverage. Climate change is having increasingly direct consequences for Americans, including increased wildfires, strained electricity grids, agricultural stress, and rising sea levels. Cooperation between the US and China could open more ways to address the challenge.
What to do. The United States should continue engaging Beijing on possibilities for a more stable economic relationship and coordination, seeking to the degree possible to check the acute rise in tensions between the two without projecting a sense that it is willing to compromise key interests, such as Taiwan's security.
Quote of the Month

"Today, our alliance remains a bulwark of global security and stability as it's been for more than seven decades. NATO is stronger, more energized, and, yes, more united than ever in its history. Indeed, more vital to our shared future."
– US President Joe Biden speaking in Vilnius, Lithuania, July 12, 2023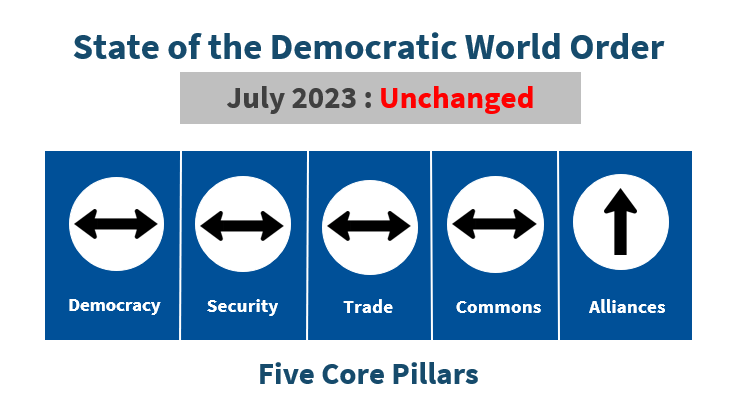 State of the Order this month: Unchanged
Assessing the five core pillars of the democratic world order
Democracy (↔)
Thailand's parliament blocked the nomination of Pita Limjaroenrat, winner of recent nationwide elections, to be prime minister. This marks a significant setback for the progressive opposition party's bid to unseat the military-backed ruling majority, which has been in power for nearly a decade.
A faction of Niger's military initiated a coup, detaining President Mohamed Bazoum in his Presidential Palace in Niamey. The coup comes just three years after Bazoum won presidential elections in the country's first democratic transfer of power. The U.S. condemned that action, as did the West African ECOWAS organization.
Cambodia's ruling party won an election widely seen as not free nor fair, using violence to suppress the opposition. Within days of the election Prime Minister Hun Sen transferred power to his eldest son, General Hun Manet. Sen states that he intends to "still control politics as the head of the ruling party."
Israel's parliament ratified new legislation, advocated for by Israeli Prime Minister Benjamin Netanyahu, which rolls back some Supreme Court powers, including checking executive branch decisions. The decision faced mass protests.
On balance, the democracy pillar was unchanged.
Security (↔)
NATO held its annual summit in Vilnius, Lithuania, and in its communique expressed support for Ukraine's membership in the alliance and characterizing China's "ambitions and coercive policies" as a security challenge to the alliance. In response, the PRC noted that any NATO "eastward movement into the Asia-Pacific region" that impacts China's interests would be "met with a resolute response."
G7 members, following the NATO summit, reaffirmed their "unwavering commitment" to a "free, independent, democratic, and sovereign Ukraine" and announced a major, long-term security support program aimed to bolster Ukraine's armed forces.
The United States announced it will provide cluster munitions to Ukraine as part of its latest $800 million aid package.
Yevgeny Prigozhin, head of the paramilitary Wagner Group, made his first public appearance since his failed revolt, appearing in a video message welcoming Wagner fighters into Belarus, where he received safe haven by Belarusian President Alexander Lukashenko as part of a deal to end Wagner's June uprising.
On balance, the security pillar was unchanged.
Trade (↔)
The European Union and Mercosur bloc failed to reach a consensus on terms to a long-delayed free trade deal, as Brazilian President Luiz Inacio Lula da Silva called the EU's move to include sustainability and climate-related addendums into the deal a "threat" to the interest of the bloc.
The European Union and New Zealand signed a free trade agreement that could increase bilateral trade between the two entities by 30% within the next decade. The EU is already New Zealand's third-largest trading partner.
China's Ministry of Commerce, days before Treasure Secretary Yellen's trip to Beijing, announced the PRC will restrict exports of critical minerals gallium and germanium, used in the production of semiconductors, missile systems, and solar cells. This is widely seen as a retaliatory move against the United States' recent restriction of AI chip exports to China.
On balance, the trade pillar was unchanged.
Commons (↔)
The European Space Agency and SpaceX jointly launched the Euclid spacecraft, a first-of-its-kind space telescope designed to study dark matter and dark energy—which make up 95% of the universe—interact and influence space and time.
According to NASA's global temperature analysis, June 2023 was the hottest June ever recorded.
John Kerry, US special envoy for climate change, traveled to Beijing for three days of climate talks with his Chinese counterpart Xie Zhenhua, four months ahead of UN-sponsored climate talks in Dubai.
On balance, the global commons pillar was unchanged.
Alliances (↑)
Turkish President Recep Tayyip Erdoğan withdrew his opposition to Sweden's accession to the NATO alliance. Hungary—the only other holdout—followed suit shortly thereafter.
NATO Secretary General Jens Stoltenberg's mandate was extended by an additional year after alliance member states failed to agree on a new leader. Having held the position since 2014, this marks the fourth time Stoltenberg's four-year term has been extended.
Seeking to push NATO as the Summit began, Ukrainian President Volodymyr Zelensky called "unprecedented and absurd" the decision of NATO leaders, during the Vilnius summit not to offer Kyiv a formal invitation to NATO or outline a time-certain path to alliance membership. However, Zelensky later took a more positive tack in reacting to the NATO Summit that did strengthen Ukraine's eventual membership prospects.
The G20 finance ministers convened in Gandhinagar, India, to discuss global challenges including rising debt and the climate. Members did not reach a consensus on topics pertaining to Russia and Ukraine.
On balance, the alliance pillar was strengthened. 
Strengthened (↑)________Unchanged (↔)________Weakened (↓)
What is the democratic world order? Also known as the liberal order, the rules-based order, or simply the free world, the democratic world order encompasses the rules, norms, alliances, and institutions created and supported by leading democracies over the past seven decades to foster security, democracy, prosperity, and a healthy planet.
This month's top reads
Three must-read commentaries on the democratic order
Alessandro Arduino, in Foreign Policy, argues that the presence and influence of Wagner troops in Africa, and the ambiguity of the group's official status following Prigozhin's revolt in Russia will invariably impact the blossoming relationship between Beijing and Moscow.
Michael Schuman, in The Atlantic, contends that Sino-American relations will remain fraught so long as President Xi Jinping seeks domination—rather than cooperation or cooperation—over the US.
Kori Schake, in The Atlantic, contends that while the NATO Summit delivered groundbreaking security commitments and paved a path for Sweden's accession to the alliance, its failure to provide clarity in regards to a Ukraine path to alliance membership undermined any successes.
Action and analysis by the Atlantic Council
Our experts weigh in on this month's events
__________________________________________________
The Democratic Order Initiative is an Atlantic Council initiative aimed at reenergizing American global leadership and strengthening cooperation among the world's democracies in support of a rules-based democratic order. Sign on to the Council's Declaration of Principles for Freedom, Prosperity, and Peace by clicking here.
Patrick Quirk – Director for Democratic Order
Dan Fried – Distinguished Fellow
Soda Lo – Project Assistant
If you would like to be added to our email list for future publications and events, or to learn more about the Democratic Order Initiative, please email pquirk@atlanticcouncil.org.