The earthquake that struck Turkey and Syria on February 6, 2023, caused widespread devastation. The death toll was estimated at over fifty thousand people, of which around 46,000 were in Turkey. In addition, the earthquake initially left millions of people homeless and without access to basic necessities across the two-hundred-mile-long path of destruction.
In the aftermath of such disasters, there is often a rush to quickly rebuild and restore affected areas. However, Turkey must rebuild its affected cities in a sustainable way that provides for both the short- and long-term needs of its residents. This requires holistic planning, community engagement, and integrating urban sustainability and resilience.
In Turkey, more than 160,000 buildings containing 520,000 apartments collapsed or were severely damaged across provinces such as Hatay, Kahramanmaraş, Adıyaman, Gaziantep, and Malatya. According to data from the Turkish Ministry of Environment, Urbanization, and Climate Change, the vast majority of the affected buildings were built before 1999. In addition, official estimates in the months after the earthquake indicated that more than 230,000 buildings would have to be demolished, representing approximately 30 percent of the existing building stock.
In response, the Turkish government announced an ambitious plan to build 488,000 homes in the affected region within a year. It also pledged to build an unspecified number of nonresidential buildings such as schools and hospitals. The plan also includes retrofitting and strengthening the existing properties that have sustained light, nonstructural damage, as well as redeveloping infrastructure such as roads and bridges.
The plan is overseen by the Ministry of Environment, Urbanization, and Climate Change, and the work is being assigned to the Turkish Housing Development Administration (TOKI), a government agency that has been building public housing for the last four decades. TOKI had recently reported that 134,000 of the houses it built in the earthquake zone did not suffer any structural damage. It did not, however, rule out that any of its buildings were affected.
Construction is already under way in some areas. On May 3, the outgoing minister of environment, urbanization, and climate change announced that 132,000 housing units are already under construction. The total reconstruction cost is estimated to exceed one hundred billion dollars.
Sustainable reconstruction
As long as builders follow Turkey's earthquake codes for construction, those units and others will be built to be earthquake-resistant. Yet to capitalize on this massive investment and to reduce future risks, the planned neighborhoods and buildings should not merely be resilient to future earthquakes: They should also be rebuilt resilient to known hazards caused or intensified by climate change.
According to the United Nations Intergovernmental Panel on Climate Change, Southern Turkey is expected to experience more frequent heatwaves and droughts, in addition to higher temperatures and sea levels. If newly built homes become unlivable in a just few decades because builders didn't take into account future cooling and ventilation needs, or if neighborhoods rebuilt after this earthquake suffer from congestion and pollution in the future, such large-scale investments could become stranded assets. Major reconstruction at this scale should also not only adapt to climate change but also mitigate it; cities should be sustainably rebuilt so that their damage to the environment—and contribution to climate change—is limited.
Turkish officials' desires to reconstruct quickly is understandable given the urgency to restore normalcy. However, the benefits of rebuilding with long-term viability in mind—by taking the time to plan for more sustainable, resilient, and inclusive neighborhoods—far outweigh the short-term gains of hasty reconstruction.
In order to rebuild sustainably, builders should approach reconstruction with a wider focus on districts and neighborhoods rather than a narrow focus on individual buildings and infrastructure. These new neighborhoods should use land efficiently, with buildings that have smaller footprints, in order to make more land available for public green spaces—which offer nearby residents improved air quality, among other benefits—urban agriculture, and pedestrian and cycling paths.
Despite the availability of bus networks, cars still represent a significant share of transportation in the five most affected provinces, which contributes to air pollution and traffic congestion. Planning for future neighborhoods should mix residential and commercial areas to reduce the need for commuting. The planning should also develop reliable and sustainable transportation networks, similar to the Kahramanmaraş 2030 transportation plans. This includes measures to reduce air pollution such as encouraging residents to use public transportation and minimizing spaces dedicated to car parking.
The planning that shapes these new neighborhoods should also aim to create a more comfortable environment for residents. This includes orienting the street network and designing buildings in a way that allows for breezes during hot seasons. It also includes planting trees and vegetation and using new materials for roofs and pavements. These measures help keep the sun's heat at bay while managing rainfall naturally to reduce flooding risk. Local ecosystems such as forests, wetlands, and agricultural lands under threat from deforestation, pollution, and climate change should also be restored.
New neighborhoods also need to be planned with future energy and water use in mind. This includes reducing peak electricity demand by designing buildings that require minimal energy to heat and cool and providing spaces for power installations on rooftops and above pedestrian walkways. Improving water efficiency is also critical given that the five most affected provinces already face high levels of water stress.
The new neighborhoods should also be planned so that they do not displace vulnerable communities and disrupt their social networks and livelihoods. These risks can be avoided by including these communities in the planning, including at the local community level, and engaging stakeholders in the decision-making process.
Leveraging international assistance
In any humanitarian crisis, the pressure on local and national decision makers to act quickly is always immense. Yet, hasty reconstruction brings many risks: inefficient land use; the increased use of energy, water, and material resources; increased carbon emissions; a higher flooding risk; increased congestion; poor air quality; limited access to public spaces; loss of biodiversity; increased vulnerability to climate change impacts; and increased social and economic inequality. The long-term cost of failing to address these issues is nothing short of a failure to protect the surviving earthquake victims and other residents from future disasters.
Being less constrained by the pressure to rebuild hastily, international donors could play a role in ensuring a more positive outcome in Turkey. The European Union pledged six billion euros in grants and loans, while the World Bank pledged $1.78 billion in initial assistance to help with relief and recovery efforts in Turkey. If those institutions and future international donors encourage Turkish policymakers to create sustainable, resilient, and inclusive neighborhoods, they could have a positive impact on the trajectory of the reconstruction efforts.
The window of opportunity to create the foundations for more sustainable and resilient cities is narrow and closing quickly. Thoughtful and inclusive planning requires additional coordination and consultation and may result in a delay of a few weeks or months. Yet it remains the only way to capitalize on this opportunity for Turkey and to address the needs of both current residents and future generations.
---
Karim Elgendy is an urban sustainability and climate expert based in London. He is an associate director at Buro Happold, an associate fellow at Chatham House, and a nonresident scholar at the Middle East Institute in Washington. Elgendy is also the founder and coordinator of Carboun, an advocacy initiative promoting sustainability in cities of the Middle East and North Africa through research and communication.
Further reading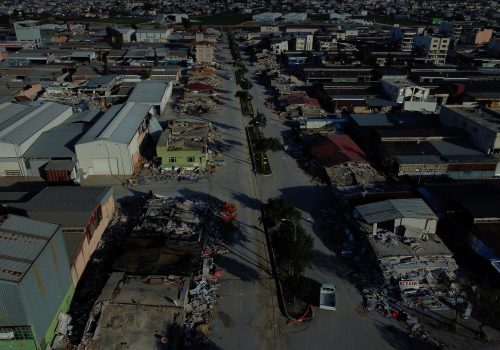 Wed, Apr 12, 2023
TURKEYSource By Selen Ucak
In the wake of Turkey's devastating earthquakes, investing in sustainable solutions for the displaced is crucial.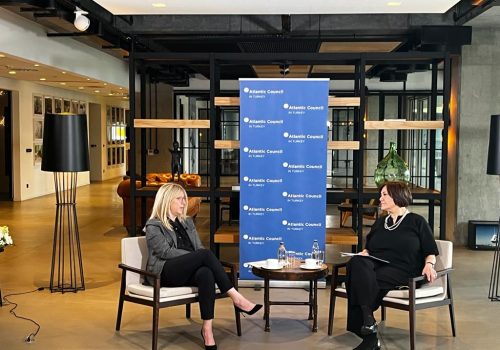 Fri, Mar 31, 2023
TURKEYSource By Atlantic Council IN TURKEY
Ebru Özdemir, chairperson of Limak Holdings, discusses how companies are responding to the earthquakes and how southeast Turkey should rebuild.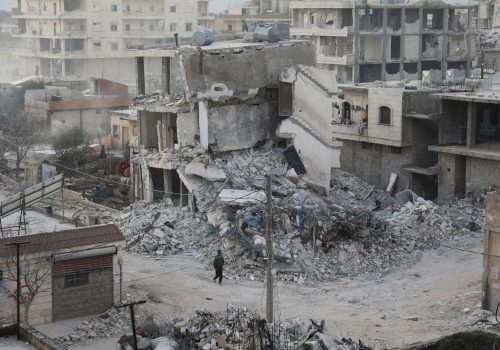 Fri, Mar 17, 2023
TURKEYSource By Pınar Dost
The disastrous earthquakes have brought the forgotten fate of Syrians and of Syria to the forefront of the US agenda in the region. They must not be forgotten again.