The February earthquakes in Turkey, which also affected Syria, had a staggering, devastating scale. More than fifty thousand lives were lost. In Turkey alone, sixteen million people living in eleven provinces were affected, while the country suffered more than one hundred billion dollars in structural and economic damages, according to the latest reports.
The local economy of the earthquake-affected provinces accounts for 9.8 percent of Turkey's gross domestic product (GDP), 8.6 percent of exports, and 15 percent of agricultural products. With a lower GDP per capita and a higher unemployment rate than the national average even before the disaster, the region employs over 3.8 million people, primarily in the agriculture, trade, textile, and food sectors, almost 40 percent of whom are employed informally. The local private sector—made up of more than 538,000 enterprises—now needs wide-ranging support to recover from the earthquakes.
Recovery and rebuilding will require a multi-faceted approach prioritizing private-sector support for local development along with social impact. This approach will need to ensure that the region continues progressing toward United Nations Sustainable Development Goals (SDGs) and does not leave vulnerable communities behind, including the displaced. Of the 3.7 million Syrian refugees who fled to Turkey since the Syrian war began, half of them lived in this region, constituting over 11 percent of its overall population, and were affected by the earthquakes. Turkey is now home to over three million internally displaced people, who are looking for economic and social support after this disaster.
One of the essential tools at Turkey's disposal to tackle these daunting challenges and to design a more sustainable, resilient recovery is impact investing. These are "investments made with the intention to generate positive, measurable social and environmental impact alongside a financial return," according to the Global Impact Investing Network, targeting a spectrum of returns depending on the type of capital and instruments used. As Turkey's Impact Investing Advisory Board stated in a report published shortly before the earthquakes, urban resilience—which will need to be a priority following this disaster—will benefit from "innovative, sustainable capital allocation and commercial value generation" with an impact focus. Thankfully, the local impact investing ecosystem has been taking root to enable this.
Impact investing can also aim to create self-reliance for refugees and internally displaced people through "refugee lens" investing, which is a framework to qualify and track investments developed by the Refugee Investment Network (RIN), where I work with enterprises and investors focused on impact.
Forced displacement cuts across at least thirteen of the seventeen SDGs around the world, according to RIN. Actively investing in displaced populations leads to new and sustainable solutions. In the aftermath of the earthquakes, that could include supporting the thousands of refugee-owned small businesses in the earthquake region, providing microfinance to local farmers and artisans, or facilitating tech-based remote employment. The goal is to increase displaced people's livelihoods, financial inclusion, and continued skills development (especially to respond to workforce losses due to the earthquake), thus leading to equitable economic and social revival. Funding the communities and employers around the country that welcome the displaced will also be important.
Having value chains focused on supplier diversity, economic inclusion, and job creation will also help this cause. The public and private sectors can strengthen community resilience by prioritizing local and displaced suppliers affected by the disaster, including social enterprises and cooperatives employing and supporting vulnerable communities through "social procurement." For instance, Innovation for Development (i4D), a local economic development organization, aims to connect three hundred local producers from the earthquake-affected region with buyers to ensure business continuity and new contracts.
In international trade, proponents of a "Turkiye Compact" call for trade concessions from the European Union, United States, and Canada to incentivize the private sector to hire both Syrian refugees and locals in Turkey with the goal of boosting the local economy and improving social cohesion. According to a United Nations Development Programme feasibility study conducted prior to the earthquakes, such a policy could create 284,000 new jobs (including 57,000 jobs for refugees) and boost exports by 3 percent, primarily of labor-intensive agricultural, processed food, and textile products. Furthermore, local enterprises participating in the Turkiye Compact would become attractive investment opportunities given their tangible impact on displaced communities through employment and sourcing.
Finally, Turkey's vibrant entrepreneurial ecosystem is more crucial than ever. Accelerators, specialized funds, and growing communities of practice can nurture innovative, impact-driven ventures for earthquake-affected communities and create inclusive solutions. Examples so far have included a waste management start-up facilitating food aid, e-commerce solutions enabling microentrepreneurs, online mental health platforms offering therapy to survivors, and tech innovations in rescue and relief, among many others. Additionally, catalyzing entrepreneurship by underserved communities, especially those experiencing intersectional disadvantages, such as the refugee women entrepreneurs featured in an Atlantic Council documentary last year, will create new pathways to self-reliance.
Bringing all of these solutions together and amplifying their impact through the resources of the global impact investing community, local partnerships, and blended financing—with guarantees, concessional loans, or grants to attract private investments, for instance—will yield tremendous, complementary results.
With such a comprehensive toolbox, it will be possible to rebuild better after this terrible disaster and create more inclusive economies and resilient communities.
---
Selen Ucak is a social impact professional working at the intersection of private sector and international development. She currently leads a global community of refugee-led and refugee-supporting businesses and social enterprises at the Refugee Investment Network, as well as serving as a consultant on additional projects.
Further reading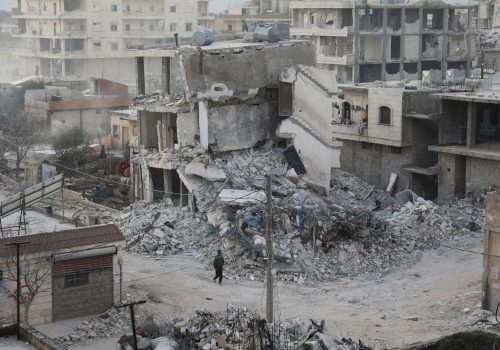 Fri, Mar 17, 2023
TURKEYSource By Pınar Dost
The disastrous earthquakes have brought the forgotten fate of Syrians and of Syria to the forefront of the US agenda in the region. They must not be forgotten again.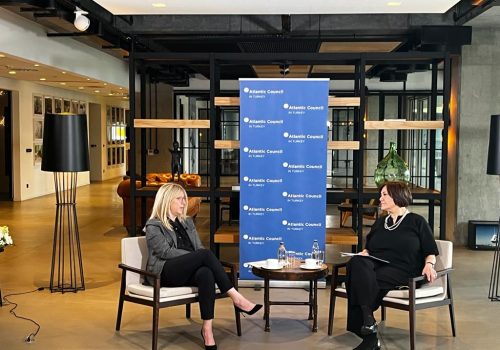 Fri, Mar 31, 2023
TURKEYSource By Atlantic Council IN TURKEY
Ebru Özdemir, chairperson of Limak Holdings, discusses how companies are responding to the earthquakes and how southeast Turkey should rebuild.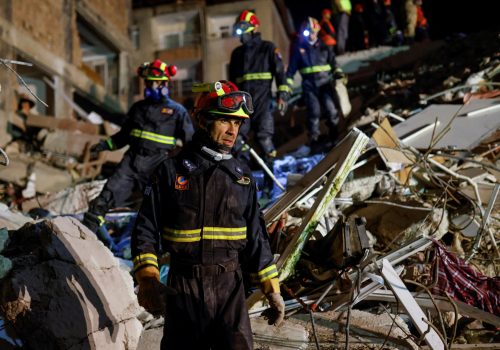 Tue, Feb 14, 2023
TURKEYSource By Grady Wilson
Turkey's allies and partners must continue to offer help and solidarity in dealing with the horrific earthquake. And for the United States, there's a significant opportunity for public diplomacy between two troubled allies.