A controversial October 27 ruling by the Ukrainian Constitutional Court has canceled the requirement for government officials to file e-declarations of their assets, sparking an political crisis in Kyiv. Critics say the court decision strikes at the heart of anti-corruption reforms adopted since Ukraine's 2014 Revolution of Dignity and poses a direct threat to the country's Euro-Atlantic integration.
President Zelenskyy has slammed the move. The Ukrainian leader branded it an attempted "counter-revolution" staged by "a coalition of Russian proxies and some prominent Ukrainian oligarchs who feel threatened by the activities of our anti-corruption institutions." He has responded in dramatic fashion by calling for a complete overhaul of the Constitutional Court.
With Zelenskyy and the Constitutional Court now engaged in an increasingly open confrontation, Ukraine faces the prospect of a serious constitutional crisis without any obvious legislative or political solutions.
This is creating considerable challenges for Ukraine's Western partners, who have a clear interest in safeguarding the country's post-2014 reform progress but also remain committed to the principles of constitutional government.
So far, the Western response to the crisis has been surprisingly rapid and robust. G7 ambassadors, EU representatives, international experts, and institutions such as the Venice Commission have all offered early reactions. The German Ambassador, for example, openly criticized the Constitutional Court and its decision.
Ukraine's Western partners currently appear to be signaling that they expect a prompt but proportionate response to the Constitutional Court ruling. There is little to suggest significant international support for the dissolution of the Constitutional Court. Instead, the international community expects e-declarations to be reintroduced without delay. If this does not happen, officials in Brussels have the nuclear option of revoking Ukraine's visa-free travel to the EU.
Subscribe for the latest from UkraineAlert
UkraineAlert is a comprehensive online publication that provides regular news and analysis on developments in Ukraine's politics, economy, civil society, and culture.
There have been some attempts in Ukraine to interpret recent public signals from the country's Western partners in support of "judicial reforms" as backing for the dissolution of the Constitutional Court. This is not accurate. In reality, the international response has been far more nuanced and remains focused on seeking compromise solutions to the unfolding crisis.
Since the Constitutional Court decision, EU and G7 ambassadors have held meetings with numerous Ukrainian officials to articulate their positions. While remaining skeptical of calls to disband the Constitutional Court, G7 ambassadors have sought to act as mediators and facilitate a political dialogue that could lead to consensus. As part of these efforts, they also recently met with former Ukrainian president Petro Poroshenko.
There is instinctive reluctance among Ukraine's Western partners to back anything that threatens the institutional independence of the country's judiciary. This principled commitment to the separation of powers does not anticipate a completely rogue court that interferes in policy-making and threatens the constitutional order itself, but it does assume that drastic measures will only be taken as a last resort once all other options have failed.
One German diplomat involved in ongoing discussions in Kyiv spoke of fears over the possible future politicization of a revised Constitutional Court. These concerns are entirely understandable, given the numerous allegations of politicized appointments elsewhere in the Ukrainian judiciary, along with the recent controversy surrounding the selection process for the head of Ukraine's Specialized Anti-Corruption Prosecutor's Office. Zelenskyy's current Prosecutor General has also drawn sharp criticism from Western capitals for her relentless and seemingly politically motivated pursuit of ex-president Petro Poroshenko.
The West's perception of the current crisis has been further colored by the Zelenskyy administration's earlier involvement in apparent efforts to undermine the independence of other key institutions such as the National Bank of Ukraine and the National Anti-Corruption Bureau. At the same time, there has been no sign from the government of renewed attempts to tackle judicial reform.
This dubious background has cast Zelenskyy's dramatic proposals for the dissolution of the Constitutional Court in an understandably unfavorable light. There are well-founded concerns over the future political independence of any reformatted Constitutional Court, especially given the absence of integrity provisions in the draft law submitted by the president to the Ukrainian parliament.
From an international perspective, the key questions now revolve around Ukraine's ability to reach a political consensus on the crisis. It is clear that there is currently limited parliamentary support for Zelenskyy's proposed dissolution of the Constitutional Court. Have other options such as the appointment of additional new judges been exhaustively explored? Compromise measures of this nature would not serve as long-term solutions to the anti-reform actions of the Constitutional Court, but they could buy time in which to determine whether Zelenskyy's concerns over a Russia-led counter-revolution are credible.
As the search for a way out of the crisis continues, advocates of a negotiated solution have sought inspiration from the events of late November and early December 2018, when a Russian naval attack on Ukrainian ships in the Black Sea sparked a national security crisis. At the time, President Poroshenko called on parliament to declare martial law. With a presidential election scheduled to take place within months, there were grave misgivings over Poroshenko's motives. However, parliament was eventually able to strike a balance between political and security considerations that allowed for the imposition of martial law on a limited scale while safeguarding the coming presidential election.
It is now up to the Ukrainian authorities to find a political compromise that addresses the current crisis. This may involve measures that stop short of Zelenskyy's proposed dissolution of the Constitutional Court. In order to be credible, it will almost certainly require the support of political forces other than the president's own Servant of the People party.
If compromise solutions fail to resolve the crisis, and if the Constitutional Court continues to hand down politicized rulings that directly challenge Ukraine's Euro-Atlantic integration, then nobody in Brussels or Berlin is likely to punish Kyiv for pursuing more radical options. However, until the crisis reaches that point, Western capitals will remain highly skeptical of calls to disband Ukraine's Constitutional Court.
Mattia Nelles is Program Director at the Center for Liberal Modernity, a Berlin-based think-tank. He previously lived in Kyiv, where he taught at the National University of Kyiv Mohyla Academy for the German Academic Exchange Agency (DAAD) and managed Anti-Corruption Walks at the Anti-Corruption Research and Education Center (ACREC).
Further reading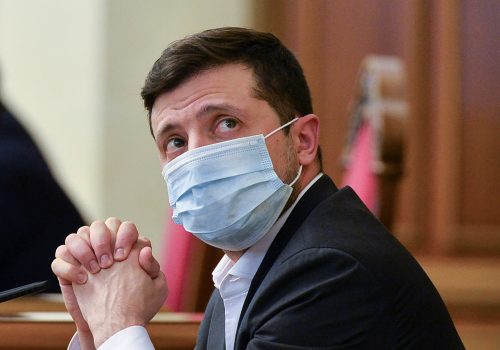 Sun, Nov 1, 2020
A new ruling by Ukraine's Constitutional Court threatens to dismantle the entire anti-corruption framework established since 2014 and derail years of historic progress towards Euro-Atlantic integration.
UkraineAlert by Anders Åslund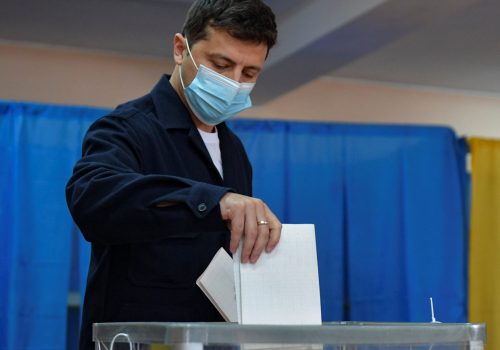 Sun, Oct 25, 2020
Ukraine's October 25 local elections served as a vote of no confidence in President Zelenskyy's ruling Servant of the People party and reflected a deep sense of disillusionment with all national political parties.
UkraineAlert by Anders Åslund

Thu, Oct 8, 2020
The leaders of pro-democracy protests in Belarus have repeatedly denied any anti-Russian agenda but this has failed to prevent Moscow from offering its full backing to beleaguered dictator Alyaksandr Lukashenka.
UkraineAlert by Peter Dickinson
The views expressed in UkraineAlert are solely those of the authors and do not necessarily reflect the views of the Atlantic Council, its staff, or its supporters.


The Eurasia Center's mission is to enhance transatlantic cooperation in promoting stability, democratic values and prosperity in Eurasia, from Eastern Europe and Turkey in the West to the Caucasus, Russia and Central Asia in the East.