"We brought down some Lenins in people's heads," says organizer Yuriy Didula
Days after Ukrainian forces retook the city of Kramatorsk on July 5, 2014, Yuriy Didula and two colleagues from western Ukraine piled into a car and drove building materials into the city.
"People in the east felt abandoned by the state," Didula said in a June 25 interview. The 25-year-old manages the Lviv Education Foundation's eastern Ukraine portfolio.
As a student at Ukrainian Catholic University in Lviv, Didula and his colleagues developed an exchange program that brought young people from eastern to western Ukraine for Christmas and Easter. Later, as part of Lviv Education Foundation, they organized a summer leadership camp for Kramatorsk youth. Having established long-lasting friendships with students in eastern Ukraine, Kramatorsk was a natural place to pitch in.
In Kramatorsk, Didula and his colleagues discovered tremendous need. They recruited ninety volunteers in western Ukraine through a combination of personal networks and a massive public relations campaign to help residents rebuild.
"In Ukraine, everyone is handy," he said.
From August to October 2014, the volunteers—most of whom had no previous construction experience—stayed a week on average, helping locals in Kramatorsk restore two homes and thirty apartments.
"At first people were surprised," Didula said. "People coming to help for free? People were offering money after they finished."
Subscribe for the latest UkraineAlert
Svitlana, the first person the volunteers assisted, said "they came to me as if they were my native children and fixed everything in days. My house looks better than it looked before the [fighting.] I can't find a way to thank them."
The volunteers rented a house with a garden in the suburbs and invited young people to join them for bonfires, movie screenings, and evening discussions.
Before the volunteers came to town, the "most intellectual place was a pizza store. Really a depressing atmosphere," he said.
Kramatorsk, a city of 200,000 people with four large factories, lacks a single cultural center where young people can gather. After they left, locals asked them to help create a permanent youth center.
Didula and his colleagues started raising money. Within two weeks of securing a grant, they found a building and started planning programs.
Freedom Home has just celebrated six months in operation. Since its opening, more than five thousand people have visited the center—an informal place where eastern Ukraine meets western Ukraine. Anyone can read, have a cup of coffee, play the guitar or enjoy a board game. It's a café and a co-working space with art on the walls.
Freedom Home doesn't take sides in the war. It tries to be a center of unity, Didula said.
At its core, Freedom Home is about building relationships. Didula and his colleagues believe that formality doesn't work. But doing physical work together builds bridges.
"A true dialogue can be effectively conducted while doing something," he said.
Didula was rebuilding a fence in Kramatorsk with two local residents who were pro-Russian. After three days of working together, they "at least realized that [the war] isn't about political views," he said. "We're all victims in some way of this conflict. We have to look to the future and build a country where people speaking different languages can live, where people practicing different religions can live."
Freedom Home supports critical thinking. Located next to the Vladimir Lenin statue in downtown Kramatorsk, many thought that its volunteers pulled down the statue. Didula denies it, but they did organize an Oxford-style debate about Lenin that "brought down some Lenins in people's heads," he said.
While Kramatorsk was occupied by Russian-backed separatists for nearly four months in the spring of 2014, there was a lack of truthful information.
When Freedom Home opened, "many people who weren't pro-Ukrainian came to us. We established friendship on a personal level," which enabled volunteers to talk about more sensitive subjects like war and conflict, Didula said.
The city was full of displaced people who didn't know anyone. Freedom Home has been a refuge for them, too. Every day, it hosts a specific event that draws school kids, college students, and adults. They've held movie screenings and discussions, master classes, and art workshops.
"There is no time to grieve here!" said volunteer Arte Morozov, who described Freedom Home as "a magical place."
Freedom Home's basement, where people hid during the shelling, has been repurposed into a workshop where volunteers build furniture.
Freedom Home's platform is unique in eastern Ukraine, and its organizers want to make it sustainable. Eventually locals will manage Freedom Home—youth like Yuriy, 22, an internally displaced person who runs the basement workshop.
What has Didula learned from working in Kramatorsk for six months?
"We realized that young people in our country are the same," he said, adding that news stories about different ethnicities exaggerate the differences, and that all young people want a better future.
Residents of Slovyansk, a city 16 kilometers away that was also taken over by separatists and retaken by Ukrainian forces on July 5, 2014, kept visiting Freedom Home and wanted to build something similar. Teplytsya ("Greenhouse") opened a month ago. They used the same model: they got a grant and rented a large house. They're rebuilding city benches in the workshop there.
"I believe that the youth platform Teplytsya can change the country," wrote Liubomyr Leshchuk, Coordinator of the Slovyansk Platform. "After all, when people are able to implement their ideas, they begin to think not only about themselves but also about those around them, forming the way for the development of civil society."
Didula and his colleague Andriy Levytskyj have planted seeds in other cities as well. They plan to bring similar initiatives to Lozava (Kharkiv Oblast), Pavlograd (Dnipropetrovsk Oblast), Druzhkivka (Donetsk Oblast), and Severodonetsk (Luhansk Oblast).
Melinda Haring is editor of UkraineAlert at the Atlantic Council.
Further reading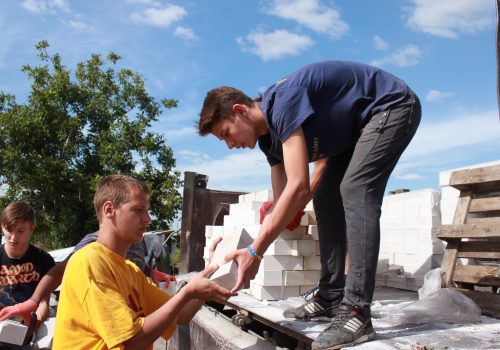 Thu, Oct 3, 2019
Five years after Kramatorsk, our volunteer initiative has become the largest volunteer movement in Ukraine with a network of more than 2,500 volunteers. Together, we have restored housing for 220 families and helped 17 cities create their own youth centers.
UkraineAlert by Yurko Didula
Wed, Sep 4, 2019
Although every Ukrainian understandably wishes a quick end to the war in the Donbas and a lasting settlement of the conflict, Ukraine is strongly advised to approach any Minsk Summit with the greatest care.
UkraineAlert by Willem Aldershoff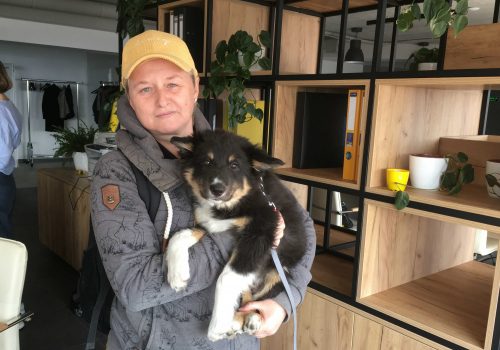 Wed, Aug 14, 2019
When veterans return from eastern Ukraine, sleep deprivation, anxiety, and depression are common complaints.
UkraineAlert by Melinda Haring