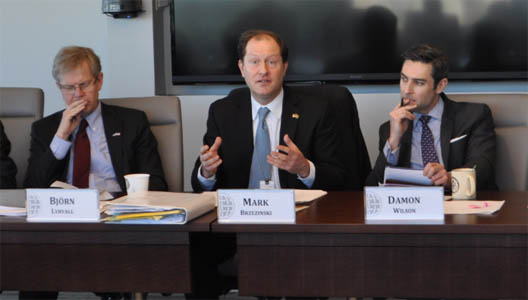 On March 13, 2014 the Atlantic Council's Brent Scowcroft Center on International Security hosted a strategy session with the US ambassador to Sweden Mark Brzezinski on Sweden's role as a NATO partner and on the broader framework of US-Sweden security cooperation. Visiting Stockholm in September, President Barack Obama underscored Sweden's importance as one of the United States' "closest partners," commending Swedish efforts in Afghanistan, Central Eastern Europe, and elsewhere. The countries agreed to launch an annual US-Nordic Security Dialogue to discuss opportunities for collaboration on global and regional security issues, focusing primarily on issues arising in the United Nations, preventive diplomacy, peacebuilding, peacekeeping, and atrocity prevention.
Against this backdrop, Ambassador Brzezinski updated a group of experts from the Atlantic Council and the broader transatlantic defense community in Washington on the status of the US-Swedish relationship in political and security spheres, outlining potential future developments and opportunities for strengthened cooperation. He said the US-Swedish relationship is the strongest it has been, underpinned by shared values of democracy, human rights, and rule of law. He commended Sweden deepening its partnership with NATO through its strong involvement in NATO's intervention in Libya in 2011, and its participation in NORDEFCO, hailed as a role model for NATO's Smart Defense initiative. The discussion following the ambassador's remarks focused on ways of promoting increased security cooperation both bilaterally as well as at the NATO level, particularly in the context of the NATO summit to be held in September. The participants also assessed Sweden's potential role in the next round of the Transatlantic Trade and Investment Partnership (TTIP) negotiations, and the opportunities for US-Swedish cooperation in the Arctic.
The event was hosted by Atlantic Council Executive Vice President Damon Wilson. It was the second session hosted by the Atlantic Council for Ambassador Brzezinski, first of which took place in October 2011 as he prepared to begin his current assignment. The event also closely relates to the Atlantic Council's Nordic-Baltic programming, which highlights issues and trends in that region by providing a forum for informed discussion and debate.