Watch a playlist of the event
Event transcript
Uncorrected transcript: Check against delivery
JOHN F.W. ROGERS: I'm delighted to be with all of you tonight as we salute the recipients of the Atlantic Council's Distinguished Leadership Awards. Each year, we recognize a select few who represent the best pillars of our transatlantic relationship, whether as political or policy leaders, business executives, military officers, or artistic and humanitarian champions. What they have in common is that each honoree has made an indelible impact on our world, both in their personal and professional accomplishments, and in their vision for creating a better future with our friends and allies.
Tonight, as chairman of the Atlantic Council, it's a privilege to be able to say that, for the first time in the Council's history, we are recognizing a group of all women honorees. And we're calling attention to the rising role of women's leadership in shaping a better world.
Now of course, as we gather to celebrate, we do so at a time when such leadership has seldom, if ever, been as crucial as it is today. And while just last week the director-general of the World Health Organization declared that COVID-19 was over as a global public health emergency, new challenges continue to emerge.
A year to the day since we awarded the people of Ukraine a special Distinguished Leadership Award, the war in the Ukraine rages on, shaping a new era of global competition, exposing fragility in international trade ties, and furthering geopolitical uncertainty. It is innocent people who pay the price for war. Their suffering must not be forgotten. What's more what's more, with the souring of the US-China relationship, increased tensions and potential systemic threat to world order, the post-World War II sense of stability has never been more threatened.
The task now before the Atlantic Council is not just to diagnose the geopolitical moment in which we find ourselves, but also to inspire the United States and its partners to enhance their collective efforts to shape a better, more prosperous world. As an Atlantic Council community, we can be encouraged by how our organization is rising to the moment. We have provided action-oriented solutions for protecting Ukraine's sovereignty and freedom, and we have made clear why this war and the US-China rivalry are struggles over what forces, principles, and practice will determine our global future.
As we recognize each honoree at this evening's historic all-female lineup, we do so in [an] era increasingly in search of role models for women and girls. So tonight, we celebrate not just what each of these extraordinary women have done individually to shape our global future, but what they have done collectively for other women to ensure a better future.
So in considering my remarks this evening and where words can sometimes fall short of the physical and the visual expression in terms of rising to the moment, I was transported to an exhibit that was unveiled a few years ago at the Venice Biennale by a Nigerian artist, Peju Alatise. She is a Nigerian artist, poet, and writer. You'll see her exhibition here.
Now in her cultural and sculptural installation, "Flying Girls," she has called for a more just future for girls and imbued the girls with an immense transformative ethos and power in her moving exhibit. We see a striking collection of eight life-size figures of girls united in a circle, adorned with wings, and surrounded by birds and butterflies shaping a pattern that appears to be a murmuration. That's a large group of birds that all fly together, and then they change direction together. You've seen this when you look up at the skies as birds switch their line and move.
Notably, the butterflies are seen surrounding the figures on the ground, suggesting a metamorphosis as they emerge from their cocoons and prepare to take their first flight. And we seem to be witnessing a powerful collective transformation of sorts coming from within these girls and future women, preparing them for their first flight with a momentum from the ground up. Using this artistic expression to guide the future, the artist—she transports us to a future where identity is shaped rather than predetermined.
This is the same transformation that we are witnessing here tonight, a movement embracing and driven by women and girls globally. In "Flying Girls," the murmuration is a winding upward spiral, not only enveloping the girls but also empowering them. The shape is especially significant as the paths of women in leadership roles itself, because those have never been linear—a befitting segue to the personal and professional stories of our honorees this evening.
So for tonight's distinguished leaders, it's not just how far they have traveled but the way they have traveled along their past, not weighted down by obstacles or cynicism about what's possible; instead, buoyed by a single-minded resolve in their vision for what the future can be.
One of our honorees, the honorable Avril Haines, whom we are awarding the Distinguished International Leadership Award, is the US Director of National Intelligence. She is the first woman in our nation's history to lead the US intelligence community. And given Director Haines' and given Director Haines' significant national-security experience obtained through her service in all three branches of government, a commitment to building a more resilient, inclusive nation through innovative intelligence, few are more deserving of our recognition.
Avril grew up in an apartment in Manhattan's Upper West Side; her father, a biochemist. Her mother was a painter. And her mother became seriously ill when she was twelve years old. And still a child herself, she spent four years as her mother's principal caregiver, up until the moment of her passing.
Left without her own mother as a role model, a young Avril did not let her grief defeat her. She gathered her strength. She changed directions and she deferred college for a gap year. She went to study Japanese, martial art, judo, at Tokyo's Kodokan Institute, where she achieved an incredible feat, rising to a brown belt in just one year.
Later, as a student of theoretical physics, Avril pursued a dream project of restoring a second-hand plane and flying it into Europe. With her flight instructor, she found a 1961 Cessna and she rebuilt the navigation, communication and other electronic systems. Not long into their flight, however, they had an emergency landing. But one upside to the failed adventure at that point was that Avril found a lifelong travel companion in her flight instructor, whom she is married to today.
Our next honoree, Dr. Ngozi Okonjo-Iweala, whom we are awarding the Distinguished International Leadership Award, is the director general of the World Trade Organization. She is the first woman to serve in that capacity, the first African in history to serve in that role. Her more than thirty years of public service includes a remarkable career at the World Bank and serving as finance minister of Nigeria, where she navigated intense personal institutional challenges to implement far-reaching economic reforms.
I can say, on a personal note, when we started at Goldman Sachs our 10,000 Women program, it was Ngozi who herself said to us that we don't have a program; we have a movement. And for the last fifteen years, her idea has impacted our work on behalf of women and girls across the world.
She was born in the Delta state in Nigeria, where her father was the obi, or king, of the Obahai royal family, which makes her a princess. Now, our cultures often assign a narrative that portrays women waiting for a prince to bring some kind of glass slipper to decide if they are fit. Well, she rewrote this, if not demolished that narrative for herself and future girls. She did not wait for a glass slipper. Instead she shattered the glass ceiling. And along the way, she made sure to create the same opportunities for all girls, especially those who do not come from a royal background, to have this path of economic empowerment.
Our third honoree, Adena Friedman, whom we are awarding the Distinguished Business Leadership Award, she's the chair and CEO of Nasdaq. Adena went from working as an intern at Nasdaq to making history as the first woman to lead a global exchange. However, this path this path from intern to CEO was not a straight line. And after eighteen years of working at Nasdaq, she left to join the distinguished Carlyle Group. She became the chief financial officer and managing director, and played an integral role in taking the company public during her time there. She returned to Nasdaq three years later, served as its president and chief operating officer, and then she was named the CEO in 2017. And now she serves as chair and chief executive.
And as a student, Adena, she was educated at an all-girls private school. And given the stereotypes at the time, she didn't see herself on a path to finance. After watching Sally Ride become her first American woman to go into space, she dreamt of flying high into space and becoming an astronaut. But closer to home, she found a role model in her own mother. Originally a stay-at-home mom, her mother later followed her own calling, and went to get her law degree, and became the first woman named at her law firm. Later in life, as a mother herself, Adena had a similar moment of awakening. And after years of taking her two sons and husband to martial arts classes, she decided to follow her interest and pursue classes herself. And similar to all our other panelists but particularly to Avril, Adena rose to a black belt in Korea taekwondo which she now credits for helping her become more fearless in business. And fearless she is. And I can tell you firsthand she's quite fearless.
And tonight's fourth honoree, General Laura Richardson, whom we are awarding the Distinguished Military Leadership Award. She's the commander of the US Southern Command. And General Richardson became the first woman Army officer to officially hold the position of deputy commanding general of Forces Command and the only second time that a woman four-star has led a combat command. With a more than thirty-year storied career in the United States Army, her command is the largest in the US Army, responsible for training and preparing active, Reserve, and National Guard troops to meet the requirement of commanders around the globe.
And as a student, Laura was an all-American swimmer. Her path in life has seen her thrive on land and on sea and in the air, because when we talk about flying girls, General Richardson got her pilot's license at the young age of sixteen—a literally flying girl, joining, I suppose, her copilot here tonight, Avril Haines. So between the martial arts and the air travel, we see some common central themes emerging, if not symbolic of the empowerment and the uplifting of all women and girls.
And then, finally, ladies and gentlemen, tonight we pay special tribute to the women and the girls of Iran.
We are awarding the Distinguished Humanitarian Leadership Award by honoring a delegation of Iranian female activists. The tragic death of a twenty-two-year-old, Mahsa Jina Amini, in the custody of Iran's so-called morality police has brought the Islamic Republic of Iran's gender discriminatory laws into clear focus, and the subsequent women-led uprising has stirred the international community.
It's a privilege to recognize the vast efforts of the activists who will accept this award this evening: Dr. Mahnaz Afkhami, the former Iranian minister of women's affairs and president and CEO of the Women's Learning Partnership, who unfortunately herself fell ill and couldn't be with us tonight; Azam Jangravi, one of the Girls of the Revolutionary Street who was arrested for protesting against Iran's laws requiring women to wear a hijab in public; Dr. Mehrangiz Kar, Iran's women's rights lawyer and writer; and Nazanin Nour, Iranian actress, writer, and activist.
The bravery of Iranian women and girls in risking their safety to achieve change is unquestionable. And together, this delegation's advocacy, utilization of their public platforms to raise awareness of the circumstances in Iran has been crucial to accountability efforts. In their honor, I wanted to offer just a closing piece, a closing art piece—intentionally using a double entendre on the word "piece" as the artistic expression is meant as a global peace offering.
The picture that you see here is by an Iranian artist, Shirin Neshat as part of a collection of black-and-white photographs of women symbolizing Iranian women's involvement in efforts to improve women's education, increase representation in government, securing new legal rights, and expanding their economic opportunities. In this particular detail, the women's hand, its gesture suggests prayer. And the handwritten calligraphy on the edge of her white veil translates from Farsi: "Give a hand so I can hold a hand."
Now, this message—"give a hand so I can hold a hand"—conveys a peaceful and powerful message of unity that symbolizes tonight's event, its theme, and all of our women honorees. It calls out to our global community, especially poignant in this pandemic-recovery era, to reconnect our hands literally and figuratively.
So, ladies and gentlemen, thank you for all being here to celebrate these remarkable women. On behalf of the Atlantic Council, our co-chairs for this evening, I just want to take this moment to offer our hands in celebration of their honors. Thank you.
Watch the remarks
STEPHEN J. HADLEY: Avril Haines, deputy—director of national intelligence, assistant to the president and principal deputy national security adviser, deputy director of the Central Intelligence Agency. The first woman to hold each of these positions. Two decades of service in all three branches of the federal government. This is the official record of Avril Haines' life as a public servant and her enormous contribution to the safety, security, and prosperity of our nation.
But there is another story here of a truly remarkable person. For this story, we must turn to the unofficial record of her life as contained in a Newsweek article dated June 26, 2013. The picture here is of a person with a flair for adventure, an appetite for risk-taking, and an ability to overcome adversity.
Some examples. From age twelve through fifteen, caring for a critically ill parent. After high school, as John mentioned, taking a year off to earn a brown belt at an elite judo school in Tokyo, Japan. Studying theoretical physics at the male-dominated and unwelcoming Physics Department of the University of Chicago. While in college, working as an auto mechanic helping to rebuild Subaru internal combustion engines. Fighting her way back from a serious biking accident between her sophomore and junior years of college. The following summer, taking flying lessons in Princeton, New Jersey. Rebuilding the avionics of a 1961 twin-engine Cessna 310 aircraft and outfitting it with extended-range fuel tanks. Taking off in that rebuilt airplane from Bangor, Maine, to cross the Atlantic Ocean; losing one engine, then the other to North Atlantic ice; and through fog making an emergency landing at a small airport in Newfoundland. After graduating from college, moving to Baltimore, Maryland; buying at auction an old bar in a then-transitional neighborhood; and turning it into an independent bookstore and café. Becoming a community activist and pursuing a law degree at Georgetown Law School. Graduating, clerking for a federal appellate judge, and then working in the State Department's Legal Advisor's Office. A two-year stint working for the Senate Foreign Relations Committee under then-chair Joe Biden. And in 2011, becoming deputy legal counsel to the president for national security affairs. And, as they say, the rest is history.
An unusual route to the top, but then Avril Haines is an unusual and extraordinary person. All of this by someone described as having a sweet personality, humility bordering on shyness, and a deep empathy for others. Or, as Denis McDonough, President Obama's then-White House chief of staff, is quoted as saying, "She is as caring and decent a person as I've ever had the blessing to work with, full stop." A person of humility, intellect, integrity, judgment, and a strong work ethic.
Tonight, it is a privilege for the Atlantic Council to be able to honor the director of national intelligence, Avril Haines. Please join me on the stage.
DIRECTOR AVRIL HAINES: All right. That was utterly terrifying. I am just—Steve, it is genuinely overwhelming to be honored alongside, first of all, such an extraordinary group of female leaders by an institution that I have so much respect for and whose leadership, in the form of all of you and the many remarkable board members who are here tonight in particular, embodies the best of what I aspire to in public service. It does not feel quite real, to be honest.
I also realize that this award is really more of a testament to the work of the intelligence community that I have the privilege to represent and the many thousands of officers who, day and night around the world, relentlessly work to advance our and our allies' national security, of which there are many, many women who are just, I think, looking out today at the extraordinary awardees who I am put up against, which I have no business to be, but nevertheless, and are inspired by them.
To the Council and the board, thank you so much for this honor. But even more so, thank you for the years of extraordinary service that all of you have engaged in, based on our common conviction that healthy transatlantic relationship is fundamental to the strength and quality of an international system that is capable of addressing today's challenges in a way that is consistent with our values.
And Fred, you recently noted in testimony that we're living in an inflection point in our history where US leadership alongside allies and partners will have global and generational consequences. And I quite agree with that perspective. In our annual threat assessment, we talk about two sets of strategic challenges that are intersecting with each other and existing trends to intensify their national-security implications in today's world.
First, great powers, rising regional powers, and an evolving array of non-state actors are vying for influence and impact in the international system, including over the standards and rules that will shape the global order for decades to come; and second, challenges that transcend borders, including such issues as climate change and global health security and transnational criminal activity, are intensifying as the planet emerges from the COVID-19 pandemic.
And further compounding this dynamic is the impact that rapidly emerging technologies such as generative AI are having on governance, economies, and communities around the world. And the intersection of these challenges [underscores] the importance of working together with partners and allies, private industry, organizations like the Atlantic Council, which bring us together and raise the standard of our work on a nonpartisan basis with the belief that through civil discourse we can advance our common cause.
And much like you, we in the intelligence community are trying to understand and reflect on the world around us and to provide policymakers and operators with insights that will help them make better decisions. But we know the interactions with those outside our community, who will test our hypotheses, provide alternative perspectives, identify our biases and challenge our underlying assumptions, are absolutely critical to our success.
We know that the success of our mission depends on our ability to work with others across a range of fields and disciplines, and it requires us to engage with diverse voices and perspectives from all backgrounds and walks of life—voices and perspectives that are here tonight—as a hallmark of what the Atlantic Council represents, demonstrating the degree to which you can and do enrich our daily work.
In short, thank you for your tremendous dedication to global cooperation and for bringing together the right people to solve some of the world's most pressing problems. And thank you again for this incredible honor. And congratulations to the other recipients, all of whom really outclass me. Thank you.
Watch the remarks
ADRIENNE ARSHT: It's really such a pleasure to be here to present this next award to someone whose life and career have been dedicated to the protection and prosperity of each of us here tonight.
Now let me provide a bit of context for you. How and when did I meet General Richardson? I attended the change of command at SOUTHCOM in October of 2021 to celebrate the retirement of the SOUTHCOM commander, Admiral Craig Faller. And thus I met the incoming chairman—commander, Laura Richardson. And as a footnote, Craig Faller has become a distinguished fellow at the Adrienne Arsht Latin America Center and the Scowcroft Center for Strategy and Security here at the Atlantic Council.
General Richardson has served in the United States Army for the past thirty-seven years. She leads by example, showing others—in particular, men—that it's possible to forge a path many would deem impossible.
From an early age, General Richardson set goals that few would think achievable. She earned her private pilot's license by the age of—I was told fifteen; John said sixteen—but you get it. Don't you love it that two honorees were pilots before they could vote?
And if you think she spent all of her time in the air, think again. She was also an accomplished competitive swimmer, and I might say, like Christine Lagarde, who was equally a synchronized swimmer in France.
It's easy to see why the Army was eager to recruit a person with such gumption, and it certainly makes sense that her accomplishments wouldn't have stopped there. From commanding an assault helicopter battalion in combat in the 101st Airborne Division, to serving as the chief of Army Legislative Liaison to the US Congress, and now, as a decorated four-star general, she has consistently earned accolades for her contributions.
Obviously, it's particularly special to me that General Richardson has had such extraordinary accomplishments across South and Central America, and the Caribbean. As you know, that's my wheelhouse.
In addition to strengthening military relationships with our neighbors to the south, General Richardson has maintained a steadfast US presence in Latin America and the Caribbean by providing COVID-19, climate, and humanitarian crisis relief, focusing on how to impede the illicit drug trade, and prioritizing twenty-first century security challenges.
Now more than ever, General Richardson's role in working with regional partners across the Americas will be pivotal in building a more secure, equitable, and prosperous future for the region. Simply put, she is a beacon of leadership for women and girls who wonder if a career in the military in a cockpit or in a room often filled only with men is a career worth pursuing. She is an undeniable example of leadership, integrity, and determination.
And now it is my great honor to present the Atlantic Council Distinguished Military Leadership Award to my friend, badass General Laura Richardson.
GENERAL LAURA J. RICHARDSON: Well, good evening and thank you. I'm deeply humbled to be here this evening. And I'm honored to serve this great nation in uniform and to represent the men and women of America's armed forces.
Adrienne, thank you for introducing me tonight. I, like many others, are so grateful for your example and your life's work in giving back. Everything you do through the Atlantic Council's Adrienne Arsht Latin America Center [makes] this world a better place. Thank you for your leadership and your friendship.
To the Atlantic Council, I am enormously grateful to receive this award this evening. A special thank you to Chairman John Rogers and CEO Fred Kempe for your exemplary leadership and the amazing work the Council does day in and day out to provide in-depth analysis on overwhelming, complex issues across our globe.
As the thirty-second commander of the United States Southern Command, I can tell you that we have benefitted immensely from the in-depth analysis for six decades that the Atlantic Council provides. I'm proud to say that US SOUTHCOM will celebrate its sixtieth anniversary on the eleventh of June this year.
Latin America and the Caribbean is a vast region of thirty-one countries with twenty-eight likeminded democracies, and US Southern Command works very closely with their military and public security forces on security cooperation initiatives. All of this is based in human rights, the rule of law, and the professionalization of their forces.
But now this region requires a call to action. All of our partners are struggling to deliver for their people. There is suffering from the devastating impacts from COVID and the 170 million people that were thrown into poverty. This is a vicious cycle of insecurity and instability that transnational criminal organizations create. They are more powerful, they're violent, and they have diversified their portfolio. They not only traffic drugs; they traffic humans. They conduct illegal mining, illegal logging, deforestation, and illegal fishing. This, combined with climate change, severe droughts, extreme storms, and seven million Venezuelans who have fled into an already-desperate Western Hemisphere, is causing people and families to leave their homes for a better life in historic numbers of irregular migration.
If that weren't enough, this desperate situation allows the Chinese Communist Party to step in with its Belt and Road Initiative under the disguise of investment, but really to extract the country's critical infrastructure. With its debt traps of loans, shoddy work, cost overruns, and bribery of senior officials, countries have no other choice other than to turn to the CCP to try and show some sort of progress for their people. And Russia, with its prolific disinformation campaign delivered through Russia Today Español, Sputnik Mundo, teleSUR, with over thirty-one million followers in Latin America, it only further exacerbates the situation, and especially during presidential elections.
But there is a solution to these complex challenges, and it starts with the United States because team USA is committed to democracies across the globe, bringing together all of the elements of national power in a strategic-focused effort at the same time to form team democracy and assist struggling democracies to overcome these challenges and so they don't have to rely on a communist government such as the CCP for help. It's diplomatic by having our US ambassadors confirmed and in the seat; economic through our private-sector investment, which we need to bring to bear and showcase; military, which I represent with US Southern Command; and informational by flooding the information space and capturing the narrative with what team democracy is doing for partner democracies in the region.
As you can tell, I'm very passionate about this topic and about this hemisphere. President Biden says that this—that in his National Security Strategy that no region impacts the United States more than the Western Hemisphere. I agree. And this region is our shared neighborhood, and good neighbors take care of each other.
I'm honored to accept this award on behalf of United States Southern Command, and on behalf of the twenty-eight democratic Western Hemisphere military and public security forces who are working overtime every day on the stopwatch to deliver safety and security for their people.
And what a privilege to be recognized tonight alongside such amazing women who have accomplished so much. This group is a representation of how far we have come, but also a reminder of how much more work there is to be done.
Tonight I stand in awe of the courage and the resilience of all Iranian women and girls.
Women, peace, and security is a critical component of successful democracies, and it's a key part of all the engagements that I do in the hemisphere. We must be intentional about recruitment, retention, training, and advancement of women, because if we take our eye off the ball we risk losing an entire generation.
As we set out to shape the global future together, none of us can do it alone. We need a community like the Atlantic Council and everyone here tonight. I've been fortunate to have a great community of support made up of family, friends, and colleagues. I'd like to thank my husband, Jim, who served in the Army for forty years and spent thirty-five of it married to me—our daughter Lauren, and my granddaughter Anna who are here with me tonight for all the love and support they provide.
Thank you, Atlantic Council. And, ladies and gentlemen, I just want to thank everyone and really appreciate everything that the Atlantic Council does, Adrienne Arsht and all of you here this evening. Thank you very much.
Watch the remarks
DAVID M. RUBENSTEIN: Over the years I've made a number of personnel decisions at Carlyle. I hired a young man out of Harvard Business School, Glenn Youngkin, and he was OK. I don't know what he did. He decided to leave. I hired another person out of government, Jay Powell. He decided to leave also. I don't know what he's doing either. But in some of my personnel decisions, I've made some pretty good decisions and some pretty bad decisions. I'll let you judge whether those decisions were good.
But there was one person I interviewed once who was simultaneously the best personnel decision I made and the worst personnel decision I made, and that was Adena Friedman. And let me explain.
Carlyle was looking for a chief financial officer. And we interviewed a number of people, weren't happy with any of the people we saw. And then I interviewed Adena Friedman, and in 10 minutes I said excuse me, I called my partners, and said: Stop all the interviewing. I've just spent 10 minutes with a person. This is the perfect person. She's smart, experienced, hardworking, and she really knows finance. And perfect. And so we immediately hired her and she served as our chief financial officer at a period of great growth for our firm, and she helped us go public in 2012.
At that time, I thought she would—you know, if she stayed she would wind up probably running the company someday, and she was extremely talented. But she told me that she had an offer not too long after to go back to the place she'd previously been, Nasdaq, where once she did some interim job she would wind up most likely as the CEO, which she did in 2017. And the worst personnel decision was we let her go, in the sense that we should have said: Become the CEO of Carlyle now. The founders, get rid of us. Put her in. If we put her in, the company would be much more valuable today than it is and would be doing much more successfully than it is.
That was my worst personnel decision, is letting her go back to Nasdaq, because let me tell you what she's done at Nasdaq. When she took over at Nasdaq, the market capitalization was roughly $11 billion. Now it's roughly about $28 billion, so it's up about 146 percent. Their stock is up about 144 percent, or 15 percent a year. And honestly, Carlyle has not gone up 15 percent a year. So many times at night I think about what a mistake I made to not let her be the CEO right away, but she's done better things and she's done a terrific job and she has a great future.
I thought she should be the secretary of treasury in the beginning of this administration. I thought and I told a number of people we should finally have a woman be secretary of the treasury. Finally time. They found another woman who was available. And Adena was not really interested in leaving, and she was really interested in continuing to run Nasdaq. And she's done a great job there but there are other great things in her future, there's no doubt, because she's so smart, talented, knows how to get along with people. And what she's done for Nasdaq has not only increased its market value, but she's made it more than an exchange.
Many of you who are not in the business world may think it's like the New York Stock Exchange. It's not. It does have an exchange element to it, but it provides enormous amounts of technology to exchanges around the world and it has technology relating to cyber technology and cybersecurity that is really second to none. So she's really modernized the exchange, she's made it global, and she made it one of the most-admired companies in the financial service world.
So, as I've said to some of you before—perhaps you've heard me say this—it is a strange situation that in our country, when we only had—we only had—we had about 3 million people in this country we produced George Washington, Thomas Jefferson, James Madison, John Jay, Alexander Hamilton. Now we have 330 million people in the country. Where are the George Washingtons and the Thomas Jeffersons and the James Madisons? Well, I've often thought they were in private equity. But actually, there is one person who is not in private equity who is as good as the people that I just mentioned, and that is Adena Friedman.
Now, wouldn't it be wonderful if we had a president of the United States someday who would be, you know, a great financial executive, somebody who's run a company, knows how to get along with people, very smart, respected all around the world? And so someday I think that Adena Friedman will be the first female to be president of the United States, which would be a good thing.
Now, the principal problem with that is she's about four decades too young. You need to be about seventy-five to eighty to be taken seriously as president. So she's got a long way to go. But mark my words. At some point we will have a female president, and I think her first name is going to be Adena.
Adena, thank you for everything you've done for Carlyle, and thank you for what you've done for our financial-service system around the world. Could you please come up and accept the award?
ADENA T. FRIEDMAN: Well, that was unexpected. Good evening, everyone. What a great honor it is to be recognized tonight as a recipient of the Distinguished Leadership Award. I am truly humbled to be among this amazing and incredible group of accomplished and groundbreaking leaders receiving this award tonight.
It's also an honor to be recognized by the Atlantic Council, an organization that recognizes a fundamental truth about the moment that we're living in, when, faced with global challenges, we must find global solutions. And this is, in fact, the ethos at Nasdaq. We know that markets are foundational to strong economies and to vibrant entrepreneurial ecosystems. And that's why we're committed to using our expertise and our technology to help build trusted market infrastructure all over the world.
In addition to serving our own markets, both in the United States, and we also own many of the markets in the Nordics, with our technology and expertise, our technology powers mission-critical operations at more than 2,300 financial institutions and 130 marketplaces worldwide. Our marketplace clients rely upon us to help them build vibrant capital markets within their countries, which then serve as the underpinning of their economies.
Additionally, our bank clients turn to us to help them eradicate criminal activity within their banking networks with our world-class anti-financial-crime technology solutions. While our technology serves many economies in the established market, such as Switzerland, Japan, Singapore, to name a few, we are very proud in the emerging markets as well. We serve markets in places like Indonesia, Thailand, Chile, just to name a few as well. We have many markets in the emerging world.
And there we can support their efforts to bring in more foreign investment through well-functioning, high-integrity and vibrant capital markets. And that kind of reach and that kind of responsibility is what makes our team at Nasdaq really excited to get up every single day, come to work, and to power markets for the future. It's also what drives our commitment to becoming the trusted fabric to the global financial system.
So I want to thank all of you here. I want to thank John Rogers. You have been such a supporter and a friend over many years. I also want to thank my husband, Mike. And my best friend Nancy is here tonight. It's so nice of them to join me for this. And I want to thank all of you for this great recognition.
Thank you very much.
Watch the remarks
FREDERICK KEMPE: How exciting it is to be here yet again. Avril Haines, you know, what you represent—thank you so much for mentioning my own testimony to the House Intelligence Committee. It is a historic inflection point. Our leadership as a community is absolutely to how this turns out, but thank you for your leadership.
General Richardson, we heard about a lot of your firsts from Adrienne Arsht, but I want to mention another first, which is this is the first time we've had an awardee who has come here with three generations of family: her daughter Lauren, her six-year-old granddaughter Anna. I met them both before we began this evening. You may be very respected—impressed by military leadership, and her leadership, but a six-year-old girl at a dinner like this, any of you who have had children, that is real leadership.
Adena Friedman and David, this is the first time we've had a presidential nomination at the Atlantic Council dinner.
I really want to salute our chairman, John Rogers, for his inspiration at the beginning of the evening putting all of this in context, and thank you, as well, for your leadership as chairman of the Atlantic Council.
As John said at the outset of this evening, we provided our greatest honor last year—for the first time ever collectively—to an entire people: the people of Ukraine. President Zelenskyy accepted the award by video, telling the stories—harrowing stories of several individual heroes.
Said Zelenskyy, and I quote, "Behind the courage and wisdom of our people, there are thousands of real stories, names and heroic feats." Fifteen months later, that Ukrainian courage and historical unity of its democratic allies has held thus far. As we brace for a potentially decisive spring counteroffensive, the response to Russian aggression has been remarkable thus far. But it has thus far also remained insufficient to turn the tide.
At this historic inflection point, we stand with Ukraine. We are resolute in our commitment to this generational fight for freedom, democracy, national sovereignty, and a global system based on the principles, institutions, and values that the Atlantic Council has defended for more than sixty years.
As we affirm our commitment to Ukraine tonight, and as we head into the dinner break, I am honored that we are joined by a remarkable Ukraine pianist, Myroslav Mykhailenko, who will perform for us as we prepare for our break. He was born in Kyiv and began studying piano at the age of six. In 2017, at age thirteen, he and his family moved to the United States to continue his studies.
In the years since, Myroslav has gone on to receive high honors and critical global acclaim. He will perform Melody, the greatest piece by the Ukrainian composer, Myroslav Skoryk. It was scored for a heavily censored Soviet war film in 1982, and the very piece of music was meant to find a way—and a better way—toward freedom.
So with that, Myroslav, it's our honor to hear you play this remarkable piece of music.
Watch the performance
FREDERICK KEMPE: We're about to have a special message regarding the reporter Evan Gershkovich of the Wall Street Journal, who was arrested in Russia just doing his job.
And we have here to give you that message Almar Latour, the CEO of Dow Jones, the publisher of the Wall Street Journal. I'll say a little bit more about him in a second.
The famed American basketball coach John Wooden, who as you know is a very famous transatlanticist—that's actually not true, but he is a famous basketball coach—but the famous basketball coach John Wooden once said, quote, "The true test of a man's character is what he does when no one is watching." Perhaps it is Almar Latour's character that I most admire about him. His personal decency, his integrity, his humility, his consistency of devotion to the First Amendment and to our journalistic craft has been unflinching, whether as a young reporter or as one of global journalism's most influential executives at Dow Jones and the Wall Street Journal.
Oh, yes, I think I should reveal my bias. Almar in 1995 was my intern. He worked as my intern in Brussels when I was the managing editor of the Wall Street Journal Europe.
A prime case study of Almar's character is how he is now championing the ongoing global response to the imprisonment last month of Evan, the Wall Street Journal reporter in Europe. Almar's been on the front lines as a reporter. I've been on the front lines in various warzones as a reporter. If you've done that, you feel even more deeply that you would otherwise about what it takes to defend the First Amendment and then what it takes of all of us to respond in a moment like this.
With great pleasure, and great affection, ladies and gentlemen, welcome to the stage my friend—and also an Atlantic Council Board director—Almar Latour.
ALMAR LATOUR: Well, Fred—I believe Fred made clear one thing: always be nice to the intern. So thank you, Fred, and thank you, Atlantic Council, and thank you, everybody here for your brief attention. And congratulations amazing honorees.
There's probably no group gathered in one room together that's as committed to freedom as all of you are. You have dedicated your professional lives to that, and I know many of you have put your actual lives on the line for freedom, so thank you.
Tonight I come to you to talk about a shared commitment to freedom. As Fred mentioned, six weeks ago, our colleague, Wall Street Journal reporter, Evan Gershkovich, was unjustly arrested in Russia. He remains today incarcerated in a Russian prison on false charges of espionage.
Ever since, we are so grateful for the outpouring of support from colleagues and partners around the world; from the US administration, including the White House and State; and from all of you here today. And just today, actually here in Washington, we saw more bipartisan support for Evan as seventy members of Congress wrote a letter to Evan directly condemning the time that was stolen from his life and vowed to continue fighting for his release.
As all of you know, there was no espionage. He was merely doing his job. Evan is an accredited reporter dedicated to explaining the evolving story of Russia to the world. Not only did Russia take away one man's freedom, but his arrest is also an assault on a broader freedom, and that's the freedom of the press. And as we all know in this room, there is no free society without free press.
Sadly, Evan's case is the latest in a long and very disturbing trend. Reporter Austin Tice was kidnapped in Syria almost eleven years ago and remains missing today. More recently, publisher Jimmy Lai remains in prison today in Hong Kong, and just last week, Nicaraguan journalist, Hazel Zamora, was arrested and charged with spreading false news. She now faces up to ten years in prison.
All in all, a record number of journalists—363 of them—were imprisoned in 2022 alone, and that figure has nearly doubled since 2015. So we all know this: journalism is under attack. Like Vladimir Putin, dictators around the world are determined to stamp out independent reporting, and we cannot allow them to succeed.
Evan's arrest is a symbolic reminder of the fight that we find ourselves in today. It's autocrats versus the power of the pen; disinformation versus reliable information as the bedrock of free society.
The world is watching. It's watching how the US and democracies everywhere respond to this assault on the press. The world is watching how we, in this room, are responding.
As defenders of freedom in this room, we have to form a united front. We cannot rest until press freedom is secured. We will not rest until Evan's freedom is secured. He and others like him need to come home now.
The fight for their freedom ultimately is a fight for all of ours. So please keep Evan at the forefront of your conversations and do what you can in your position of responsibility to make sure that the strongmen the world over know that this room will not let freedom whimper away.
Thank you again for all that you are doing every single day, and God bless.
MR. KEMPE: Thank you for that, Almar. It's an incredibly important message. There's so much we have to do on the front lines of freedom now. I know it surprised a lot of you who know me well that Almar was my intern since we look pretty much the same age.
But thank you all for a remarkable first half of the evening. As always, thank you to Luke Frazier and the American Pops Orchestra. Big round of applause, please. And also to the remarkable Robert Pullen and Nouveau Productions for the staging, and to the breathtaking Atlantic Council team that put all this together.
Thanks as well to Markus Dohle of Penguin Random House for the books you will see in your gift bags as you leave; Markus Dohle, a member of our International Advisory Board. He always gets a big round of applause from the crowd here. Don't forget to take your bags. The books are always one of the highlights here.
Most of all, thank you for gathering tonight as a community of common cause—550 of you from more than forty countries, including former heads of state, cabinet ministers, members of Congress, CEOs and business executives, civil society, media leaders, artists, and previous Atlantic Council honorees, including Adrienne Arsht, Lord George Robertson and Luis Alberto Moreno, who are all here this evening.
Thank you for being here.
It was nearly forty-three years ago this summer that I arrived in Poland at the beginning of the Solidarity strikes as a young correspondent, as a very young correspondent, covering a story that would change Europe and I believe would also change the world for the better.
I was sent to Poland by my employer at the time, Newsweek Magazine, to cover rapidly spreading national labor unrest of the Solidarity movement that united not only ten million members, but all of that country of thirty-nine million, and then millions more across the entire Soviet bloc that were looking for sparks of freedom and hope to change a long period of oppression.
I only came to appreciate the freedoms that were my American birthright, as the son of German immigrants, when I witnessed close up an entire country that was risking everything—their freedom, their jobs, their safety—to attain the freedoms that I had taken for granted. It was a time for me, at a very young age, of dark foreboding, fear of Soviet invasion and even worse oppression, but also it was a time of opportunity and ultimately would bring about the collapse of one of the most oppressive systems history has seen.
I feel that same sense of foreboding and opportunity today as we watch Putin's war, Russia's war, in Ukraine. I also feel a similar sense of gratitude that I felt then to the Polish people to the Ukrainian people to remind me once again of what it takes to defend freedoms we take for granted.
Yet, in Poland the trick was stopping an invasion and then ultimately attaining freedom that was not theirs. In Ukraine, it's defeating the invader that is trying to rob the freedom that has been spreading and to reverse a period of hope that was set off by the triumph at the end of the Cold War. It is a historic inflection point of breathtaking significance.
Putin's war in Ukraine has shone a bright light on the fragility of the post-World War II order that has sustained peace and stability on the global stage for nearly eight decades. Against that backdrop, China's rise as a global superpower poses an even more significant challenge to that world order, which has guided our community for decades. It's a time for common cause—not for war, not for violence; for common cause to reestablish our belief in our values and what it takes to defend them, and then to adjust to a new period of time.
Some people say we have to separate the war in Ukraine from China and China's challenge. I think the challenges are inseparable. This is not a time for half-measures. The future of the global order is at stake. Its institutions, its principles, its values, as imperfect as they are, are worth defending.
And that is what motivates the Atlantic Council and our mission and our purpose of, quote, "shaping the global future together with our partners and allies." And I hope that's why many of you are here tonight.
These headwinds have produced a stronger, more relevant, and more global Atlantic Council, as our chairman, John Rogers, said earlier this evening. So, first and foremost—and this is the time of the night where we get to salute all of you who are participating in this community.
I would like to ask the following groups to stand. Atlantic Council board members, please stand. Atlantic Council international board members, please stand, and International Advisory Board members, please stand. And Atlantic Council staff, please stand. Please join me in applauding this remarkable group. God, I'm so lucky to have my job.
As is our tradition, I also want to salute tonight's co-chairs who are in attendance and whose generosity allows us to do our work. Please stand as I call your names, but I also ask the audience to hold its applause until I conclude.
Adrienne Arsht; John F.W. Rogers; Airbus, represented by Jeff Knittel; Blackstone Charitable Foundation; Bradley, represented by Jon Skeeters and Karl Hopkins; Georgetown Entertainment, represented by Franco Nuschese; Chevron, represented by Colin Parfitt…; Ahmed Charai; Edelman, represented by Gurpreet Brar…; FedEx, represented by Gina Adams; Hunt Consolidated, represented by Paul Schulze; Kirkland & Ellis; John and Susan Klein; KNDS, makers of the Leopard, represented by Bob Schultz and Ron Phillips; Krull+, represented by Alexander Mirtchev; Leonardo DRS, represented by William Lynn; Mapa…; William Marron; Nasdaq, represented by Adena Friedman; OneAmerica Bank, represented by George Lund; Ahmet Oren; Penguin Random House, represented by Markus Dohle; Charles O. Rossotti; SAIC, represented by Nazzic Keene and John Bonsell; Thales, represented by Alan Pellegrini; a round of applause, please, to everyone.
And finally, please applaud yourselves, 550 people from forty-one countries, for being here at this historic time to salute these remarkable honorees and to support our work. Thank you so much to all of you.
With that, ladies and gentlemen, please turn to your screens again for the next element of our program, our Distinguished International Leadership Award.
Watch the remarks
SYLVIA MATHEWS BURWELL: Thank you. It's an honor to be here. I am particularly proud to celebrate the first all-women slate of Atlantic Council Distinguished Leadership Awardees.
I have had the honor of knowing Dr. Ngozi Okonjo-Iweala for over two decades. We first crossed paths when she was the finance minister of Nigeria and I was working at the Bill and Melinda Gates Foundation, and we collaborated to improve health and increase economic well-being on the continent of Africa and beyond. And since then, we've had the opportunity to work together on many other economic and health issues. And over the course of our friendship, I have been lucky to bear witness to her dedication to service, her incredible range of abilities and talents, and her warmth as a human being.
Ngozi and I recently sat down together for a discussion at AU School of International Service, and during our conversation she reflected on her childhood growing up in Nigeria raised in her early years by a grandmother who taught her that our worth in life is defined by how we serve our community. She shared how this belief has always led her to ask this one simple question before taking on a new task: How will this help others?
Ngozi has carried that commitment to community through her time when she first came to the United States as a teenager to go to school through to her work as a two-time finance minister in Nigeria and foreign minister—the first female in both positions.
Her twenty-five years of impact and record-breaking at the World Bank included the $49-billion International Development Association replenishment of concessional resources to assist poor countries, her contributions to United Nations and Group of Twenty commissions as chair of the Board of Gavi, her many academic achievements, and her role as a mother and grandmother, and now as the director general of the World Trade Organization.
As the leader of the WTO, she is committed to ensuring that the preeminent global trade organization works to enhance living standards, to help create employment, and support sustainable development. She is a global visionary who believes that trade can help women and other marginalized populations beat inequality and that the WTO has an important role in increasing economic wellbeing for all.
It is truly my honor to present my friend, Dr. Ngozi Okonjo-Iweala, with the Atlantic Council's 2023 Distinguished International Leadership Award. Welcome.
NGOZI OKONJO-IWEALA: Well, good evening, everyone. And thank you, Sylvia. That was really beautiful. You yourself, you are a prime example of the kind of leader that women and girls look up to.
I want to start by thanking my family, because I wouldn't be here today without their love and support. And I have today my sister Dr. Njide Udochi, my son Uchechi Iweala, and my indefatigable adviser Nicole Mensa. Thank you for being here with me today.
Chairman Rogers, President Kempe, dear Fred, thank you so much for this recognition by the Atlantic Council. Thank you for the work you do to make the world a better place. And thank you in particular for the work you are doing in Africa with Rama Yade, trying to look at the glass half full rather than the glass half empty, at the innovation, the creativity and the wellspring of knowledge in the continent.
Excellencies, ladies and gentlemen, it's wonderful to be here tonight. And when I see familiar faces like Luis Alberto, like Melanne, it really makes me feel at home. Thank you for this immense honor. I'm humbled to share this podium with the sterling cast of women that we're seeing today.
I don't know if Avril Haines remembers, but when I was competing for the job of WTO, I had the occasion to ask her for advice. I was introduced to her by someone. And she was absolutely supportive and helpful. Thank you.
We live in what feels like an era of unending crises. When I talk to young people, they're on edge. Instead of hope, there is fear—fear for a future of uncertain jobs, climate crisis and geopolitical tensions that could escalate into catastrophe.
In this kind of world, we all need to sit up and take action. We must believe that there is still reason and room for hope, that there's a more prosperous, more sustainable future for people everywhere. In a world of doom and gloom, we must remember the positives.
So my message to you this evening is that, in an uncertain world, we need multilateralism more than ever. We need places where nations can come together and truly interact, even when they disagree—in fact, especially when they disagree. The World Trade Organization is one such arena, a platform where nations, including the United States and China, are able to engage on the trading relationships that deliver benefits to and connect the lives of billions of people each day.
We need to shore up the multilateral institutions we have instead of taking for granted the services they provide. Yes, of course, these multilateral institutions, WTO included, need to be reformed, to be fit for purpose for the twenty-first century. But we must bear in mind the good they've done for three-quarters of a century. This cannot be wished away.
The WTO and its predecessor, the General Agreement on Tariffs and Trade, GATT, helped deliver seventy-five years of what, by historic standards, has been an era of peace and unprecedented prosperity. Over a billion people were lifted out of poverty, not only in China but elsewhere. Trade helped deliver decades of disinflation for central banks and brought a wider selection of more affordable goods to consumers in the US and around the world.
Yes, there were job losses, but not all were due to trade. Technology played a large part, as did the failure in some countries to deploy active labor-market and social policies on the necessary scale to deal with dislocation.
At the WTO, some of our biggest successes go almost unnoticed. For instance, our Information Technology Agreement, which is very popular with the business community, especially the semiconductor industry, has eliminated tariffs on what in 2021 was close to three-trillion-dollars worth of trade in products like service, manufacturing equipment, computers and mobile phones. The physical goods and capital investment that power the digital economy would be significantly more expensive without it.
So if we let multilateral fora wither, if we fail to preserve what they are doing well and improve what needs improving, the costs will be high. From our trade perspective, some of these costs are quantifiable. For instance, WTO economists estimate that if the world economy decouples into two isolated trading blocs, it would reduce long-term global GDP by at least 5 percent from the current trend. That's a much bigger hit to output than what advanced economies sustained after the global financial crisis. And we know how that played out. Poor countries and their development aspirations would be hit hardest.
So my message to you today is to support multilateralism. Support strategic interdependence, not overdependence. Back the WTO to complete the reforms it's now undertaken to be fit for the twenty-first century. And the multilateral trading system, underpinned by a reformed WTO, can continue to deliver for the world. I want to thank the members of the WTO for their work, my staff in Geneva, and all of you, for making this possible today. Thank you. Thank you so much from the heart.
Watch the remarks
MELANNE VERVEER: What a glorious celebration this is this evening of women's leadership. Thank you, Atlantic Council. And congratulations to all of the honorees.
I also want to thank the Atlantic Council for the impactful work the Council does every single day and the difference it makes around the world. And one of the many places in the world our focus needs to be is on Iran.
Last September a young Iranian Kurdish woman, Mahsa Jina Amini, died after being held by the brutal morality police for, in their eyes, wearing the mandatory hijab improperly. Her death sparked an unprecedented protest movement across Iran that continues to this day. Young women were on the front lines of the massive peaceful demonstrations, and they were quickly joined by students and university communities, by men and women of all ages from all walks of life. They joined together for an end to the repressive regime and its dictatorial rule.
They have been willing to risk their lives for a cause bigger than themselves. Thousands of protestors have been detained. School girls have been poisoned for their activism. Many others have been assaulted, imprisoned and killed, and executions are increasing.
The women of Iran continue to be catalysts for change. In fact, they have been on the front lines for decades. Their demand for woman, life, and freedom cannot be extinguished and has challenged the very foundation of the regime.
We stand in solidarity with these brave and resilient women, and many around the globe have been doing what they can to raise their voices. Some, for example, have recently joined the call to remove Iran from the UN Commission on the Status of Women given the regime's draconian restrictions on women's rights and imposing egregious limits on their freedom and human rights. Thanks to a worldwide effort, the UN vote was successful.
And tonight we stand together with the women and girls of Iran. And to accept this award on their behalf are courageous women leaders in their own right.
Azam Jangravi is a human rights advocate and former political prisoner. She is primarily known for being one of the so-called Girls of the Revolution Street during the 2017 Iranian protests against the compulsory hijab.
Dr. Mehrangiz Kar is recognized globally for her defense of women's rights and human rights in Iran. She is truly a giant in her field, a lawyer, widely published author, scholar, and activist. And she, too, has been persecuted by the Iranian regime for her efforts to promote equality and to end discrimination against women.
And Nazanin Nour, an Iranian American who has used her platform as an actor and writer to advocate for—advocate for human rights in Iran. And she has been a champion for women and girls there, active on social media as well. And in a recent post, she wrote: I know there is an absurd and depressing amount of terrible things happening in the world at any given moment, but please don't leave the Iranian people to fight this regime alone. And you will hear from her shortly.
May I ask the women to please come up on the stage?
NAZANIN NOUR: Good evening. Dr. Afkhami was not able to join us this evening, as she is a bit under the weather. However, I would like to read to you her acceptance remarks on our collective behalf.
Thank you to the Atlantic Council for the tremendous honor of this Leadership Award representing the women and girls of Iran who are fighting for freedom and equality. Distinguished guests, it is a privilege for me to accept this award on behalf of the millions of mothers, sisters, and daughters in Iran who, at great personal risk, are pressing for a brighter future.
The seeds of Iranian women's liberation were planted over a hundred years ago. In 1906, Iranian women took an active part in shaping the constitutional revolution that transformed governance and political participation in the country and in the region. Over the next seven decades, Iranian women helped move Iran to a democratic, participatory system that was inclusive of religious, political, socioeconomic, and other minorities.
In 1963, Iranian women—many of whom were choosing to delay marriage, enter a profession, even attend college—were granted the right to vote. In 1966, Iranian women successfully launched one of the most influential and powerful national women's organizations in the world. The Women's Organization of Iran would influence Iran's leadership at the 1968 UN International Human Rights Conference and the establishment of INSTRAW, the UN's Research and Training Institute for the Advancement of Women.
In 1975, Iran passed the Family Protection Law, which remains to this day one of the most progressive and comprehensive in the Middle East and in much of the world. Among its reforms were women's rights to divorce, guardianship of their children, and childcare for working women, among others.
In 1979, exactly two weeks after Khomeini came to power, his very first decree was to nullify the Family Protection Law. He then also banned women from many jobs and from obtaining college degrees in over forty disciplines. He banned contraceptives and brought back polygamy, forced veiling, and segregation of women and men.
To this day, the clerical leadership of the Islamic Republic has hinged on the repression of women. Time and again, the regime's response to women's calls for greater freedom has been swift and brutal. But the extraordinary women of Iran have persevered. From the One Million Signatures campaign in 2006, where activists went door to door gathering signatures in favor of women's equality, to later pushes for employment opportunities and fair elections, women have been in the vanguard demanding change.
Sparked this time by the senseless death of Mahsa Jina Amini, calls for women, life, freedom are still blazing across the nation. Today, women and men are marching side by side in support of a revolution that was launched by women and girls.
And I'm going to pause right here for a second. I'm going to go off-script because of a recent development yesterday, and I would like to inform the room of this, that the Islamic Republic was appointed chair of the United Nations Human Rights Council Social Forum. This year's theme is technology and the promotion of human rights.
This comes in the midst of the United Nations Human Rights Council fact-finding mission where they're investigating human rights abuses and atrocities committed by the Islamic Republic against their own people from September of 2022, when this revolution began. It comes amongst internet shutdowns and throttling of internet so that the world cannot see the atrocities that are being committed by the Islamic Republic. It comes as the Islamic Republic uses technology to surveil women using facial recognition technology, to send fines to anybody that is seen wearing improper hijab. This comes among two young men, Yousef Mehrad and Sadrollah Fazeli Zare, who were executed on charges of blasphemy and apostasy for using technology and a social media app to discuss religion and atheism.
I respectfully implore everybody in this room to use platforms that you have to publicly condemn the UN's position in appointing the Islamic Republic to this Social Forum. The Islamic Republic and human rights is an oxymoron. And it's a slap in the face to the people of Iran that have been brutalized, oppressed, and tortured for them to sit on this forum.
This is the first revolution in history to be initiated by women and supported by men. It is the result of the work of the thoughtful, dedicated women who a century ago were open to learning from each other and from the rest of the world about rights and freedoms and how to achieve them. Their history shows a worldview that is worthy of the fact that women are half of the world's population, and that they train and raise the children of both genders. Their unique success is based on a holistic approach that reflects the reality of the lives of the majority of the people of the world, and that allows for dialogue and interactive decision-making. The success of this revolution, which is modern in its goal and in its language, slogans, and approach, promises that with the expansion of communications technology Iranian women's latest struggle finally brings the promise of a truly global movement, which at this moment is in dire need of collective action. And we can all agree on that.
As the protests in Iran continue, from a distance one day's events can be hard to distinguish from those of the next. It is easy for the sacrifices of the protesters to disappear from the headlines. On their behalf and on behalf of individuals fighting for freedom everywhere, including here in the United States, I implore you to continue your solidarity. I implore you to support democracy. I implore you to stay the course on equal rights for all. In doing so, you fuel the memory of Mahsa Jina Amini and the continued dream of freedom and equality for Iranian women and girls. Thank you.
Watch the remarks
FREDERICK KEMPE: Thank you, Melanne, for that introduction. Thank you, Azam; thank you, Dr. Kar; thank you, Nazanin, for that wonderful message.
A couple of you have come up to me tonight and said: So, why did the Atlantic Council decide to do an all-women honoree cast for the first time in its history? We have a wide-ranging nomination process—many of you are involved in it. We have a selection committee that's very discerning. The simple answer is it just turned out that way. These were the best leaders we could possibly identify.
Thank you for the honorees for inspiring us. Thank you for all of you for supporting us.
Now the breathtaking Nova Payton, internationally acclaimed recording artist, Broadway star, will bring us home. Please listen to her every note.
Watch the performance
Further reading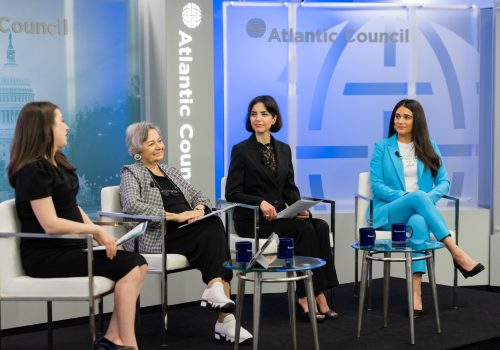 Thu, May 11, 2023
Transcript By Atlantic Council
Three recipients of the Atlantic Council's Distinguished Humanitarian Leadership Award examined the antigovernment protests in Iran and the decades-long fight for gender equality and social justice in the country.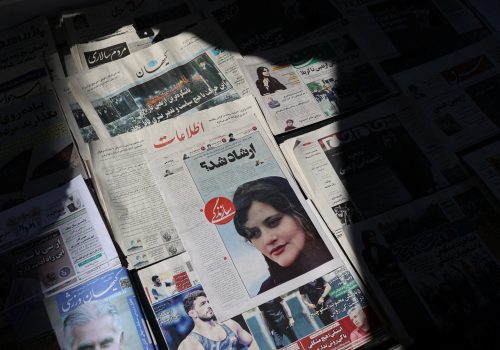 Wed, Mar 8, 2023
New Atlanticist By Celeste Kmiotek, Lisandra Novo
Designating the Supreme Council of the Cultural Revolution, a principal institution behind the systematic oppression of women in Iran, would put its members on notice.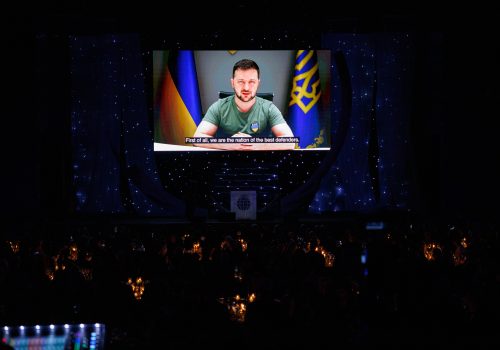 Wed, May 11, 2022
New Atlanticist By Dan Peleschuk
The Atlantic Council's premier gala honored Italian Prime Minister Mario Draghi, business leader Claudio Descalzi, Ukrainian singer Jamala, and more for their commitment to the transatlantic relationship.