Gen. James Jones: 'the Black Sea region is being pounded into the soft underbelly of security in Europe'
22nd Parliamentary Intelligence-Security Forum
Bucharest, Romania, July 6, 2022
Remarks by Gen. James L. Jones, Atlantic Council board director and executive chairman emeritus, on Black Sea security after the NATO Summit
Thank you, Chairman Popescu, for such a generous introduction. It is great to be back in Bucharest.
Good morning to you all.
Let me also express my appreciation to Chairman Popescu, Mr. Pottenger and the Parliament of Romania for their hospitality and for hosting and orchestrating this intelligence security forum.
It is good be among here, among old friends and in person, including, of course, Prime Minister Ciucă, Minister Bode, and President of the Parliament Marcel Ciolacu.
We convene here today, at a time when war has returned to Europe and in the days immediately following NATO Summit in Madrid.
This morning I would like to share with you some personal thoughts regarding what is at stake in Ukraine's courageous and inspiring defense against Russia's aggression, NATO's response to that unprovoked invasion, and what seems to be needed in an era where the scope of international competition and conflict is becoming ever wider and, thus, more complex.
Regarding Ukraine, I fear the situation is increasingly ominous.
The Russian government's rhetoric against Ukraine, NATO, and the West has intensified.
Although Russian territorial advances have slowed, their offensives in the East have taken on a new and dangerous intensity where they recently seized control of the Luhansk region.
The root cause of this carnage is found within the soul of one man, Vladimir Putin, his refusal to recognize Ukraine as a sovereign nation, his hatred for the NATO expansion following the collapse of the Soviet Union, and his deep-seated belief that the United State did not do enough in Russia's hour of need. As some of you know, Putin believes that there was an unwritten agreement at the time that NATO would never expand its membership to include former Warsaw Pact nations. There is no evidence to support his belief, but it is a documented fact that he believes this fable.
As an aside, the next panel should probably not be titled "The War in Ukraine" but rather "Russia's Unprovoked Invasion of Ukraine."
There should be no question that this aggression was not triggered by any events or issues inside Ukraine – that is Putin's false narrative, and we should never buy into it.
This is a war of unjustified aggression driven by the imperialist ambitions of an autocrat—whose rise to power was weaned by corruption, sustained through brutality, and now marked forever by a savage war of conquest and criminality.
In fact, Putin's historical revisionism and territorial ambitions aim to eliminate the very existence of Ukraine, its history, and its distinctive ethnicity—and with it the Ukrainian people's rights to independence, liberty, and democracy.
I'm certain that we all agree that much is at stake in this conflict and how it is terminated.
Ukraine's sovereignty and survival is obviously in the balance.
It is jeopardized for the second time in a decade by a regime whose ambitions, actions, and atrocities herald back to the darkest times of the last century.
Ukraine has become today's defining collision point between democracy and autocracy, between the rule of law in international affairs and a world whose future is shaped by brute force.
If Putin is allowed to prevail, we will find ourselves back in a world dominated by spheres of influence and military coercion — this time one that features not only new forms of aggression – such as cyber-attacks and disinformation — but also the more active and destabilizing exercise of nuclear power.
We can all agree that every aspiring autocrat, on multiple continents is watching carefully to see whether or not Putin succeeds and survives in the diplomatic sense as a legitimate head of state.
They are also keen to learn whether or not the combination of indiscriminate military force, nuclear threats, economic disruption, and time will weaken the resolve of democracies to reject his crimes and assign him the pariah status he has earned.
Putin's invasion of Ukraine has also highlighted the centrality of the Black Sea region to transatlantic security.
The Black Sea region is, quite literally, the zone where Putin's Russia has most violently confronted the West over the last two decades.
And I am not just referring the two invasions of Ukraine and Putin's transformation of Crimea into the hub of an anti-access/area denial zone spanning the Black Sea.
I am also referring to the continued occupation of Transnistria, the invasion of Georgia, and Moscow's exercise of the full spectrum of hybrid warfare across this region, including trade and energy embargoes, cyber-attacks, information warfare and even sabotage and assassination.
In many ways, the Black Sea region is being pounded into the soft underbelly of security in Europe.
Vladmir Putin is determined to transform the Black Sea into his personal military lake, one which he will use to further his revisionist agenda if Western allies do not take adequate steps to deter this aggression.
Only recently have our policymakers and military planners at NATO and in the US begun to focus needed attention and resources to reinforce the Black Sea region.
Indeed, it is combination of the stark brutality of Putin's invasion of Ukraine and the courageous and inspiring resistance of the Ukrainian people that has precipitated this long overdue Transatlantic response.
This includes our support to Ukraine today which is significant.
The West is sending huge amounts of military equipment to that nation — as well as other forms of assistance, imposed a growing array of economic sanctions against Russia, and, of course, is bolstering NATO's own eastern flank, including the deployment of a new NATO battlegroup here in Romania led by France
I applaud Washington's recent announcement that it will send a rotational Brigade Combat Team to Romania to bolster the eastern flank.
I am confident that this BCT will help further deepen the US-Romanian bilateral relationship in addition to its regional duties…and I hope it will be a step toward a more robust permanent US military presence here in this nation.
These are important steps in the military domain, but Russia's belligerence against Ukraine and beyond has long been a multidimensional assault.
Russia blends the application of its conventional military power with threats of nuclear weapons, but also disinformation campaigns, cyber-attacks, and the weaponization of energy exports, among other non-military fronts.
To be fully effective, the West's response must be equally full spectrum.
In this regard, Romania and eleven other Central European nations are to be applauded for launching and driving forward the Three Seas Initiative.
If you have not yet heard of the Three Seas, it is an effort to accelerate the development of cross border energy, transport and digital infrastructure in the region between the Baltic, Black and Adriatic Seas – hence the name Three Seas.
In this innovative undertaking, the nations are harnessing the power of collaboration and the free market.
They are using their combined geo-economic potential to leverage private capital to address a long-standing deficit in regional cross-border connectivity, a legacy from the era of Soviet domination that today inhibits economic growth and is a source of vulnerability – as demonstrated by Russia's recent efforts to pressure these nations by cutting energy supplies.
In the realm of energy security, the Three Seas promises to build the infrastructure needed to diversify the region's sources of supply, enabling it to tap more effectively into global energy markets.
The Three Seas is all about the power of infrastructure to generate growth, strengthen economic resilience, and above all provide the foundations necessary to complete the vision of a Europe undivided, prosperous, free, and secure.
Next year, Romania will host the 8th Three Seas Initiative Summit and Business Forum – the second time President Iohannis will be hosting this gathering.
We are all grateful for the leadership Romania has brought to the Initiative.
Recently, we have been heartened by another realm of collaboration, a form of transatlantic collaboration: the launch of a new strategic partnership between the National School of Political and Administrative Studies (SNSPA) in Romania and the Atlantic Council in Washington, DC.
Our work together focuses on common interests between the US and Romania and how the two can and should foster regional collaboration to strengthen and secure the Black Sea region.
Such forums allow us to discuss topics that too often don't make it to the top tier of subjects addressed by NATO Summits, like cyber security, intelligence sharing, critical infrastructure protection, the harnessing and securing of 5G, and the leveraging of artificial intelligence and quantum-enabled technologies.
Allow me to dig into two of these areas where intensified transatlantic — and since I am in Bucharest, let me add US-Romania — collaboration is urgently needed: the integration of secure 5G technologies into civilian and military networks and cyber-security for critical infrastructure.
5G is rapidly emerging as the central nervous system of society, harnessing the sensors, communication links, computing capacity and learning that will make everybody, everything and everyplace smarter and more functional.
That is why the US military is investing hundreds of millions of dollars testing and integrating 5G into its force structure and operations.
There is a clear reason for this.
On the battlefield — my old domain — the 5G leader will be more interoperable, coordinated, agile, and lethal.
The ramifications of 5G dominance are both tactical and strategic, and they are economic as well as military.
The 5G leader – the country or group of countries that most effectively and quickly operationalizes the potentials of 5G — will enjoy a first mover advantage in developing the innovation-related goods, services, and solutions 5G will enable — and the jobs and growth that will generate
Today, it is still too early to conclude that US and West have an upper hand in the race to 5G and follow-on generations of wireless communications already in the offing.
The winner of this race — be it China or the West — will have the upper hand in setting global wireless communication norms and standards.
Nothing could be more consequential in how the global future takes shape.
Under the China model – the authoritarian model — precedent informs us that 5G capabilities will be employed to steal intellectual property, monitor and control its population, and to surveil and coerce others beyond its borders.
Under the US and allied model 5G will be a platform to empower citizens, protect their privacy, and enable growth and development.
The transition to 5G provides the United States and its allies a golden opportunity to leverage the societal and economic potentials of 5G and to build greater security into our networks by applying new technologies and creating more responsible and enforceable global norms.
Making these improvements is crucial to protecting US and Allied qualitative military edge, securing command, control and communications networks, protecting the nation's critical infrastructure, and safeguarding personal privacy.
5G collaboration is very much both an opportunity and an urgency.
Another topic for immediate action is the protection of critical infrastructure which is increasingly reliant on cyber-networks.
Regardless of whether transportation, energy, telecommunication or other forms of infrastructure are private or state-owned, they face the same threats.
We are all aware of the cyber-attacks endured by Ukraine over the last five months and the earlier attacks on its power infrastructure and banking systems.
Another recent example is the widespread disruptive cyberattacks on the country of Georgia by the Russian GRU.
My point is that cyber attacks on critical infrastructure have become a regular pattern of aggression from a widening array of actors ranging from our geopolitical adversaries to criminal gangs.
Addressing this challenge requires heightened vigilance and proactive measures, at the national and multi-national levels.
These should include regular assessments of infrastructure security, exercises, information sharing, collaboration in developing advanced cyber-security technology, and the coordinated plans for incident response.
5G, cyber, and infrastructure protection are but a few of the factors that are widening the breadth of what defines security today and tomorrow..
They are only a few of the reasons why NATO and the transatlantic community need to both broaden and intensify their scope of intelligence collaboration and sharing.
Nowhere is this more apparent and urgent than in the Black Sea Region
Russia's war against Ukraine has demonstrated the value of sharing real time intelligence and enhancing shared operating pictures.
This war is a lesson on the mutual benefits of intelligence collaboration for all NATO allies.
By fostering broader and deeper intelligence cooperation, this Forum, the Parliamentary Intelligence-Security Forum is playing an increasingly important function – both in terms of facilitating needed exchanges among legislators and in driving forward essential collaboration between governments.
Let me close by noting that this year marks the 25th anniversary of the Strategic Partnership between the United States and Romania.
This bilateral pact reflects our two nation's commitment to shared values and our determination to protect and promote shared interests.
This strategic partnership is more than words on paper. It has been made material by real action.
In the military domain, this has included Romania's contribution to NATO and other joint operations in Europe, the Middle East, Central Asia, and elsewhere.
It underscored by the actions that Romania and the US are taking today to help Ukraine defend itself.
And for all this, American are most grateful to our Romanian hosts, and look forward to a US-Romania relationship that continues to deepen and widen, contributing ever more to the transatlantic community's security, prosperity and freedom.
I deeply appreciate the honor of addressing you in my capacity as a private citizen and as Chairman Emeritus of the Atlantic Council. Today, Romania stands on the front lines of the 21st century's European Defense. The United States has committed its renewed support to that defense through its NATO and bilateral pledges. We have no better ally than Romania, and we will be successful once again. Thank you.
Related content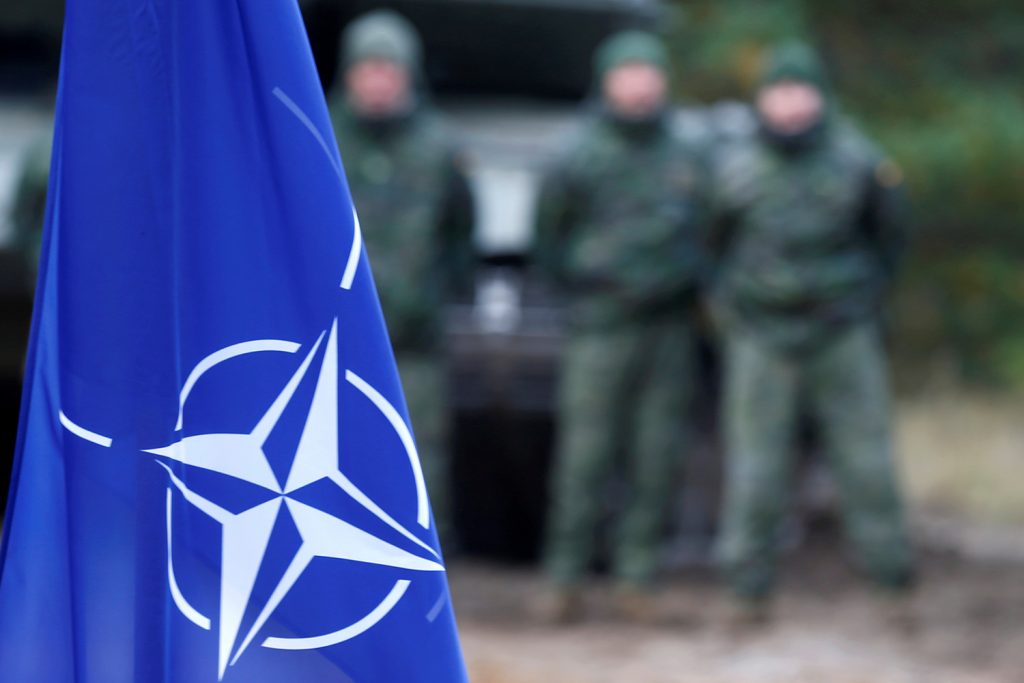 The Transatlantic Security Initiative, in the Scowcroft Center for Strategy and Security, shapes and influences the debate on the greatest security challenges facing the North Atlantic Alliance and its key partners.