Is the Hamas assault on Israel the beginning of a wider war?
The attack began at daybreak. On Saturday, Hamas militants infiltrated Israel in a brazen, sophisticated attack that killed more than a hundred and injured hundreds more. The Palestinian militant group has also taken Israeli hostages. Israeli Prime Minister Benjamin Netanyahu countered with strikes on the Gaza Strip, declaring, "We are at war." What was behind the shocking attack around the fiftieth anniversary of the Yom Kippur War, and what will come next for Israel and the region? Our experts are reporting for duty.
TODAY'S EXPERT REACTION COURTESY OF
Jonathan Panikoff (@jpanikoff): Director of the Scowcroft Middle East Security Initiative and former deputy US national intelligence officer for the Near East
Richard LeBaron (@RBLeBaron): Nonresident senior fellow with the Middle East Programs and a former deputy chief of mission at the US embassy in Israel
Kirsten Fontenrose: Nonresident senior fellow in the Scowcroft Middle East Security Initiative and former senior director for the Gulf on the US National Security Council
Only the beginning?
There have been occasional outbreaks of violence in recent years, but Jonathan predicts that "this is not going to be a small tit-for-tat; the unparalleled nature of the attack won't allow for it."
Israeli forces responded with retaliatory strikes on Gaza on Saturday, and there are fears that Hezbollah could join the fray from its base in Lebanon. "For years there have been warnings about the potential for a multi-front war," Jonathan notes. "If this is the beginning of one, the potential death and destruction may top anything we've seen in decades."
The West Bank would be another front in any such war, as Richard notes. Palestinians there "may be inspired to launch less dramatic attacks. The conditions for a third Intifada are already present."
Subscribe to Fast Thinking email alerts
Sign up to receive rapid insight in your inbox from Atlantic Council experts on global events as they unfold.


Eyes on Riyadh
The unfolding conflict will likely shape the ongoing talks between Israel, Saudi Arabia, and the United States about a normalization deal. Kirsten says that if Iran-backed Hamas was trying to derail those talks, it "backfired." Why? "Israel will lock down Gaza with an unprecedented presence and suffocating restrictions. That will be the new baseline from which Riyadh will now have to negotiate the 'path forward' for Palestinians that they've insisted on."
Jonathan notes that "Riyadh may be privately supportive of Israel's efforts to take on Hamas terrorists," but "the Arab street is not likely to be so supportive," particularly as more images of death and despair surface in the media.
The scale of the attacks indicates that the planning likely began before Israel-Saudi talks gained public steam, Richard surmises. But they are still intended to send a message to Riyadh "that the Palestinian issue should not be treated as just another subtopic in normalization negotiations." For Hamas, "it is the only topic."
To preserve the delicate talks, Kirsten advises Israel to show restraint in its response to Saturday's attacks. "Israel has to be careful not to hand Iran and Hamas the deal-spoiling win they want by responding militarily in ways that result in the mass deaths of uninvolved Palestinians and make it impossible for Saudi Arabia to sidestep those actions in pursuit of an integration deal."
What Hamas was thinking
While the normalization deal is an important factor, the core reason behind the attacks, Richard tells us, is to "draw attention to the fact that the conflict between Israel and the Palestinians has not been resolved," as Hamas believes the "situation is getting substantially worse under the right-wing Israeli government."
Israel was caught flat-footed by the unprecedented attack, which will likely lead to recriminations on the homefront. "The Israeli public is absolutely irate at the situation," Jonathan says. "I've heard multiple comparisons to 9/11, and many Israelis are struggling to understand how this could have happened."
That would be a success in the militants' eyes. "Hamas has managed to badly embarrass Israel's leadership and its military and intelligence apparatus," Richard says. "For Hamas, that may be enough."
Further reading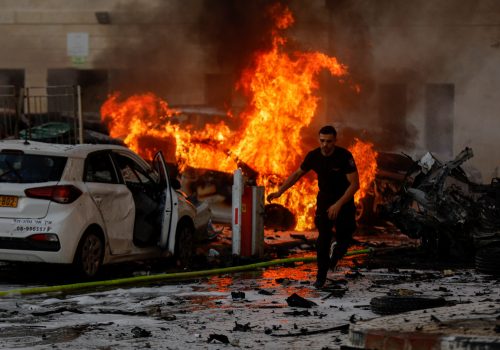 Sat, Oct 7, 2023
New Atlanticist By Atlantic Council experts
The Palestinian militant group Hamas launched its boldest assault on Israel in decades. Atlantic Council experts offer their thoughts on the events.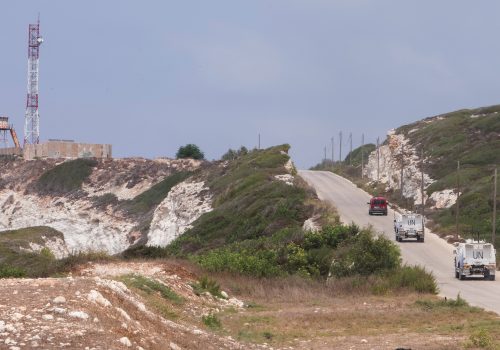 Wed, Sep 27, 2023
MENASource By Nicholas Blanford
Not only has there been an uptick in activity in recent months along the Blue Line, but Hezbollah has also been establishing a new and visible military footprint.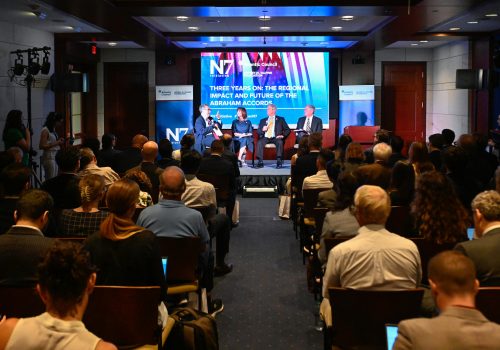 Fri, Sep 15, 2023
New Atlanticist By Katherine Walla
Officials convening at the US Capitol discussed the economic and cultural projects that can expand the Accords' impact and spread prosperity in the Middle East.