Call it a nuclear fusion of allies. The United States has agreed to give South Korea a bigger role in decisions regarding the use of nuclear weapons to deter and respond to an attack, while South Korea has agreed to not build its own nukes. What does the Washington Declaration, announced Wednesday as the US and South Korean leaders met in DC, mean for the alliance, and how will it play in Seoul? Will the pact hold together in the long run? We hit the red button to summon our team, who dove into the details of the agreement as only they can.
TODAY'S EXPERT REACTION COURTESY OF
Markus Garlauskas (@Mister_G_2): Director of the Scowcroft Center's Indo-Pacific Security Initiative and former US national intelligence officer for North Korea
Matthew Kroenig (@matthewkroenig): Vice president and senior director of the Scowcroft Center and former nuclear-weapons expert in the US Defense Department and intelligence community
Jessica Taylor (@Jess_R_Taylor): Nonresident fellow at the Indo-Pacific Security Initiative and former international relations strategist for ROK/US Combined Forces Command in South Korea
For the history books
Wednesday, Markus tells us, may go down "as the day that the US-South Korea alliance truly became a nuclear-armed alliance." That's because "even if the nuclear weapons are still US-owned and US-controlled, we can now consider nuclear weapons to be an alliance capability."
Markus and Matt were at the White House as US President Joe Biden welcomed South Korean President Yoon Suk Yeol for a state visit—cementing a deal that includes port visits by nuclear-armed US submarines to South Korea for the first time in decades. The United States removed its forward-deployed nuclear weapons from South Korea after the Cold War, while continuing to maintain that the US nuclear arsenal would protect its ally in a war. "The Biden administration's announcement aims to take measures short of nuclear deployments to assure South Korea," the US ally currently most in need of such reassurance because of the growing threat of North Korea's nuclear-weapons program, Matt says.
But will South Koreans feel assured? Jessica points out that Yoon's commitment to the Nuclear Non-Proliferation Treaty in the Washington Declaration is "a quick turn" from his comments in January signaling openness to South Korea developing its own nuclear weapons. The deal "may not have the ability to decrease the South Korean public's desire for an indigenous nuclear-weapon capability," she adds.
Subscribe to Fast Thinking email alerts
Sign up to receive rapid insight in your inbox from Atlantic Council experts on global events as they unfold.


Making it work
Aside from additional consultations, trainings, and tabletop exercises, the biggest change stemming from the agreement will involve the "mindset" of the alliance, Markus says. It's a shift from the United States "providing" South Korea with nuclear deterrence to a true partnership. The two countries also will need "to be prepared to be resilient in the face of nuclear attacks and to launch a coordinated counterattack as an alliance" if deterrence fails, Markus adds.
One model is NATO, which includes nuclear and non-nuclear states under the same nuclear umbrella. Markus proposes that South Korea have "official observer status" for NATO nuclear exercises and participate in other NATO nuclear planning and educational opportunities.
But the moves announced this week are only "a stopgap measure," Matt argues. "To deal with the growing North Korean and Chinese nuclear threats, the United States will soon need theater nuclear weapons deployable and deployed to Asia."
Matt proposes the development of the Nuclear-Armed Sea-Launched Cruise Missile, which was advanced by former US President Donald Trump but canceled by Biden. He notes that Chairman of the Joint Chiefs of Staff Mark Milley has publicly expressed support for the weapon and "bipartisan majorities in Congress have restored funding to the program."
Unanswered questions
Jessica points out that the deal comes as South Korea is preparing to take over "wartime operational control of the allies' joint forces." That leaves a big question: "How can a [Republic of Korea] general be in charge of ROK/US Combined Forces Command in a conflict when final say on nuclear weapons will always reside in Washington?"
But perhaps the biggest question is how long this deal can last, as the announcement came one day after Biden formally announced his re-election campaign. "Any concerns surrounding US abandonment will likely not be resolved within one US administration," Jessica says. "With the 2024 US presidential election looming, it is unclear whether the winner of the election will hold similar views toward cooperative decision making on nuclear deterrence."
Further reading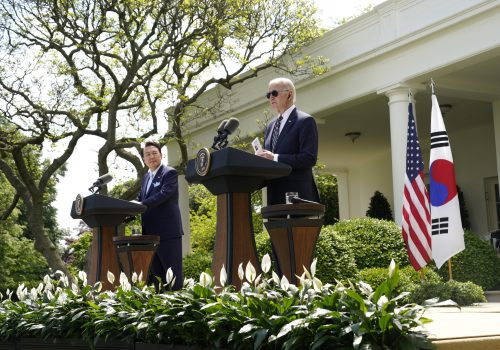 Wed, Apr 26, 2023
New Atlanticist By Atlantic Council experts
US President Joe Biden and South Korean President Yoon Suk Yeol are navigating political tensions around nuclear weapons and microchips to find a common future.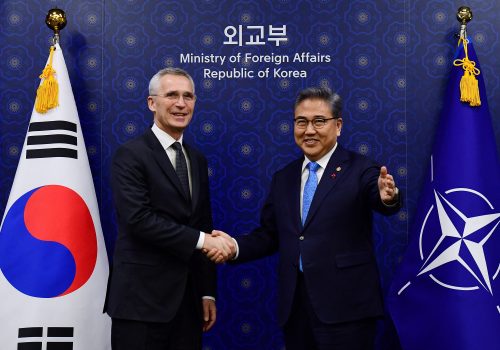 Mon, Feb 6, 2023
New Atlanticist By Sara Bjerg Moller
NATO Secretary General Jens Stoltenberg's visit to Japan and South Korea trip was striking both for its timing and for its messaging shift on China.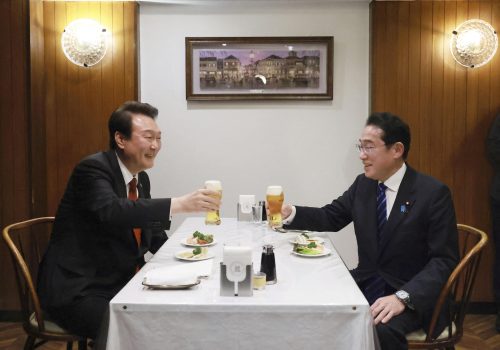 Mon, Mar 27, 2023
New Atlanticist By Thomas Cynkin
The more that Japan shows its relationship with Korea is a two-way street, the more sustainable it will be in the face of Korean public opinion.