Brazil's 2022 elections are coming at a consequential moment for the future of the country. As with elections around the world, narratives have the potential to be shaped by polarization and disinformation. Brazilian democratic institutions will play an increasingly vital role around what may shape up to be a tense electoral environment.
Brazilians will be weighing issues ranging from the COVID-19 pandemic to the economy, social spending, and security in casting their vote for president, state governors, and congressional representatives.
What is the impact of recent legislative changes on the Brazilian electoral system? What is the role of Congress in ensuring resilient democratic institutions and in the ultimate balance of power?
Join the Adrienne Arsht Latin America Center for a virtual conversation transmitted live from our in-person studios on Wednesday, December 1, 2021, from 3:00 to 4:00 p.m. ET. Speakers will address the strength of Brazilian democracy, the functioning of its institutions, and applicable lessons for parallel challenges in the US, the region, and the world.
This event will feature simultaneous translation in English and Portuguese for Zoom audience members.
Instituições democráticas no Brasil: O que podemos esperar em um ano eleitoral?
Uma conversa sobre as instituições democráticas e o sistema eleitoral brasileiro antes de eleições em 2022, com representantes do Congresso brasileiro e especialistas em democracia.
As eleições de 2022 no Brasil ocorrem num momento significativo para o futuro do país. Como em eleições em outras partes do mundo, a polarização e a desinformação têm o poder de influenciar narrativas. As instituições democráticas brasileiras terão um papel crítico, num contexto eleitoral que pode se tornar cada vez mais tenso.
Os brasileiros avaliarão questões desde a pandemia da COVID-19, até temas econômicos, gastos sociais, e segurança pública na hora de eleger o presidente, governadores e representantes no Congresso.
Qual o impacto das recentes mudanças legislativas para o sistema eleitoral brasileiro? Qual o papel do Congresso em assegurar que as instituições democráticas sejam resilientes e que o equilíbrio entre os poderes seja mantido?
Acompanhe o Adrienne Arsht Latin America Center para uma conversa virtual transmitida dos nossos estúdios em Washington, DC na quarta-feira, 1 de dezembro das 17h às 18h (horário de Brasília) / 3:00 às 4:00 p.m. (horário de Washington). Palestrantes discutirão temas como a força da democracia brasileira, o funcionamento das suas instituições, e as lições para desafios comuns nos EUA, na região e no mundo.
Tradução simultânea estará disponível em inglês e português.
Featuring
Margarete Coelho
Congresswoman; Rapporteur, Electoral Reform
Brazil's Chamber of Deputies

Alessandro Molon
Congressman; Rapporteur, Congressional Bill of Rights for the Internet
Brazil's Chamber of Deputies
Ricardo Sennes
Founder and Director, Prospectiva Consulting;
Non-Resident Senior Fellow, Adrienne Arsht Latin America Center, Atlantic Council
*Additional speakers to be confirmed.
In conversation with
Jason Marczak
Director, Adrienne Arsht Latin America Center
Atlantic Council
Valentina Sader
Assistant Director and Brazil Lead, Adrienne Arsht Latin America Center
Atlantic Council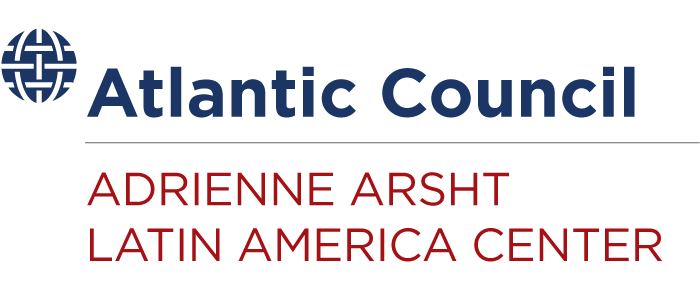 The Adrienne Arsht Latin America Center broadens understanding of regional transformations and delivers constructive, results-oriented solutions to inform how the public and private sectors can advance hemispheric prosperity.