As the seventh anniversary of Russia's illegal annexation of Crimea and invasion of eastern Ukraine approaches, there has been limited progress towards a lasting peaceful solution to the conflict. In the early days of his presidency, Ukrainian president Volodymyr Zelenskyy put a premium on bringing peace to eastern Ukraine. Now, US President Joe Biden, at the onset of his own presidency, has reiterated both his support for Ukraine and his willingness to confront Russian President Vladimir Putin. On January 26 in his first phone call with Putin, President Biden reaffirmed the United States' firm support for Ukraine's sovereignty. On February 1, Secretary of State Antony Blinken expressed strong US support for Ukraine battling Kremlin aggression. Do these statements suggest greater American support for Ukraine and a more active role in negotiations? How can Ukraine and its partners work together to secure a lasting solution to the conflict in the Donbas and finally get Putin out of Ukraine?
David Kramer, senior fellow at Florida International University's Vaclav Havel Program for Human Rights and Diplomacy, Dr. Hanna Shelest, director of the Security Studies Program at The Foreign Policy Council "Ukrainian Prism," Ambassador Alexander Vershbow, distinguished fellow at the Atlantic Council's Scowcroft Center for Strategy and Security, and Andriy Zahorodniuk, Ukraine's former minister of defense, join to discuss these important issues. Ambassador John Herbst, director of the Atlantic Council's Eurasia Center, moderates.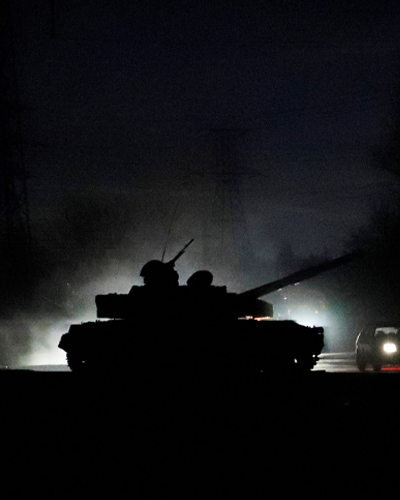 Europe in crisis
War in Ukraine
In February 2022, Moscow launched an all-out invasion of Ukraine after a months-long military build-up, threatening the country's sovereignty and its future. This existential moment for the country follows the 2014 Maidan revolution, a nexus for Ukraine's Europe-focused foreign policy and reform efforts. The ensuing Russian invasion and occupation of Crimea, aggression in Ukraine's east, and Kremlin disinformation efforts, cast a shadow over Ukraine's independence.


The Eurasia Center's mission is to enhance transatlantic cooperation in promoting stability, democratic values and prosperity in Eurasia, from Eastern Europe and Turkey in the West to the Caucasus, Russia and Central Asia in the East.
Follow us on social media
and support our work