As the global community continues to grapple with the coronavirus (COVID-19), the Atlantic Council is open for business. Our business, meetings, and events, however, are occurring virtually. For more information, please read an update from our President and CEO.
Event recap
On October 7, 2020, the Atlantic Council Global Energy Center hosted Trude Sundset, chief executive officer of Gassnova, as part of EnergySource Innovation Stream, an online series that highlights new energy technologies with the potential to reshape the global energy system. Sundset highlighted Gassnova's role in coordinating the development of Norway's large-scale commercial carbon capture and storage (CCS) project: "Longship." Randolph Bell, director of the Atlantic Council Global Energy Center and Morningstar chair for global energy security, delivered introductory remarks and moderated the discussion.
Sundset began her presentation by highlighting the critical role that carbon capture and storage will play in the energy transition. Sundset cited a recent report from the International Energy Agency that asserts reaching net-zero carbon emissions will be virtually impossible without CCS. Gassnova is a Norwegian state-run enterprise tasked with developing and implementing CCS technologies on behalf of the Norwegian government. The company currently coordinates the Longship CSS Project, the CO2 Technology Center Mongstad, and the CLIMIT research and development program. Gassnova's objective is to capture 400,000 tons of carbon from both a cement plant and a waste-to-energy facility in Norway. Ships will then transport the CO2 to an intermediate storage facility on Norway's west coast, following which the CO2 will be pumped through a pipeline and stored in a reservoir beneath the North Sea. The Northern Lights Partnership, comprised of Equinor, Shell, and Total, will operate and manage the transportation and storage projects.
For construction to begin, Longship must secure funding from the Norwegian government, and the waste-to-energy project must secure additional outside financing from sources like the European Union (EU). Earlier this year, Gassnova delivered thorough documentation on this industrial-scale project to the Norwegian government. In September, the Norwegian government announced a proposal to invest Kr 16.8 billion of the total 25 billion budget for Longship, which would include the initial investment and ten years of operational costs. The Norwegian Parliament heard the proposal on October 7 and will vote on the measure in December as part of broader decisions regarding the national budget for 2021.
The planned storage facility in the North Sea will also have room to store CO2 from other European companies and countries, making it a valuable resource for reaching the EU's climate goals. Longship CCS is intended to be an open-access transport and storage infrastructure system for all of Europe, thus providing an opportunity for a wide range of industries and companies to meet their emission targets, especially in hard-to-abates sectors like cement. Furthermore, Sundset explained that Norway has a competitive advantage in CCS that stems from the country's experience with petrochemicals. In the early 1990s, Norway implemented an offshore carbon tax, which created an oil and gas industry with the lowest emissions in the world and successful applications of CCS. The country's experience with fossil fuel extraction has also helped leadership understand how to put CO2 back into the ground. The Longship project would create around three thousand jobs, many of which would support workers transitioning from the fossil fuel industry.
Audience questions focused on the uncertainties, risks, and challenges facing the Longship project and the broader CCS industry. Sundset explained that while the industry has matured significantly, sector leaders must continue to convince others to engage with and adopt CCS technologies. In a February study, Gassnova predicted that costs will decrease as the number of operational CCS projects rises and usage of CO2 transportation chains and storage facilities grows. Streamlining complicated logistics for the CCS transport chain has been a historical challenge and will require continued attention. According to Sundset, moving forward, industries and countries will need to identify incentives and business models that will generate a viable market for CCS technologies; many have already demonstrated interest in the Longship project. The Northern Lights partners have signed contracts with various industries in Europe and will mature these contracts when appropriate. Sundset mentioned that Gassnova is relying on EU support to enable large-scale deployment of CCS technologies, and CCS will be among the technologies to receive funding from the €150 billion European Green Deal. Sundset emphasized that global stakeholders must cooperate to achieve climate goals. In that vein, contracts for the Longship project mandate knowledge sharing between stakeholders and with the public, and Sundset highlighted that Gassnova is prepared to share their knowledge and experience to support future CCS projects.
This episode of EnergySource Innovation Stream featured an audience poll, which asked viewers: "What would be the price range on carbon needed to drive carbon capture, storage, and commercialization?" Per the results, 43 percent of the audience chose $60-79, 50 percent split their vote between $40-59 and $80-99, and the remaining 7 percent expressed that carbon pricing would not be a key driver of CCS deployment. Sundset noted that the poll results were indicative of the current reality: the value of carbon removal will vary depending on the industry and country. Sundset concluded that she would most likely choose the middle option of $60-79, concurring with the audience plurality.
Featuring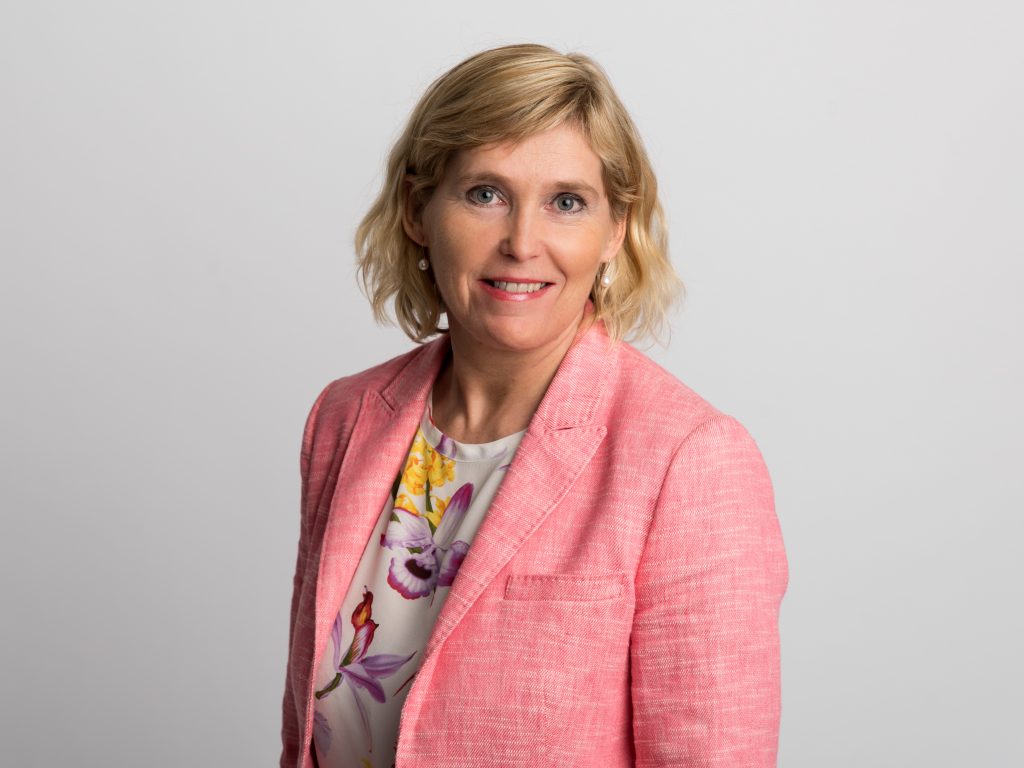 Trude Sundset, Chief Executive Officer Gassnova
Trude Sundset is chief executive officer at Gassnova, the Norwegian state enterprise for carbon, capture, and storage (CCS) technology development.
Sundset has broad experience from international organizations as a board member of the IEA GHG, CSLF, IPIECA, ZEP and The Hawthorn Club as well as leading positions within the areas of energy, environment, and climate issues in the oil and gas industry.
She started her career as a researcher at SINTEF. After ten years, she moved on to Statoil ASA (today Equinor). Over nineteen years at Statoil, Sundset held top positions as: chief researcher, head of environment and climate international, and vice president of environment and climate.
Trude Sundset has a Master of Technology from the Norwegian University of Science and Technology in Trondheim. Her broad-based industrial experience and extensive career has given her a unique insight in industrial development and technological solutions to mitigate climate change.
Related experts
Learn more about the Global Energy Center