The crisis on Ukraine's borders has mounted for over a month. Approximately 100,000 Russian troops remain near the Ukrainian border, with reports that tens of thousands more may soon arrive. Led by President Biden, the West has laid down clear markers that a major, new Russian invasion will prompt devastating sanctions, further military shipments to Ukraine, and a strengthening of NATO's force posture near Russia's border. Is this enough to stay Putin's hand?
Dr. Emily Channell-Justice, director of the Temerty Contemporary Ukraine Program at Harvard University's Ukrainian Research Institute, provides welcoming remarks. Bernard-Henri Lévy, philosopher, filmmaker, and author of his latest book, The will to see: dispatches from a world of misery and hope, opens the discussion with keynote remarks.
Gen. (Ret.) Philip Breedlove, former supreme allied commander Europe, Heather Conley, senior vice president for Europe, Eurasia, and the Arctic at the Center for Strategic and International Studies, Ambassador John Herbst, senior director of the Atlantic Council's Eurasia Center, Ambassador Alexander Vershbow, distinguished fellow at the Atlantic Council, and Andriy Zagorodnyuk, chair of the Centre for Defence Strategies, join to discuss Russia's latest menacing military maneuvers and what the West can do to deter another Russian invasion of Ukraine. Melinda Haring, deputy director of the Eurasia Center, moderates.
---
This event will not feature an in-person audience. You will be able to join via desktop or mobile app, through your web browser, or by phone. To join the question and answer period, you must join by app or web.

Register below for details on joining the virtual audience.
---
Follow us on social media
and support our work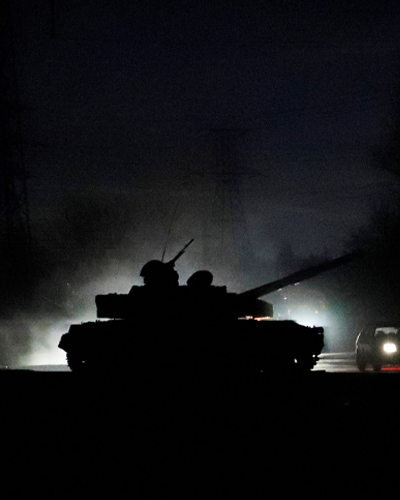 Europe in crisis
War in Ukraine
In February 2022, Moscow launched an all-out invasion of Ukraine after a months-long military build-up, threatening the country's sovereignty and its future. This existential moment for the country follows the 2014 Maidan revolution, a nexus for Ukraine's Europe-focused foreign policy and reform efforts. The ensuing Russian invasion and occupation of Crimea, aggression in Ukraine's east, and Kremlin disinformation efforts, cast a shadow over Ukraine's independence.