The dynamics surrounding Moscow's war on Ukraine continue to change. Last week, a Russian colonel-general claimed that Moscow's objective in the war is to seize eastern Ukraine. Yet Russian President Vladimir Putin has not confirmed that this is his sole or even principal objective, and Russian military activity has not pivoted toward the east; Russian rockets continue to menace Kyiv in central Ukraine and more have recently found their way to Lviv in the west.
In the meantime, Ukrainian President Volodymyr Zelenskyy has moved in multiple directions as well. In an interview with Russian journalists, he appeared willing to accept Ukraine's neutrality and agree not to pursue a nuclear weapons program in exchange for ironclad security guarantees over all of Ukraine's territory. Yet he has also requested more advanced weapons from the West, including conventional ground weapons that he hadn't asked for in the past.
For his part, US President Joe Biden visited Europe for meetings with NATO, the European Union, and the Group of Seven (G7). While he shored up alliance unity and cooperation with partners, Biden also appeared to suggest publicly that Putin must be removed from office. While the White House quickly clarified that Biden meant that Putin should not be able to coerce outcomes abroad, the Russian media picked this up as endorsement of regime change.
What is Putin up to both on the battlefield and at the negotiating table? How is Ukraine managing this fight? And what should the United States and the West do to best defend their interests in this crisis?
Melinda Haring, deputy director of the Atlantic Council's Eurasia Center, moderates a discussion with General Philip Breedlove, former Supreme Allied Commander Europe, Ambassador John Herbst, senior director of the Eurasia Center, Illia Ponomarenko, defense and security reporter at the Kyiv Independent, and Olga Tokariuk, nonresident fellow at the Center for European Policy Analysis, on the latest developments in Russia's war against Ukraine.
---
This event will not feature an in-person audience. You will be able to join via desktop or mobile app, through your web browser, or by phone. To join the question and answer period, you must join by app or web.

Register below for details on joining the virtual audience.
---
Follow us on social media
and support our work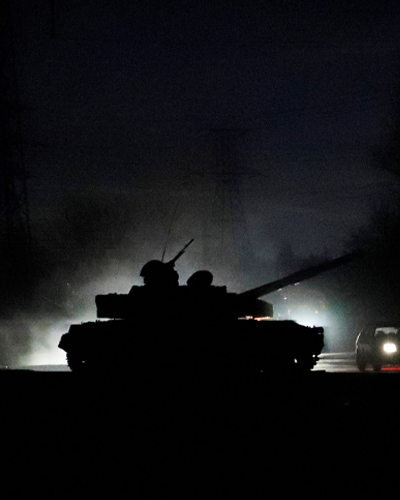 Europe in crisis
War in Ukraine
In February 2022, Moscow launched an all-out invasion of Ukraine after a months-long military build-up, threatening the country's sovereignty and its future. This existential moment for the country follows the 2014 Maidan revolution, a nexus for Ukraine's Europe-focused foreign policy and reform efforts. The ensuing Russian invasion and occupation of Crimea, aggression in Ukraine's east, and Kremlin disinformation efforts, cast a shadow over Ukraine's independence.