As the global community continues to grapple with the coronavirus (COVID-19), the Atlantic Council is open for business. Our business, meetings, and events, however, are occurring virtually. For more information, please read an update from our President and CEO.
The United States and India have become increasingly interconnected with expanding political, social, and economic ties. However, while commerce and trade have grown between the two nations, the past few years have seen significantly strained trade engagement, including but not limited to an unsuccessful mini trade deal and disputes over data governance regulations.
As a developing and growing economy, India is faced with challenging but important trade decisions, moving forward amid China's growing presence in the region, increasing globalization, and India's domestic political context. Whether the US- India trade relationship dwindles or the two nations are able to look past their differences and establish a mutually beneficial trade relationship is a question that remains to be answered.
Please join the Atlantic Council's South Asia Center on Thursday, July 29 at 8:30 AM EST / 6:00 PM IST for a conversation on US-India trade and a path forward. The conversation aims to explore what the two countries can do to support, nourish, and grow their bilateral trade relationship, while setting the stage for successful future negotiations.
Featuring
Suhail Nathani
Managing Partner
Economic Laws Practice
Shamika Ravi
Director Research
Brookings Institution India Center
Soumaya Keynes
Europe Economics Editor
The Economist
Moderated by
Ridhika Batra
Nonresident Senior Fellow
Atlantic Council's South Asia Center
Introductory remarks by
Irfan Nooruddin
Director
Atlantic Council's South Asia Center
Related content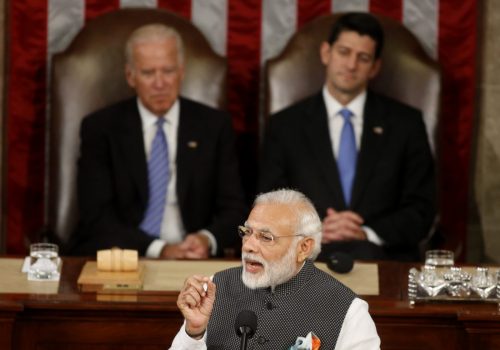 Thu, Sep 10, 2020
The current approach by the Trump administration risks weaponizing international trade and ignoring valuable opportunities to both strengthen US commercial interests and further strategic objectives.
New Atlanticist by Mark Linscott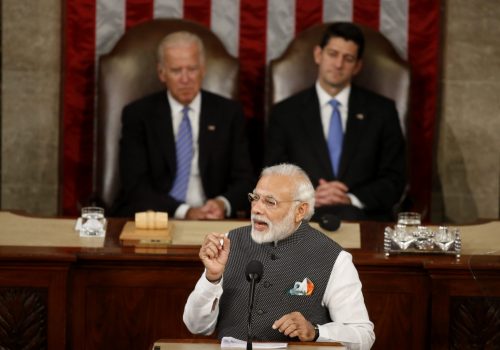 Mon, Jul 19, 2021
On July 7, 2021, the Atlantic Council's South Asia Center hosted Ambassador Robert Holleyman, partner at Crowell & Moring LLP, and Ambassador Jeffrey Gerrish, partner at Skadden, Arps, Slate, Meagher & Flom LLP, and Affiliates to launch the newly released report, Reimagining the US-India trade relationship, curated by Atlantic Council's South Asia Center's non-resident senior fellows Ridhika Batra, Mark Linscott, Harsha Vardhana Singh, and non-resident fellow Anand Raghuraman.
Event Recap by Ayra Khan


The South Asia Center serves as the Atlantic Council's focal point for work on greater South Asia as well as its relations between these countries, the neighboring regions, Europe, and the United States.