As the global community continues to grapple with the coronavirus (COVID-19), the Atlantic Council is open for business. Our business, meetings, and events, however, are occurring virtually. For more information, please read an update from our President and CEO.


Following the historic election of Vice President Kamala Harris and significant gains in women's political representation in recent election cycles, the Adrienne Arsht Latin America Center is thrilled to celebrate this year's International Women's Day with a special conversation with women leaders from across the Americas.
This discussion will dive into recent achievements regarding women's representation at the decision-making table and analyze the obstacles women still face daily. What roles have women played in the response to the COVID-19 pandemic? What is the current status of women's political leadership and participation? From the corporate sphere and girls' education to gender-based violence and the rights of indigenous and LGBTQI women, what particular challenges do Latin America and the Caribbean face as a region? What opportunities does this moment present to address gender inequality moving forward?
Join the Atlantic Council's Adrienne Arsht Latin America Center on Monday, March 8, 2021, at 4:00 p.m. EST, for this special discussion featuring #MujeresAtTheTables.
Fireside conversation featuring
The Honorable Hillary Rodham Clinton
Former Secretary of State
US State Department
Ambassador Melanne Verveer
Former Ambassador-at-Large for Global Women's Issues, Department of State
Executive Director, Georgetown Institute for Women, Peace and Security, Georgetown University
Regional leaders discussion with
H.E. Marta Lucía Ramírez
Vice President
Colombia
The Hon. Minister Dr. Nyan Gadsby-Dolly
Minister of Education
Trinidad and Tobago
Moderated by
María Fernanda Bozmoski
Deputy Director, Programs, Adrienne Arsht Latin America Center
Atlantic Council
Remarks by
Adrienne Arsht
Executive Vice Chair, Board of Directors; Founder, Adrienne Arsht Latin America Center and Adrienne Arsht Rockefeller Foundation Resilience Center
Atlantic Council
Ambassador Capricia Marshall
Vice Chair, Advisory Council; Ambassador-in-Residence, Adrienne Arsht Latin America Center
Atlantic Council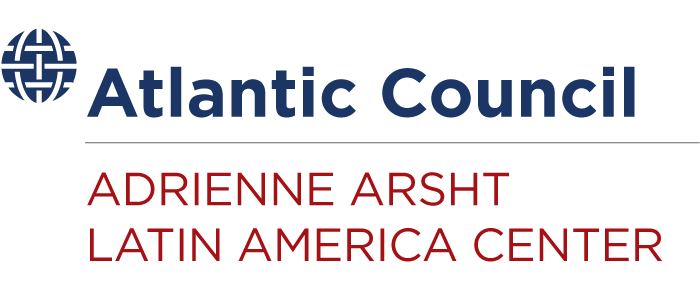 The Adrienne Arsht Latin America Center broadens understanding of regional transformations and delivers constructive, results-oriented solutions to inform how the public and private sectors can advance hemispheric prosperity.