As the global community continues to grapple with the coronavirus (COVID-19), the Atlantic Council is open for business. Our business, meetings, and events, however, are occurring virtually. For more information, please read an update from our President and CEO.
A Leaders of the Americas Series event


Due to COVID-19, Guatemala has been under a mandatory nationwide quarantine for the past two months. President Alejandro Giammattei, who took office only four months ago, has responded to the crisis with a series of measures including over $1.6 billion in economic aid through ten new programs, such as food and electricity subsidies, employment protections, and direct payments. Still, Guatemala, with the second most cases in Central America, faces a public health crisis alongside its own economic challenges. How can Central America's largest nation balance health and economic priorities? What is Guatemala's post-COVID-19 plan for economic reactivation? What roles can the government, private sector, and the international community play?
Join the Atlantic Council's Adrienne Arsht Latin America Center on Thursday, May 21, at 11:00 a.m. EDT (9:00 a.m. Guatemala City) for a live online conversation with President Alejandro Giammattei on Guatemala's COVID-19 response and economic reactivation plan. The event will be held in Spanish with simultaneous English translation.
This conversation is the third episode as part of the Adrienne Arsht Latin America Center's Leaders of the Americas series where we provide a bridge for honest, solutions-focused discourse on today's pressing regional issues.
Watch the event livestream in English
Read about the event in the New Atlanticist
Keynote speaker
H.E. Alejandro Giammattei
President of the Republic of Guatemala
In conversation with
Jason Marczak
Director, Adrienne Arsht Latin America Center
Atlantic Council
Introduction
Ms. Ana Palacio
Board Member
Atlantic Council;
Founder
Palacio y Asociados;
Former Minister of Foreign Affairs (2002-2004)
Spain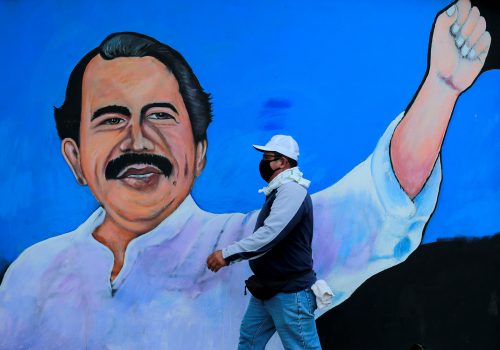 Thu, May 7, 2020
Nicaragua's reckless response to COVID-19 puts an already fragile Central America at risk and should worry the international community. In the fight against this global pandemic, Nicaragua and Costa Rica provide a clear example of how one country's flawed response to the virus can drastically impact its neighboring countries
New Atlanticist by Maria Fernanda Perez Arguello and Isabel Kennon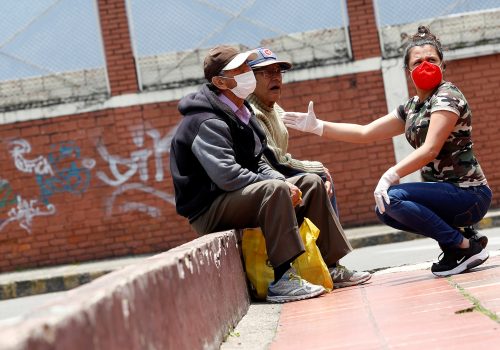 Mon, Mar 23, 2020
As governments in North America, Europe, Asia, and around the world continue to combat the spread of the novel coronavirus (COVID-19), Latin American leaders are stepping up their efforts as cases are beginning to be documented in their countries. Although the number of cases across the region remains mostly lower than the epicenters in Europe and the United States, "we are not letting our guard down," El Salvador's Minister of Foreign Affairs Alexandra Hill Tinoco said on March 23. "No one can guarantee us that it is not going to hit us," she explained, so every Latin American government is taking the threat seriously.
New Atlanticist by David A. Wemer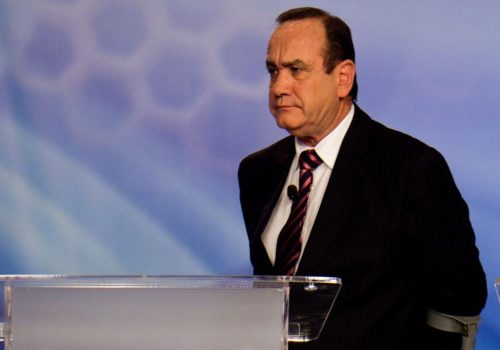 Mon, Jan 13, 2020
Guatemala will begin a new chapter with the presidential inauguration of Alejandro Giammattei Falla. At the center of the incoming pro-business administration: ushering in a new era of economic growth and job creation. With 59 percent of Guatemalans living in poverty, Central America's largest and most populous country is also one the poorest and most unequal nations in Latin America.
Issue Brief by María Fernanda Pérez Argüello and Domingo Sadurní
Por los pasados dos meses, Guatemala ha vivido bajo cuarentena nacional. El presidente Giammattei, quien asumió la presidencia hace solo cuatro meses, ha respondido a la crisis con una serie de medidas, incluyendo $1,600 millones (13,000 millones quetzales) en programas de apoyo económico. Sin embargo, Guatemala, el segundo país en Centro América con más casos confirmados de COVID-19, enfrenta un doble reto: una crisis de salud pública y problemas económicos que se han agudizado por la pandemia. ¿Cómo debe balancear estas dos prioridades el país más grande de Centro América? ¿Cuál es el plan de reactivación económica del Presidente Giammattei? ¿Qué rol debe jugar el gobierno, el sector privado y la sociedad civil para contrarrestar los impactos de esta crisis?
Únase al Centro para América Latina Adrienne Arsht del Atlantic Council el jueves, 21 de mayo, a las 11:00 a.m. EDT (9:00 a.m. hora Guatemala), para una conversación virtual y en vivo (en castellano y con traducción simultánea al inglés) con el presidente Giammattei sobre su respuesta a la pandemia y su plan futuro para reactivar la economía del país.
Este es el tercer evento de la iniciativa "Líderes de las Américas" del Centro para América Latina. Esta iniciativa busca convocar a líderes del más alto nivel de América Latina para discutir los temas más apremiantes de la región.
Ponente
H.E. Alejandro Giammattei
Presidente de la República de Guatemala
En conversación con
Jason Marczak
Director, Adrienne Arsht Latin America Center
Atlantic Council
Introducción
Ms. Ana Palacio
Miembro de Junta de Directores
Atlantic Council;
Fundadora
Palacio y Asociados;
Ex Canciller (2002-2004)
España