Last year, on October 29, 2019, business representatives and Ukrainian state officials gathered in Mariupol for the Mariupol Investment Forum, aimed at showcasing the city and eastern Ukraine to international audiences. During the forum, twelve memoranda were inked with international partners and investors and Ukrainian regions and companies to pave the way for massive investments, furthering rehabilitation plans and prospects for the region. Did these agreements amount to anything concrete? Following this Forum, it is essential to continue the conversation about a path forward for the Donbas, including how to rebuild and bring investment to the region. Ukraine's roads, railways, water delivery, and ports in eastern Ukraine all need attention. How can we showcase and utilize assets in the Donbas to bolster development and resilience? How does a region known globally for conflict chart a new, constructive path forward? How can Ukraine convince foreign investors to invest in a war-torn region with dodgy courts?
Gennadiy Chyzhykov, president of the Ukrainian Chamber of Commerce and Industry and former head of the Donetsk Chamber of Commerce; Yevhen Hlibovytsky, founder of ProMova; Dr. Alvydas Medalinskas, deputy chairman of Donbas Gates; and Jock Mendoza-Wilson, director of International and Investor Relations at Systems Capital Management, discuss priorities for investment and rebuilding the Donbas. Journalist Nataliya Gumenyuk moderates the discussion.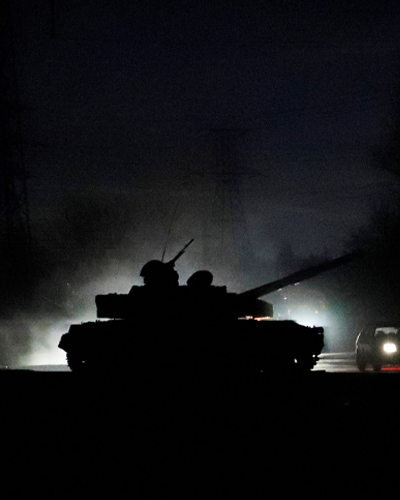 Europe in crisis
War in Ukraine
In February 2022, Moscow launched an all-out invasion of Ukraine after a months-long military build-up, threatening the country's sovereignty and its future. This existential moment for the country follows the 2014 Maidan revolution, a nexus for Ukraine's Europe-focused foreign policy and reform efforts. The ensuing Russian invasion and occupation of Crimea, aggression in Ukraine's east, and Kremlin disinformation efforts, cast a shadow over Ukraine's independence.
ORGANIZED BY




The Eurasia Center's mission is to enhance transatlantic cooperation in promoting policies that strengthen stability, democratic values, and prosperity in Eurasia, from Eastern Europe in the West to the Caucasus, Russia, and Central Asia in the East.