What is happening in Russia? On June 24, Wagner Group leader Yevgeniy Prigozhin announced his dissatisfaction with the way Russian Minister of Defense Sergei Shoigu was running the war in Ukraine, declared the reasons the Kremlin gave for launching the large invasion of Ukraine as lies, and announced his "march of justice." Having easily taken the city of Rostov-on-Don, Wagner troops then headed quickly to Moscow, with little opposition, only to turn back when they were 200 kilometers from the capital.
It appears that Belarusian dictator Alyaksandr Lukashenka negotiated a sort of truce between Prigozhin and the ministry of defense. The terms of the deal may involve security guarantees for Prigozhin in Belarus and will likely see Wagner troops folded into Russian regular forces. There are now reports that Prigozhin is in Belarus and that General Surovikin has been arrested for having some prior knowledge of Prigozhin's intentions.
How this plays out is still quite open. But it is already clear that Putin's weakness and Prigozhin's brazen criticism leave the current Kremlin regime at its weakest point in decades as it continues Russia's costly war on Ukraine. What might Putin do to reassert his authority? What is the future of Prigozhin and Wagner and how much will Russia's war on Ukraine change? Is this the beginning of the end for Putin?
The Atlantic Council's Eurasia Center gathers a panel of experts to discuss.
Speakers
Yevgenia Albats
Distinguished Journalist in Residence, Jordan Center for the Advanced Study of Russia
New York University
Maria Snegovaya
Senior Fellow, Europe, Russia, and Eurasia Program
Center for Strategic and International Studies
Brian Whitmore
Nonresident Senior Fellow, Eurasia Center
Atlantic Council;
Assistant Professor of Practice,
University of Texas-Arlington
Moderated by
---
This event will not feature an in-person audience. You will be able to join via desktop or mobile app, through your web browser, or by phone. To join the question and answer period, you must join by app or web.

Register above for details on joining the virtual audience.
---
Follow us on social media
and support our work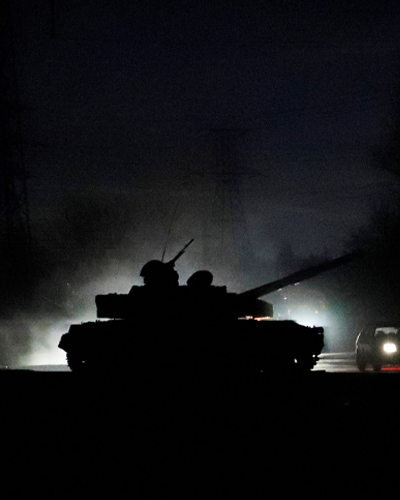 Europe in crisis
War in Ukraine
In February 2022, Moscow launched an all-out invasion of Ukraine after a months-long military build-up, threatening the country's sovereignty and its future. This existential moment for the country follows the 2014 Maidan revolution, a nexus for Ukraine's Europe-focused foreign policy and reform efforts. The ensuing Russian invasion and occupation of Crimea, aggression in Ukraine's east, and Kremlin disinformation efforts, cast a shadow over Ukraine's independence.


The Eurasia Center's mission is to enhance transatlantic cooperation in promoting policies that strengthen stability, democratic values, and prosperity in Eurasia, from Eastern Europe in the West to the Caucasus, Russia, and Central Asia in the East.