Moscow ordered its forces to retreat from Kherson after Ukrainian victories on the battlefield. What's next for Ukraine's southern counteroffensive?
Ukraine's impressive counter-offensive on the battlefield continues to result in substantial gains for the Ukrainian army in the south and east. Following an extended string of retreats and defeats, Russian forces have withdrawn from Kherson, the capital of one of the four Ukrainian regions that Moscow claimed to have annexed in late September. Though Moscow has ordered its forces to retreat from the right bank of the Dnipro River, Ukrainian officials have urged caution, claiming that some Russian forces still remain in Kherson and may be reorganizing on the other side of the river.
Could the retreat be a Russian bluff? Will Ukrainian forces continue their momentum heading into the winter? Is the war in Ukraine entering a new stage?
Melinda Haring, deputy director of the Atlantic Council's Eurasia Center, moderates a conversation featuring Jennifer Cafarella, chief of staff at the Institute of the Study of War, Gen. (Ret.) Wesley Clark, former Supreme Allied Commander Europe, Ambassador John Herbst, senior director of the Atlantic Council's Eurasia Center, and Minister Andriy Zagorodnyuk, distinguished fellow at the Eurasia Center and former minister of defense of Ukraine.
---
This event will not feature an in-person audience. You will be able to join via desktop or mobile app, through your web browser, or by phone. To join the question and answer period, you must join by app or web.

Register below for details on joining the virtual audience.
---
Follow us on social media
and support our work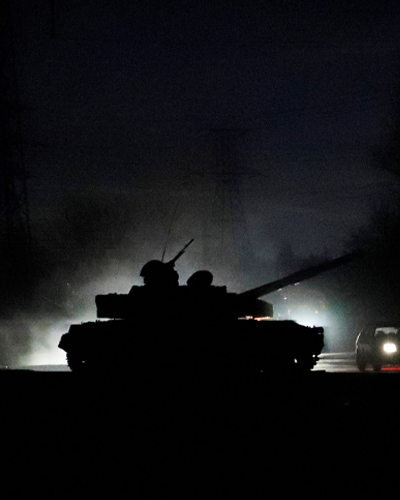 Europe in crisis
War in Ukraine
In February 2022, Moscow launched an all-out invasion of Ukraine after a months-long military build-up, threatening the country's sovereignty and its future. This existential moment for the country follows the 2014 Maidan revolution, a nexus for Ukraine's Europe-focused foreign policy and reform efforts. The ensuing Russian invasion and occupation of Crimea, aggression in Ukraine's east, and Kremlin disinformation efforts, cast a shadow over Ukraine's independence.


The Eurasia Center's mission is to enhance transatlantic cooperation in promoting stability, democratic values and prosperity in Eurasia, from Eastern Europe and Turkey in the West to the Caucasus, Russia and Central Asia in the East.
Follow us on social media
and support our work