Ukraine is now in its sixth year of conflict and all parties claim they want peace. In December 2019, President Volodymyr Zelenskyy met with President Vladimir Putin, President Emmanuel Macron, and Chancellor Angela Merkel to discuss a way out of the conflict. Most experts thought Zelenskyy upheld Ukraine's negotiating priorities well. However, in early March, a controversial proposal was floated to bring in representatives from the Russian-backed territories into the trilateral working group, which has been a red line for Ukraine. But this agreement was not signed. Why not, and what does Kyiv plan to do next? How can Kyiv bring Moscow to the table while holding its ground?
H.E. Dmytro Kuleba
Minister of Foreign Affairs, Ministry of Foreign Affairs of Ukraine
Ambassador William B. Taylor
Vice President, Strategic Stability and Security, United States Institute for Peace
Svyatoslav Vakarchuk
Member of Parliament, Verkhovna Rada;
Founder, Reformist "Voice" political party
Adrian Karatnycky
Senior Fellow, Eurasia Center, Atlantic Council;
Managing partner, Myrmidon Group LLC
Ambassador John Herbst
Director, Eurasia Center, Atlantic Council
Orysia Lutsevych
Research Fellow and Manager, Ukraine Forum, Russia and Eurasia Programme, Chatham House
---
This event will not feature an in-person audience. You will be able to join via desktop or mobile app, through your web browser, or by phone. To join the question and answer period, you must join by app or web.

Register below for details on joining the virtual audience.
---
Follow us on social media
and support our work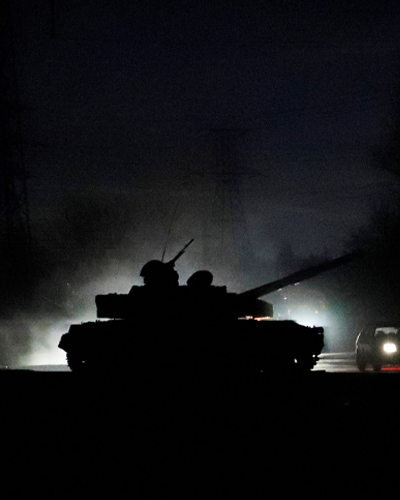 Europe in crisis
War in Ukraine
In February 2022, Moscow launched an all-out invasion of Ukraine after a months-long military build-up, threatening the country's sovereignty and its future. This existential moment for the country follows the 2014 Maidan revolution, a nexus for Ukraine's Europe-focused foreign policy and reform efforts. The ensuing Russian invasion and occupation of Crimea, aggression in Ukraine's east, and Kremlin disinformation efforts, cast a shadow over Ukraine's independence.
Co-hosted in partnership with




The Eurasia Center's mission is to enhance transatlantic cooperation in promoting stability, democratic values and prosperity in Eurasia, from Eastern Europe and Turkey in the West to the Caucasus, Russia and Central Asia in the East.
Follow us on social media
and support our work