Ukrainian President Volodymyr Zelenskyy is in Washington, DC this week in his first trip outside of the country since Russia's full-scale invasion began in February. Ukraine continues to push its counteroffensive in the south and withstand brutal battles in Bakhmut, which Zelenskyy visited just days before his trip to Washington. Ukraine has shown it will fight for its freedom, even in muddy trenches or without electricity or heat. Zelenskyy takes that message to Washington as he seeks crucial military aid and financial assistance to sustain Ukraine's struggle for victory and freedom from Moscow.
As Congress votes on a major aid package for Ukraine, how might Zelenskyy's visit impact the war? What are the key US interests at stake in helping Ukraine fight for its sovereignty and secure victory?
Ambassador John Herbst, senior director of the Atlantic Council's Eurasia Center, moderates a discussion with Stephen Biegun, former US deputy secretary of state, Gen. (Ret.) Philip Breedlove, former Supreme Allied Commander Europe, Stephen Hadley, chair of the Atlantic Council's International Advisory Board and former US national security advisor, and Kira Rudik, member of the Parliament of Ukraine, to discuss Zelenskyy's visit and strengthening US support for Ukraine.
---
This event will not feature an in-person audience. You will be able to join via desktop or mobile app, through your web browser, or by phone. To join the question and answer period, you must join by app or web.

Register below for details on joining the virtual audience.
---
Follow us on social media
and support our work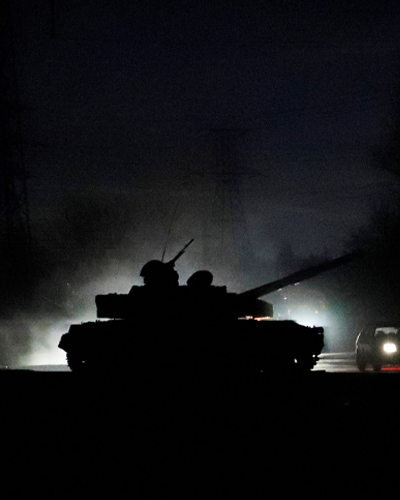 Europe in crisis
War in Ukraine
In February 2022, Moscow launched an all-out invasion of Ukraine after a months-long military build-up, threatening the country's sovereignty and its future. This existential moment for the country follows the 2014 Maidan revolution, a nexus for Ukraine's Europe-focused foreign policy and reform efforts. The ensuing Russian invasion and occupation of Crimea, aggression in Ukraine's east, and Kremlin disinformation efforts, cast a shadow over Ukraine's independence.


The Eurasia Center's mission is to enhance transatlantic cooperation in promoting stability, democratic values and prosperity in Eurasia, from Eastern Europe and Turkey in the West to the Caucasus, Russia and Central Asia in the East.