Regions in focus
COVID-19 in Latin America

As the COVID-19 coronavirus outbreak continues to accelerate its spread worldwide, the international community is facing a global crisis with public health, geopolitical, and economic repercussions. Go beyond the headlines to access the Atlantic Council's deep expertise in policy areas impacted by this growing global emergency.
Read More
Highlight: Energy in the Americas

The Western Hemisphere is full of potential and we have the opportunity to galvanize it into an energy powerhouse. This new US energy strategy for the Western Hemisphere will help raise the global competitiveness of the hemisphere, advance its shared prosperity, and improve national and energy security as a result.
Read More
Explore the NATO 20/2020 podcast series

NATO 20/2020 is a weekly podcast that explores 20 bold ideas to push NATO to be more visionary, more capable, and more self-evidently valuable to the security of more people.
Read More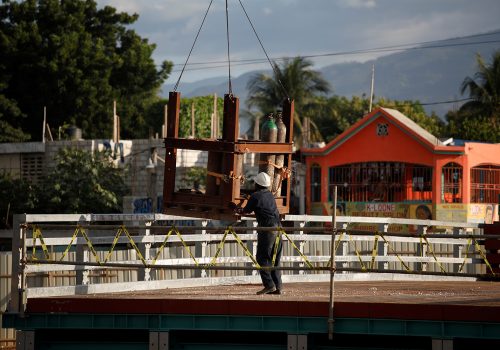 Sat, Jun 12, 2021
Blue Dot Network represents another chapter for US leadership to address global needs and safeguard the international system from predatory behavior. With the Biden administration's mission to build back better for the world, it is well poised to make BDN one of its landmark legacies for global good.
New Atlanticist by Kaush Arha
Tue, Jun 15, 2021
Online Event A post-visit readout with President of Guatemala, Alejandro Giammattei focusing on Guatemala's economic recovery plan, initiatives to stem migration, corruption, and the broader US-Guatemala relationship.
4:00pm Americas Latin America Northern Triangle Politics & Diplomacy