International partners are scrambling to limit the humanitarian disaster created by the fighting between the Sudanese Armed Forces (SAF) and the paramilitary Rapid Support Forces (RSF) in Sudan that erupted on April 15 while the last steps of discussions leading to a civilian and democratic transition were expected. Now, it is not enough to simply call for a ceasefire and a return to negotiations because those outcomes could reestablish the fraught balance of power between the SAF and RSF that stymied the eighteen-month-long negotiations for a return to a civilian government—the type of government that most people in Sudan are demanding.
Rather, international partners must increase financial pressure on the RSF, former Bashir-era government officials, and the SAF to change their political calculations at the negotiation table.
Sudan cannot be stable if there are two armies and if former regime elites/Islamists are allowed to sow discord. International partners need to put coordinated financial pressure on RSF leaders to commit to integrating rapidly into the army and on former regime leaders to stop inciting violence; international partners should also put SAF generals on notice that they must honor their pledges to hand over power.
Sudan's long-ruling former dictator, Omar al-Bashir, was able to stay in power for thirty years by fragmenting the security services and deftly playing them against each other to prevent any one of them from becoming powerful enough to launch a successful coup. In return for their obedience, military and political leaders were allowed to gain control over large parts of the economy and accumulate great wealth. Sustained protests led to Bashir's April 2019 ouster, a brief period of military rule, and eventually a civilian-military transitional government nominally headed by then Prime Minister Abdalla Hamdok, who governed in "partnership" with SAF General Abdel Fattah al-Burhan and RSF General Mohamed Hamdan "Hemedti" Dagalo, the chair and vice-chair respectively of the Transitional Sovereignty Council.
International partners acquiesced to the generals taking these positions of power, thinking that it would help prevent conflict from breaking out between the two rival forces—and that competition between the SAF and the RSF would keep either from dominating the country and would allow the heavily constrained Hamdok and his civilian ministers to implement at least some reforms. While the prime minister was able to introduce some difficult but necessary economic reforms, Burhan and Hemedti launched another coup on October 25, 2021, to block a planned transfer of the Transitional Sovereignty Council chair to a civilian.
The return of military rule was roundly rejected by the Sudanese people, who held frequent protests, and donors, who paused more than four billion dollars in planned economic assistance. The coup leaders came under enormous economic and diplomatic pressure to negotiate another transition, but they occupied irreconcilable positions on security-sector reform. Burhan and his hardline generals wanted the RSF to be rapidly subsumed into the SAF, while Hemedti (backed by his supporters from the periphery) wanted to keep his independent power base and played for time. As "negotiations" dragged on, the two leaders employed different tactics to try to strengthen their own position and weaken the other's, including importing more weapons, arming communities, trying to splinter their rival's forces, cutting off sources of funding, allying with civilian politicians, developing bonds with foreign leaders (including Russia), and—at least according to persistent chatter in Khartoum—planning coups in case these other efforts failed to change the balance of power. Tensions waxed and waned over the past one-and-a-half years, and external actors had to intercede a number of times to prevent combat from breaking out. Unfortunately this time, with the Islamists reportedly exacerbating strife and the political negotiations seemingly about to conclude, diplomats have been unable to avert a war.
Neither the SAF nor RSF is capable of a decisive victory, particularly given Sudan's size and its fractured political landscape. Barring decisive intervention, the most likely scenario is a long and bloody multisided civil war and a staggering humanitarian disaster, like ones seen in Somalia, Syria, or Yemen. This disaster would not be limited to Sudan; it could also destabilize the greater region and drive tens of millions of Sudanese people to flee to neighboring states, the Middle East, and Europe.
That scenario needs to be prevented in a way that ensures the political and military calculations of Hemedti, Burhan, and their supporters change when serious negotiations to restore a civilian government resume. Simply calling for ceasefires or evenly applying diplomatic pressure is not enough. This would only preserve the rough parity of military power between the RSF and SAF. This is not to suggest that either Hemedti or Burhan is "better." Both have failed the Sudanese people and should be encouraged to move on from power. However, international partners must aim to immediately stop the fighting, bring back negotiations for a transition to civilian government, and then ensure both generals honor their public pledges to hand over power.
Thus, international and regional leaders must, in coordination, begin to strategically apply pressure by freezing Sudanese bank accounts and temporarily blocking the business activities of Sudanese leaders and their forces. This cutoff in money and revenue will impact those actors' abilities to pay their soldiers and allies to fight and resupply. More importantly, it will impact their calculations about their willingness to return to serious negotiations and to compromise. Given the RSF is unlikely to prevail against the SAF with its heavy weapons and support from Egypt, the least bad option to stop the fighting is to first apply pressure on Hemedti's business empire, which funds the RSF—his soldiers are loyal because they are paid better, not for any ideological reason. External actors, particularly the United Arab Emirates and Saudi Arabia (where, because of past Western sanctions, most Sudanese have their bank accounts and base their businesses), should freeze known RSF and Hemedti-family bank accounts and business activities until RSF leaders commit to rapidly integrating their troops into the SAF. Some of the most important assets have been identified and others are known by the Emirati and Saudi governments. Similarly, international partners must quickly freeze the assets of known Bashir-regime/Islamist leaders who are inciting violence in an effort to return to power. 
Finally, partners should identify foreign-held SAF assets and business interests for possible freezing and seizure in case the army does not honor its pledge to hand over power—or perpetuates the historic political and economic dominance of elites from Khartoum at the expense of Sudanese people living in the rest of the country. Only in this way is a sustainable ceasefire and peace possible.
Ernst Jan "EJ" Hogendoorn is a former senior advisor to the US special envoy to Sudan and South Sudan, and former deputy Africa Program director at the International Crisis Group.
Further reading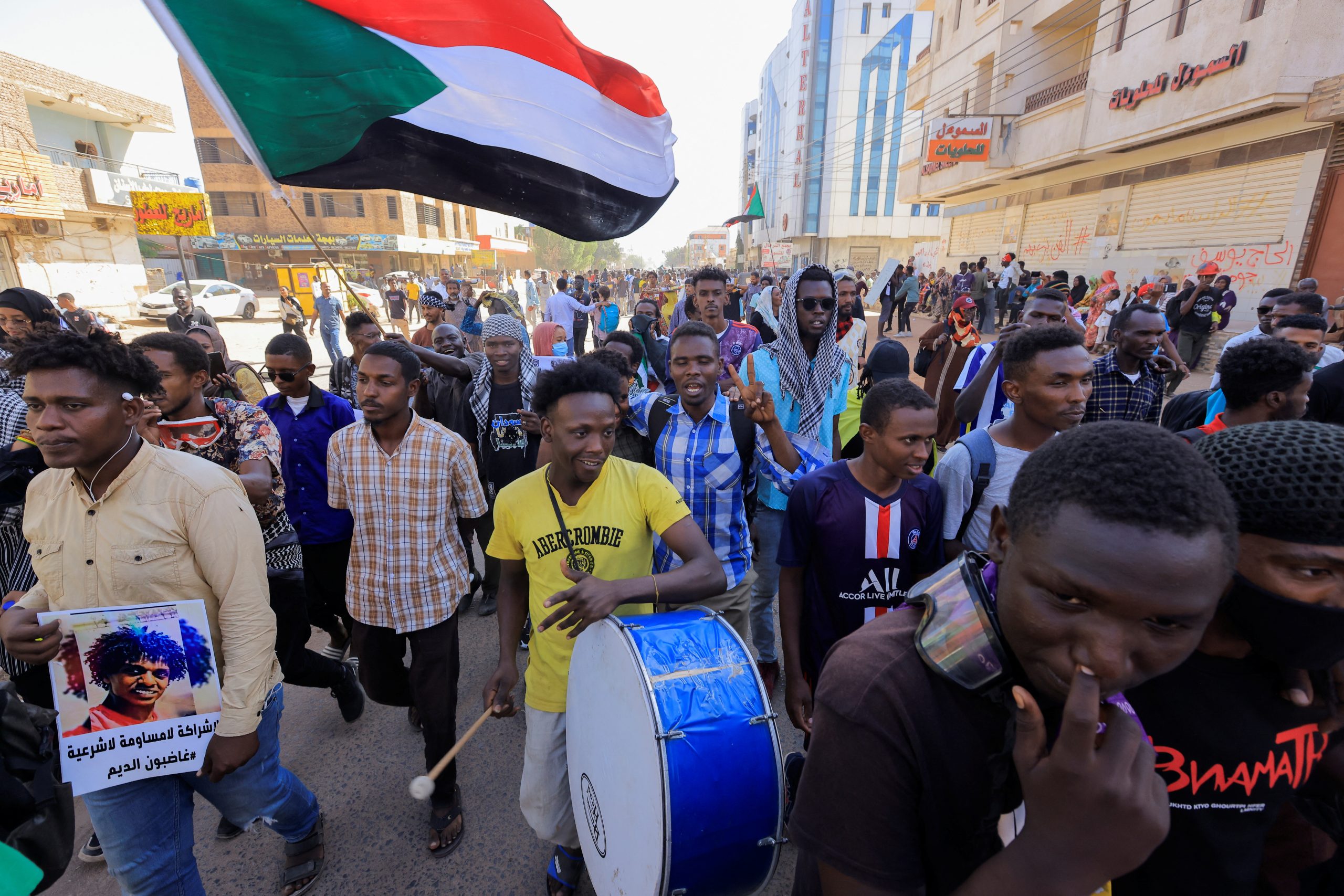 Wed, Apr 12, 2023
AfricaSource By Benjamin Mossberg
The Sudanese Armed Forces and the paramilitary Rapid Support Forces must be governed by the rule of law and work to protect democracy and human rights in Sudan.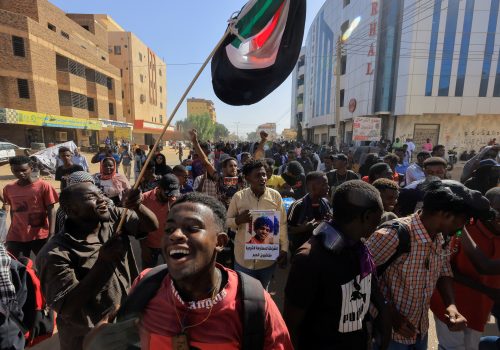 Mon, Jan 30, 2023
AfricaSource By Sami Abdelhalim Saeed
A number of challenges confront Sudan on its road to democracy. How the country's leaders and the international community address them could either make or break the dreams of the 2019 revolution.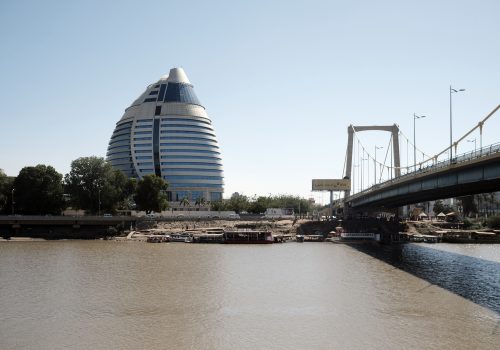 Fri, Jun 26, 2020
The world came to Berlin yesterday (at least virtually) as part of a United Nations, European Union, and German government-sponsored "Partners Forum for Sudan." By all accounts, it was a triumph, and potentially a turning point, for the fragile transitional civilian government of Prime Minister Abdalla Hamdok, pulling in an announced $1.8 billion in assistance to Sudan.