CORONAVIRUS ALERT 3/12/2020
The Atlantic Council's Coronavirus Alert is a regular summary of policy, economic, and business events around the emergency. To stay updated, sign up to the Coronavirus Alert here.
Summary: 
US President Donald J. Trump imposed a surprise travel ban into the United States from twenty-six European countries, spooking investors and sending the price of oil lower. As The World Health Organization declared coronavirus to be a global pandemic, countries from Italy to Scandinavia and Ireland via India and South Korea stepped up measures to contain its spread.
Statistics:
There are now in excess of 125,000 cases worldwide in almost 120 countries and territories; more than 4,600 people have died.  
QUOTE: "On Wednesday night the global pandemic met US nationalism. It will not take long to see which comes off best," Edward Luce writes in the Financial Times. "Trump's address was meant to calm the waters. By the time he finished they were considerably rougher."
HEALTH AND SCIENCE:
QUOTE: We are deeply concerned both by the alarming levels of spread and severity and by the alarming levels of inaction," said WHO Director-General Tedros Adhanom Ghebreyesus, cited in The Washington Post.  
FINANCE AND ECONOMICS:
QUOTE: "We're groomed to deal with adrenaline, anxiety, bear markets, and bull markets," Peter Tuchman, of Quattro M Securities Inc., who has been a floor trader on the New York Stock Exchange for thirty-five years, quoted in The Wall Street Journal. "We don't get emotional about money. But when health and welfare is involved and people's lives are involved, that sort of eats away at our spirits."
BUSINESS AND TRAVEL:
QUOTE: "The crisis that has so far claimed more than 700 lives in the EU gives authorities in Brussels a chance to prove they are more than toothless bureaucrats," Reuters Breakingviews says. "So far, their response has been timid."
RESOURCES
From the Atlantic Council: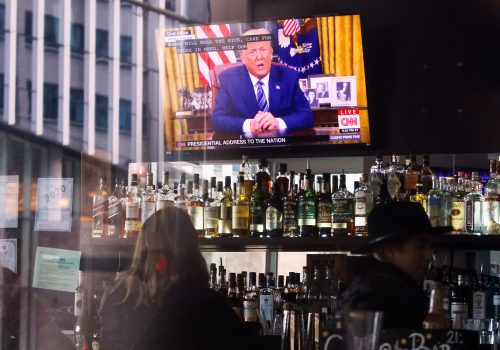 Thu, Mar 12, 2020
"The golden rule of leading an alliance is consultation—don't take your friends by surprise, especially when your actions target them," Damon Wilson says. "This isn't about being nice. This is about being smart advancing US interests. What happens the next time we need our allies?"
New Atlanticist by Atlantic Council

Thu, Mar 12, 2020
Israel's stringent policies may help enlighten other nations in search of answers.
MENASource by Daniel J. Samet

Wed, Mar 11, 2020
Britain's finance minister, Rishi Sunak, has just delivered a master class in how a government should tackle both the health and economic consequences of the coronavirus pandemic.
New Atlanticist by John M. Roberts