Iran and targeted human rights sanctions update: Providing military equipment to Iran security forces and Russia
Targeted human rights sanctions are, in short, a tool governments use to freeze the assets of and deny visas to those complicit in human rights violations. While they are generally intended to prompt offenders to change their behavior, they have additional effects. For example, preventing perpetrators from obtaining the tools needed to continue abuses and showing support for victims. However, the Atlantic Council's Strategic Litigation Project (SLP) has heard from multiple sources that many people in affected communities—including the Iranian community—do not have sufficient information, especially in their native language, about these measures and what they mean.
Based on this feedback, this blog series was started to highlight important information about targeted human rights sanctions as they relate to the Islamic Republic of Iran; major updates on Iranian perpetrators who have been sanctioned for human rights abuses and why; and any other information that may be relevant to affected communities. Input is welcomed from readers, particularly in Iranian civil society, for questions and topics that should be addressed.
On August 8, the United Kingdom (UK) and Canada designated Iranian officials, businesspeople, and entities under targeted sanctions frameworks for the provision of military supplies to Russia and Iranian security forces.
Background
Iranian protesters rallied behind Ukraine during the nationwide protest that began in mid-September 2022 after Mahsa Jina Amni's arrest and death. However, since Russia launched its full-scale invasion of Ukraine in February 2022, Ukraine and its allies have confirmed that the Islamic Republic of Iran (IRI) has been providing Russia with military equipment, particularly drones. The IRI has repeatedly denied these claims and has only admitted that it supplied such equipment before the full-scale invasion began.
Investigations have confirmed that the IRI has supplied drones to Russia as late as 2023. Further, the IRI sent drone trainers to Crimea in October 2022 and is now reportedly "helping" Russia, and potentially Belarus, build domestic drone factories. It has been shown that private companies have provided drones and "weapons and military components" sent to Russia, in addition to having supplied the IRI government forces with military equipment used to repress protests in Iran.
What the sanctions designations say
Under the Special Economic Measures (Iran) Regulations, Canada designated seven individuals who were "involved in activities that gravely threaten international peace and security." The designations focused on "senior Iranian officials involved in entities that supply materials to Iran's repressive national Law Enforcement Command [and] individuals who occupy senior positions in state-directed firms that produce lethal combat drones used by Iran's armed forces to destabilize the region or that are exported to Russia for use in its illegal war against Ukraine." These include:
Ali Akbar Ahmadian, secretary of Iran's Supreme National Security Council
Brigadier General Abdolkarim Bani Tarafi, chairman of the Iran Aviation Industry Organization
Two members of Imen Sanat Zaman Fara's board of directors
Three members of Quds Aviation Industries' board of directors
The United States (US), European Union (EU), UK, and Australia have all designated Ahmadian, but none have designated Tarafi. The US, EU, Australia, and Canada have designated Quds Aviation Industries as an entity, and the UK designated its parent company, Iranian Aviation Industries Organization. Only the US, EU, and Canada had designated Imen Sanat Zaman Fara as an entity. No other jurisdiction has designated the same two members of Imen Sanat Zaman Fara's board of directors as Canada, though the US, UK, and Australia designated the same three members of Quds Aviation Industries' board of directors.
Under the Russia (Sanctions) (EU Exit) Regulations 2019, the UK designated eight individuals and three entities who are Iranian or linked to Iran, all of whom are involved in "destabilising Ukraine or undermining or threatening the territorial integrity, sovereignty or independence of Ukraine." These include:
The Paravar Pars Company and seven of its associates for "providing or making available technology that could contribute to" the destabilization.
Two units within the Islamic Revolutionary Guards Corp (IRGC)—the Research and Self-Sufficiency Jihad Organization (IRGC-SSJO) and the Aerospace Force Self Sufficiency Jihad Organization (IRGC-ASF SSJO)—for "providing or making available technology that could contribute to" the destabilization.
Brigadier General Ali Reza Balali of the IRGC Aerospace Force for involvement in the destabilization.
Paravar Pars and all seven associates were already designated in the US, EU, Canada, and Australia, with only two exceptions (Shamsabadi and Valagohar do not appear to have been designated by Canada). The IRGC-SSJO has been designated by the US, EU, and Australia, as well as by New Zealand and Switzerland. The IRGC-ASF SSJO has been designated by the US. Balali has been sanctioned in the EU and Switzerland for training Russian forces in Iran in using Iranian drones.
Why these designations are important
While these designations include government officials, they have a broader scope, incorporating others on the supply chain: namely, manufacturers of military equipment. This is particularly important—especially given the strong multilateral component of these designations—because such manufacturers in one country are often reliant—at least in some measure—on parts made in other countries. For example, Iranian drones found in Ukraine have included parts from China, the US, and elsewhere. Targeted sanctions help constrain these companies, preventing them from receiving these parts—or, at least, slowing and complicating the process while increasing the price.
Further, the US has interpreted targeted sanctions regulations to prohibit any transaction involving the US dollar. Because the dollar is often used in currency exchanges as an intermediary—for example, Iranian rials may first be converted to US dollars before then being converted to Russian rubles—this means that US designations are particularly effective at blocking business transactions.
Additionally, focusing on the extraterritorial actions of the IRI signals support for victims of drones and other equipment used in Ukraine while indicating a strong response against any country providing such resources to Russia.
What do the designations mean in practice?
Canada and UK sanctions regimes impose similar penalties on sanctioned people and entities. These penalties include asset freezes and immigration restrictions. But what do these restrictions entail? An asset freeze means monetary assets like bank accounts and non-monetary assets like property cannot be made available to the designated person or entity directly or indirectly, like through a third party (such as a business associate or family member). There are certain exceptions to this, like allowing access to funds necessary to cover basic needs (food, water, shelter, etc.). Additionally, Canadian and UK citizens are forbidden from making funds or assets available to their respective designated individuals and entities. This means that if designated individuals and entities have any assets in Canada or the UK, respectively, they cannot access them anymore, nor can they acquire any new assets there.
Immigration restrictions only apply to designated individuals—not to entities or to members of a designated entity, as these people would have to be individually sanctioned for penalties to apply to them. Essentially, these restrictions amount to a travel ban. Designated individuals cannot travel to, or even through, if transiting, the jurisdiction that has sanctioned them. If they already had some sort of permission to be in the country, it is revoked. This restriction would not apply to the Paravar Pars Company, the IRGC-SSJO, or the IRGC-AF SJJO, as they are entities, and only individual members that have themselves been designated would be subject to these restrictions.
What steps could come next?
In the immediate term, the US, UK, EU, Canada, and Australia should designate any of these individuals and entities whom they have not yet sanctioned. Financial institutions often abide by designations in other jurisdictions (for example, correspondent banks in the US would likely refuse to conduct transactions with an individual designated in the UK). However, jurisdictions should still push for multilateral coordination in order to provide a sound legal basis for such extraterritorial compliance and to signal widespread condemnation for Iran's activities. They should also urge additional states—especially those known to shelter enablers of human rights violators—to adopt parallel targeted human rights sanctions regimes and designations. Additionally, all jurisdictions should continue mapping Iranian weapon development and sales, as well as swiftly designate involved entities and persons to further constrain the industry.
After issuing any sanctions, all jurisdictions should take care to check whether the designated individuals and entities—especially the businesses—hold any assets within their jurisdictions and should freeze any such assets accordingly. Especially if there are assets, authorities should prioritize enforcement (i.e. ensuring that the designated perpetrators cannot access them) and work to prevent sanctions evasion.
Finally, the US, UK, EU, Canada, and Australia should also pursue other appropriate legal avenues that become available. For example, they could provide relevant information to bodies such as Interpol, Europol, Eurojust, and, for member states and those providing evidence for investigations, the International Criminal Court.
Celeste Kmiotek is a staff lawyer for the Strategic Litigation Project at the Atlantic Council.
Lisandra Novo is a staff lawyer for the Strategic Litigation Project at the Atlantic Council.
Further reading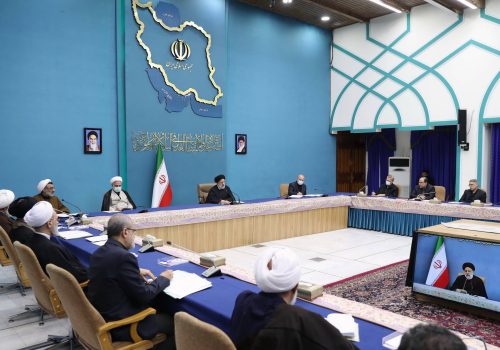 Wed, Jul 26, 2023
IranSource By Celeste Kmiotek, Lisandra Novo
The United Kingdom designated the Supreme Council of the Cultural Revolution and its new secretary, Abdol Hossein Khosrow Panah, on July 6.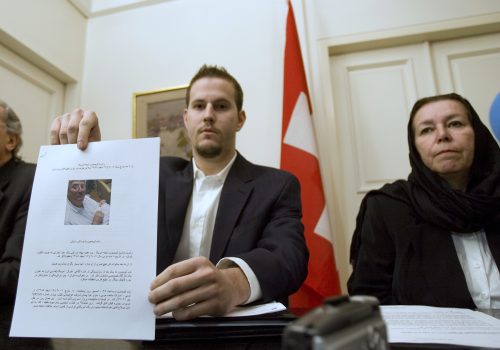 Thu, Aug 17, 2023
IranSource By Celeste Kmiotek
Shahab Dalili, Afshin Sheikholeslami Vatani, and Jamshid Sharmahd are all considered US nationals under the Levinson Act.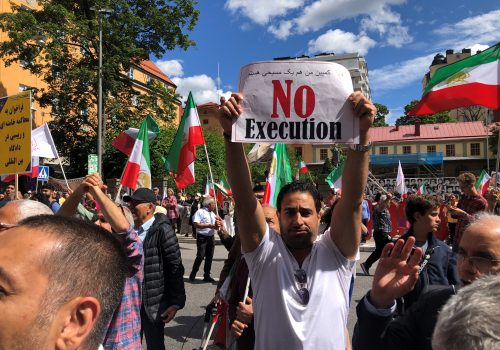 Tue, Jul 26, 2022
IranSource By Celeste Kmiotek
July was bittersweet for human rights lawyers and activists, particularly those working on Iran. On July 14, the Stockholm District Court announced that former Iranian official Hamid Nouri was found guilty of war crimes and mass murder and was sentenced to life in prison.