Egyptians aren't racist. They're frustrated with Western appropriation of their ancient history.
"This is the land of my ancestors," American actor Danny Glover proudly said to a small group of journalists, including myself, in December 2006, as he kneeled and kissed the ground at the Pyramids of Giza.
I soon discovered that Glover's conviction is shared by many other American performers of African descent, who take pride in the notion that the kings and queens of ancient Egypt are their ancestors. Many African-American musicians and artists embrace their purported connection with ancient Egyptian civilization, drawing inspiration from it for their music and art.
The idea is rooted in Afrocentrism, a cultural and political movement that originated around the nineteenth and early twentieth centuries—when the colonial era ended and slavery was abolished—to counter Eurocentrism, which favors European and Western civilization over non-Western civilizations. The pushback against the colonialist ideas of supposed white superiority empowers Africans in the diaspora who—based on the Afrocentric theory—can be proud of their alleged links to the ancient kingdom that has fascinated the modern world with its art and culture.
Best known for his roles in the Lethal Weapon franchise, Glover, who also provided the voice for Jethro—Tzipporah's father in the 1998 animated film, The Prince of Egypt—jokingly said to me that he identifies as Egyptian during a 2018 visit to Aswan to attend an African film festival.
However, as much as Afrocentrists claim that ancient Egypt was a predominantly black civilization, it has been refuted by the Egyptian government, which has been promoting ancient Egyptian civilization as the chief element of Egyptian heritage.
This was evident from the lavish parade organized by the state in 2021 to transport twenty-two royal mummies from the Egyptian museum to their new resting place—the National Museum of Civilizations—which featured a rare performance by an Egyptian soprano, who sang in an ancient Egyptian language no longer spoken today. President Abdel Fattah el-Sisi was on hand to welcome the ancient Egyptian mummies upon arriving at the museum.
Many Egyptians shun their Africanness, preferring to associate themselves with the Middle East and identify as Muslims and Arabs. African refugees in Egypt often complain of harassment and discrimination and claim Egyptians are "racist," looking down on Sub-Saharan Africans as inferior. Egypt's Coptic Christians and secularists, meanwhile, choose to distance themselves from Arabism and Islam, associating themselves with ancient Egyptian heritage instead. This is part of a xenophobic nationalism that emerged as a push back against the 2012-2013 rule of the Muslim Brotherhood as opponents of the Islamist group feared that Islamist President Mohammed Morsi would seek to "Islamize" society.
As a result, a series of recent incidents have rubbed Egyptians the wrong way, triggering accusations of "Afrocentrism" from critics and a firestorm on Egyptian social media platforms.
The latest of these is the exhibition "Kemet: Egypt in Hip-Hop, Jazz, Soul, and Funk," currently being held at the National Museum of Antiquities in the Dutch city of Leiden. The exhibit which continues until September 3, takes visitors on "a musical journey through history," according to its webpage. The show explores the influence of ancient Egypt in the works of Western musicians of African descent, showcasing photographs, music videos, album covers, and artworks that explain how ancient Egypt served as an inspiration to these artists and how it is reflected in their music.
The mere suggestion by the curators that "Egypt is a part of Africa" has drawn a backlash from the Egyptian government, which retaliated by banning the museum's team of archaeologists from excavating in Saqqara. At a parliamentary session on May 2, Ahmed Belal, an Egyptian member of parliament, slammed the exhibit, accusing the curators of "distorting Egyptian identity" and "attacking Egyptian heritage and civilization."
Joining the chorus of condemnation, many Egyptians took to social media to express their rejection of "attempts to distort our history." Photos of a sculpture showcased at the exhibition, which depicted King Tutankhamun as black, widely circulated on social media platforms and were deemed "offensive" by critics. The backlash from Egyptians prompted the show's organizers to publish an additional webpage that unapologetically explained the exhibition's aim, warning that "racist" comments would not be tolerated and would be removed.
The uproar over the controversial exhibition came on the heels of an online hullaballoo over the trailer of a Netflix series portraying Cleopatra as black. The fact that a non-white actress—Adele James—was selected to play the role of the ancient Egyptian queen in the historical series Queen Cleopatra infuriated many Egyptians who accused Netflix of "deliberately erasing and reinterpreting history" and "spreading misinformation."
Speaking to BNN Breaking, Dr. Zahi Hawas, a prominent archaeologist, insisted that Cleopatra was not black nor of African descent. He argued that she was "of Greek descent" and "resembled the queens and princesses of Macedonia." Egyptian satirist Bassem Youssef also criticized the casting of a mixed-race actress in the Netflix series. In an episode of Piers Morgan Uncensored, he called the decision "cultural appropriation " and "falsification of history."
The Netflix series also spurred a lawsuit against the California-based streaming platform, which was filed by Egyptian lawyer Essam Khalaf. He demanded the Queen Cleopatra series be retracted, describing it as "historical forgery." Another lawyer, Mahmoud El Sennary, also filed a legal complaint against the streaming service with the Public Prosecutor's Office, accusing it of "blackwashing Cleopatra."
The casting of James in the Netflix series and the Leiden exhibition are not the only incidents that have recently sparked controversy in Egypt.
In March, American comedian Kevin Hart had his planned show in Cairo canceled over "Afrocentric remarks" he had allegedly made.
Hart is believed to have said, "We must teach our children the true history of Black Africans when they were kings in Egypt and not just the era of slavery cemented by education in America. Do you remember the time when we were kings?"
Although it is unclear if and when Hart had made the remarks, Egyptian social media users called for the show's cancellation, accusing him of "blackwashing" their history.
In what appears to be an attempt to appease the nationalists, the authorities decided to call off the comedian's Cairo debut, citing "logistical issues."
The angry reactions of Egyptians to the incidents mentioned above have raised eyebrows in the West. Many Europeans and Americans fail to understand the fuss. Why are Egyptians so touchy over any suggested links between Africans in the diaspora and ancient Egypt? A plausible explanation is that decades of looting and trafficking of Egyptian cultural artifacts have made Egyptians defensive—they fear that their heritage and culture are being hijacked. It hasn't helped that many of the ancient artifacts that were seized during the colonialist era, such as the Rosetta Stone—seized from Egypt by forces of the British empire in 1801—continue to be in possession of other states.
Statements like the one made by former US President John F. Kennedy in 1961—that the United States had "a special interest in the civilization of ancient Egypt from which many of our cultural traditions have sprung"—are seen by Egyptians as appropriation of their ancient civilization. While Kennedy meant well—at the time he was trying to convince Congress to appropriate $10 million of US taxpayer money to rescue Nubian monuments from flooding—similar statements by other Westerners laying claim to ancient Egyptian heritage are not always made in good faith.
Although comments by some Egyptians on social media in reaction to the Leiden exhibit and the Queen Cleopatra series can indeed be dismissed as "racist," colonialist attitudes denying Egyptians the right to ownership of their history and culture are equally abhorrent.
Perhaps the Arabic hashtag used by social media activists to criticize Netflix says it all: "Egypt for Egyptians." Egyptians are growing increasingly frustrated with what they perceive as imperialist agendas and attempts to separate them from what is rightfully theirs: their cherished heritage. Western cultural appropriation of ancient Egyptian civilization is a pattern that has persisted since the colonialist era, and Egyptians are now responding with the same nationalist slogan used during the Urabi revolt which demanded an end to British and French hegemony over their country. It is their way of saying, "Enough is enough."
Shahira Amin is a nonresident senior fellow at the Atlantic Council's Scowcroft Middle East Security Initiative and an independent journalist based in Cairo. A former contributor to CNN's Inside Africa, Amin has been covering the development in post-revolution Egypt for several outlets including Index on Censorship and Al-Monitor. Follow her on Twitter @sherryamin13.
Further reading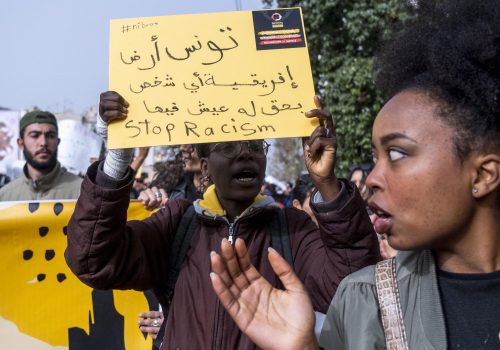 Mon, Mar 6, 2023
MENASource By Sarah Zaaimi
North Africa undoubtedly faces a serious migration problem that will continue to aggravate if not addressed regarding its social, cultural, and historical dimensions and root causes.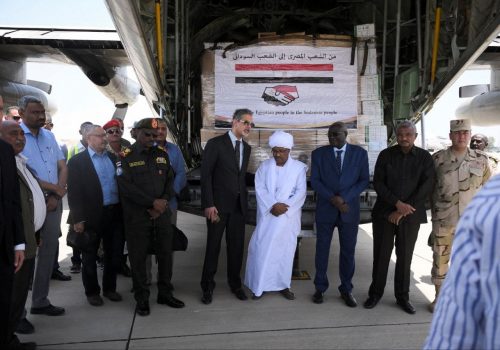 Thu, Jun 1, 2023
MENASource By Shahira Amin
With the evacuation of foreigners from Sudan nearly complete, expectations are that an Egyptian military invasion of Sudan is imminent.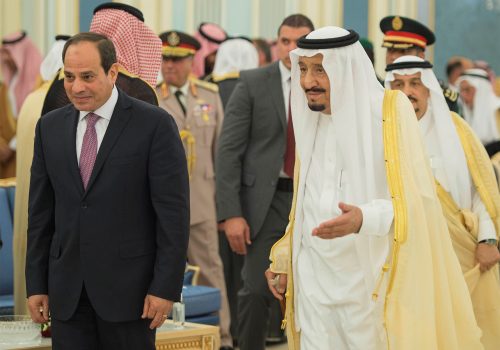 Mon, Feb 27, 2023
MENASource By Shahira Amin
Cairo's relationship with its Gulf ally has become increasingly fractious in recent weeks after a Saudi official made clear that any future Gulf assistance "will come with strings attached."