'Any nationality just not Syrian': Refugee deportations surge in Jordan, Lebanon, and Turkey
"Bring me any nationality, anything, just not Syrian," joked the Jordanian work permit processing official to Yousef, the Syrian man standing in front of him.
Yousef is not his real name. We're not disclosing his identity nor additional details due to the precarious nature of his current circumstances. He has been in his profession for nearly ten years, operating an organization in Amman. Yousef's career has been progressing remarkably. But none of that carries any weight in this instance.
"I'm sorry, there's nothing I can do. No Syrians," the official reaffirmed.
The clock is running out on Yousef's temporary visa in Jordan, necessitating his exit. But where is he to go?
"I felt like walls were closing in on me. I couldn't breathe," He confides in me. "I'm out of options."
He's not the only one. Facebook private chat groups for Syrian in Jordan are filled with confusion and anxiety. Questions fly back and forth: "Does anyone know if there is a new procedure?" "Is there a way to prolong deportation?" "What happens if I'm stopped on the street?"
Going back to Syria carries the risk of potential detention risk despite the regime's continuous claims of amnesty for returnees. No one I have spoken to trusts the regime's claim, and all know that detention in Syria most likely ends in death.
But it's not just Jordan where Syrians must fear deportation. Living in Turkey has become increasingly difficult as well. Even Syrians who own property in Turkey are getting their residencies rejected. Lebanon is a non-starter.
It's a terrifying situation to be in. It's a sort of fear that doesn't dissipate, and a different one to the sort that drove Syrians out of their homes and into this wretched existence, where they've been branded as refugees—rejected and unwanted seemingly everywhere.
I get a message from a mother I know in Lebanon:
"Arwa, please, you have to do something. They are not going to renew our papers. You have to save us." Umm Mohammed's voice is cracking, breaking, desperate.
Umm Mohammed and her family fled Syria ten years ago. Her youngest children were born in Lebanon, and her eldest daughter is in university. While life in Lebanon has grown increasingly unbearable for them—the hatred they receive for being Syrian forces them to rarely venture out—at least they encountered no issues with their yearly permit That is, until now.
A relative who knows the family said he was informed through an official that their papers would be stamped "deport/leave".
"We can't go back. We just can't. Our house was destroyed after we left. It was bombed. We have nothing." Umm Mohammed is begging and begging. "My kids' lives are here. They are all in school. I haven't been able to tell my husband yet. He will have a stroke."
Umm Mohammed and her family registered with the United Nations (UN) in 2013 as refugees. Umm Mohammed says that five years ago, they were called in twice for asylum interviews. Such hope they had! But then they got a phone call from someone who told them they were rejected while failing to provide a reason. Umm Mohammed says they've called the numbers on their papers to try to understand why, but no one even answers the phone. They personally visited the offices in their area and in Beirut. However, they could not even get through the front door.
She doesn't understand what is happening in her life; how everything is just so out of her control. Two of her siblings who interviewed at the same time as her family were resettled in other countries years ago. One is in Norway, and the other is in the United States.
"Please, please just do something to try and see if you can get an answer; if there is anything we can do to get our file moving again." Umm Mohammed pleads to me. "Our lives are in your hands. My children's lives are in your hands."
I called the number on the paperwork she provided me numerous times but received no answer. I've reached out to people I know to see if they can point me in the right direction or to the right person. This is hardly the first time I've heard about Syrians struggling to get in touch with the UN in Lebanon or to get updates on their status.
The Arab League's decision to "normalize" relations with the government of Syrian dictator Bashar al-Assad has pushed a fast-forward button on making life harder for Syrian refugees in the region through deportations and rejections of residencies. But it's hardly anything new.
While Syria's neighboring countries have long been struggling to host their Syrian refugee populations, with many, like Lebanon, being in a complete crisis of their own, the sheer lack of care provided to refugees is inhumane. This should not be regarded as a "Syria" problem. This is one of the core problems in the overall approach toward managing Syrian refugees. Neighboring countries need to be provided with the support—which has never fully materialized despite pledges—to host and treat their refugee populations with humanity.
Ahmed al-Reems' story is especially jarring. He arrived in Turkey in 2019, settling in a village around 40 km from the heart of the capital, Ankara. Late last year, Turkish security forces came for him, his wife, his two-year-old son, and his four-year-old daughter in the middle of the night.
"We didn't understand what was happening, it was 4 am, and they were banging on the door shouting police! police!" Ahmed tells me over the phone. "They said we just want to take you to the immigration department. I asked them to let me pack a bag, at least take diapers for my littlest one. He told me don't worry about it; you will be back home in a bit."
When his family boarded the bus, they realized that it was packed with other Syrian families from their same area. Eighteen families—around sixty people in all—had been rounded up at the same time.
They were held for twenty-four hours in a detention facility. There were no blankets nor food, and the conditions were filthy. Ahmed says he and his family were then boarded on another bus and told that they were going to another area in Ankara. Instead, they were driven for hours to Gaziantep (which is close to the border with Syria), given papers, and ordered to sign them.
"I said no at first, but they insisted. I didn't want to create problems, so we did. I still thought I had a chance of going back home," Yousef recalls, his voice utterly dejected. "At 6 am, they took us to the border crossing and just shoved us away."
The presence of Syrian refugees was central to the recent elections in Turkey. The opposition party spouted hateful anti-refugee rhetoric and vowed to rid the country of them. While less vocal about their intentions, the government coalition of Turkish President Recep Tayyip Erdogan, who won the presidential vote, has been deporting Syrians for years. However, generally speaking, expulsion had been reserved for those who had not renewed their papers, traveled outside of their permit zone, or incurred other minor infractions.
"It might have been because of the elections," Ahmed speculates, "but I still don't understand. I had my residency; we were all legal. I didn't do anything wrong. I've never had any problems."
In Turkey, they had managed to build a home again. Not exactly the same as the one they had fled from when the bombs arrived in their town in Syria, but it was still a home, filled with their personal belongings and the children's toys. It's all gone again. They are back to living in a tent in Idlib.
"I still feel like I'm going to wake up from this nightmare," Ahmed says. "I feel like I am a dead man."
Arwa Damon is a nonresident senior fellow at the Atlantic Council's Rafik Hariri Center for the Middle East. She is also the president and founder of the International Network for Aid, Relief, and Assistance (INARA), a nonprofit organization that focuses on building a network of logistical support and medical care to help children who need life-saving or life-altering medical treatment in war-torn nations.
Further reading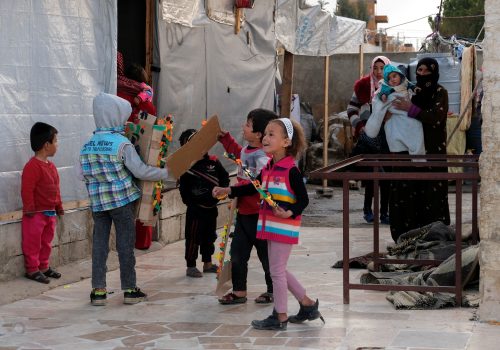 Tue, May 16, 2023
MENASource By Arwa Damon
Syrian refugees fear that "normalization" of ties will boost the narrative that "Syria is safe now," giving further justification to rid Syrian refugee populations.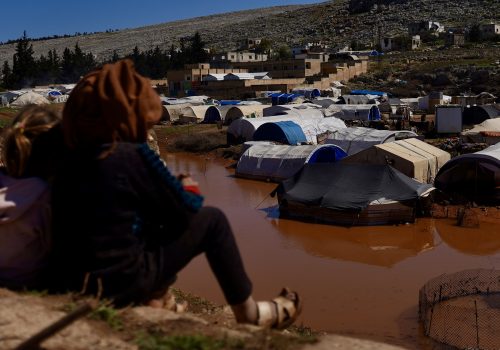 Wed, May 3, 2023
New Atlanticist By Arwa Damon
The Atlantic Council's Arwa Damon shares insights from a recent visit to Idlib province in northwestern Syria, where the humanitarian situation remains dire.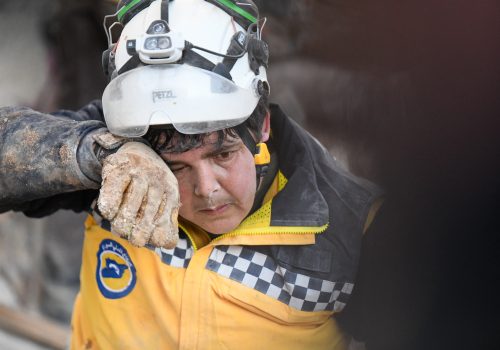 Mon, Jun 12, 2023
MENASource By Kenda Hawasli
It is clear that humanitarian response planning in Syria requires a full review process that reconsiders existing approaches and involves local partners while listening to their experiences.