Egypt cornered over Israel's war on Hamas
Cairo is watching with trepidation as Israel's bombardment of the Gaza Strip on Egypt's northern border continues unabated for a week. The Egyptian leadership fears that the violence on its doorstep may spill over into its territory and that Israeli airstrikes would result in a mass exodus of Gazans into the Sinai Peninsula. The fact that Israel has bombed the Rafah border crossing—the main gateway for Gazans to Sinai and the outside world—three times in twenty-four hours between October 9 and October 10 has only compounded Cairo's fears.
To avert an influx of Palestinians into Sinai, Egypt has urged Israel "to provide safe passage for civilians in Gaza," Egyptian and Israeli security sources reportedly told Reuters on October 11. Cairo has, meanwhile, taken steps to bar Palestinians from entry into Sinai. The moves include dispatching troops to set up positions close to Egypt's shared northern border with Gaza and patrolling the area to monitor the situation, Ahmed Salem of the Sinai Foundation for Human Rights explained on October 11.
At a graduation ceremony of military college students on October 12, Egyptian President Abdel Fattah el-Sisi urged parties to the conflict "to exercise utmost restraint" and "remove civilians—women and children—-from the cycle of brutal revenge." He added that it was crucial to spare innocent people from bearing the brunt of military conflict by allowing the prompt and immediate delivery of humanitarian assistance to Palestinians.
Israel had warned Egypt against sending humanitarian aid to Gaza, threatening to attack any trucks carrying food and medical supplies to the besieged territory. The prevention of humanitarian assistance from reaching Gaza's more than 2 million citizens is part of the Israeli Defense Forces' (IDF) efforts to implement a total blockade on Gaza. Israel wants to "eliminate" Hamas in retaliation for the Palestinian militant group's deadly attack on Israel on October 7, in which at least 1,300 Israelis were killed. The figure exceeds the combined Israeli death toll from violence between the two parties over the last two decades.
But even more alarming to the Egyptian authorities is the call on October 10 by Richard Hecht, the IDF international spokesperson, for Gazans to escape the violence by heading to Egypt via the Rafah crossing.
"The Rafah crossing is still open," he declared, advising "anyone who can get out" to do so. Israeli Prime Minister Benjamin Netanyahu had also earlier advised Gazans to leave. While Netanyahu did not mention Egypt as a possible destination, Israel's southern neighbor is the only logical place that Gazans can flee to, given that Israel is off-limits to the besieged population.
The calls evoked a swift response from Sisi. During a graduation ceremony at the Police Academy on October 10, he sternly said that "safeguarding Egypt's national security" is a "top responsibility" and that there would be "no compromise nor complacency under any circumstances." Sisi added that he categorically rejects any attempts to settle the Palestinian issue at the expense of others. His remarks referred to the risk that Palestinians could be pushed into Sinai. The Egyptian president insisted that the conflict could only be resolved "through negotiations leading to a just peace and the establishment of a Palestinian state."
The IDF spokesman's recommendation was also interpreted by two Egyptian security officials, who spoke to me on condition of anonymity, as "an attempt by Israel to forcibly displace Gaza residents and push them into Sinai." Their remarks are based on a 2019 social media rumor that former US President Donald Trump had a plan to expand Gaza into part of northern Egypt and place it under Egyptian control. The rumor was denied by Jason Greenblatt, Trump's Middle East envoy. Trump's peace plan for settling the Israeli-Palestinian conflict—unveiled in 2020—proposed a series of Palestinian enclaves surrounded by an enlarged Israel, but did not refer to transferring Palestinians to Sinai.
The Israeli military quickly revised the controversial recommendation through its spokesman, announcing that "the Rafah border crossing is currently closed" in a follow-up statement on October 11.
Seeking to allay Egypt's concerns, Amira Oron, Israel's ambassador to Egypt, stated via her account on X, formerly known as Twitter, that "Israel has no intentions regarding Sinai and has not asked the Palestinians to move there." She added, "Israel is committed to its peace treaty with Egypt in which the borders between the two countries are clearly defined" and that "Sinai is Egyptian territory where the Egyptian army has fought terrorism during the last ten years."
Ambassador Oron's remarks are in reference to Egypt's more than decade-long "war on terror" in the Sinai, in which security forces have been targeted by insurgents seeking to create an Islamic State. The ongoing military offensive, which the government says is meant to rid the Sinai Peninsula of Islamist jihadis, has, according to some reports by research centers like the Arab Center Washington DC, been equivalent to the collective punishment of local communities, including evictions of North Sinai residents from their homes and forced displacement.
Meanwhile, Cairo has intensified diplomatic efforts to prevent a further escalation in the fighting. In phone calls with regional and European counterparts and officials, Sisi warned of the dangers of "the absence of political prospects" to resolve the conflict and the risks of destabilizing the region should the violence continue. He also stressed the need for negotiations to defuse the crisis.
Some Western leaders and officials are pinning their hopes on Cairo to negotiate the release of hostages abducted by Hamas, given the thaw in relations between Egypt and the militant group, which shares Muslim Brotherhood affiliations. Ursula von der Leyen, president of the European Commission, said she had a "valued exchange" with President Sisi and had shared her concerns about the fate of the hostages who must be released and returned home safely. In 2015, Egypt rescinded an earlier decision to designate Hamas as a terrorist organization because the court that had issued the ruling had no jurisdiction. The move paved the way for a marked improvement in relations between the two sides. 
Egypt, which has long been a key mediator between Israel and the Palestinians and between Palestinian factions, also has strong security ties with Israel. In this latest round of violence, it finds its hands tied as Israel has made clear it rejects any mediation or calls for self-restraint.
US Secretary of State Antony Blinken, who is in the region to avert a wider war and express US solidarity with Israel after the Hamas attacks, has also called on the IDF to limit civilian casualties. Blinken is expected to coordinate with Sisi to establish a humanitarian corridor for Palestinian civilians and to evacuate the several hundred US citizens in the Gaza Strip ahead of a planned Israeli ground offensive on the enclave. The Egyptian president wants to use the corridor to send food and medical supplies into Gaza, but is adamant not to accept Palestinians into Egypt.
Whether Sisi will bow under US and Israeli pressure remains to be seen. If the Egyptian president refuses the US offer, this will likely exacerbate tensions between Cairo and Washington, and some will see Egypt as being complicit in the killing of innocent Palestinian civilians. If he accepts the Biden administration's plan, he will be perceived by the Egyptian armed forces and many Egyptians as undermining Egypt's national security and ceding land to the Palestinians. It's a classic catch-twenty-two scenario.

Shahira Amin is a nonresident senior fellow at the Atlantic Council's Scowcroft Middle East Security Initiative and an independent journalist based in Cairo. A former contributor to CNN's Inside Africa, Amin has been covering the development in post-revolution Egypt for several outlets including Index on Censorship and Al-Monitor. Follow her on X: @sherryamin13.
Further reading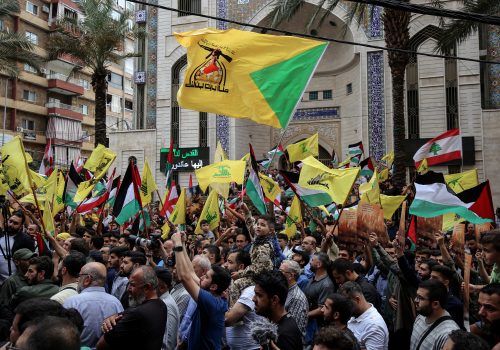 Wed, Oct 11, 2023
MENASource By David Daoud
The genesis of Operation Al-Aqsa Flood appears to originate with Hezbollah, at least in part. The pressing question now is what will Hezbollah do next?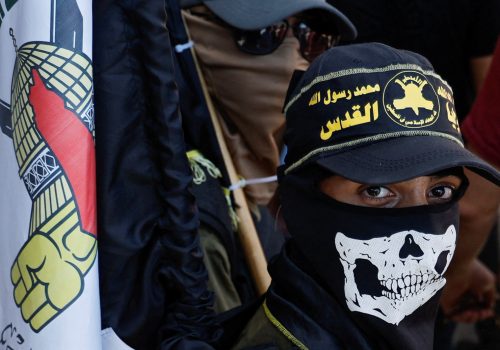 Tue, Oct 10, 2023
MENASource By Jason M. Brodsky
Both Israel and the United States should engage in deep introspection at the policy level over their failure to deter Hamas's brutal attack.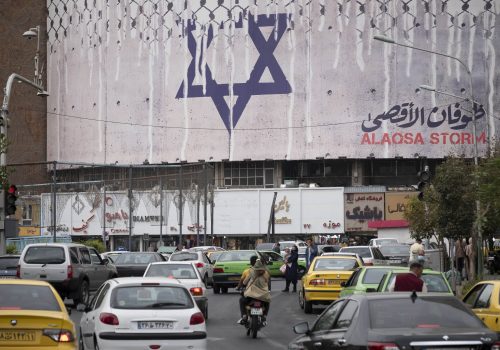 Fri, Oct 13, 2023
IranSource By Arash Azizi
Anyone familiar with Iranian society knows that anti-Israel attitudes have mostly failed to go beyond the most vociferous supporters of the regime despite years of attempted forced indoctrination.