Egypt-Turkey normalization: Ankara's perspective 
Two of the Atlantic Council's nonresident senior fellows assess the recent upturn in Egypt-Turkey ties. Below is the perspective from Ankara. For the perspective from Cairo, please see here.
On March 18, Turkey's Foreign Minister Mavlut Cavusoglu paid the first visit of its kind to Cairo in a decade. This move reciprocates a recent visit by his Egyptian counterpart, Sameh Shoukri, to the Turkish city of Mersin on February 27, which was in response to the devastating earthquake that hit southern parts of Turkey, killing approximately forty-five thousand people.
During his stay in Egypt, Turkey's foreign minister discussed many issues related to bilateral ties. In a joint press conference at the end of the visit, the two sides agreed to upgrade diplomatic relations to the ambassadorial level. Highlighting the importance of restoring ties, Cavusoglu noted, "There is a huge untapped potential" for relations to grow and the two sides "need to work even harder to close the nine-year gap."
Ties between Turkey and Egypt deteriorated significantly following the 2013 military coup that toppled the first civilian and freely-elected president in Egypt's modern history, Mohamed Morsi. Turkey's President Recep Tayyip Erdogan refused to acknowledge the legitimacy of the new regime led by General Abdel Fattah el-Sisi and remained defiant despite Western normalization with the new leader.
Erdogan's critical stance on Sisi blocked several attempts to establish rapprochement with Cairo during the last decade. However, several critical events in the last few years, including the death of Morsi in 2019 while he was imprisoned, the 2021 al-Ula agreement, and the beginning of the post-Arab uprisings era, have necessitated a different approach.
The road towards normalization
In mid-2020, Turkey started courting Egypt based on mutual interests in two primary files: the Eastern Mediterranean and Libya. From a Turkish perspective, Egypt's geopolitical and economic dynamics were suitable for such a move, allowing Ankara to approach Cairo from a position of strength. One prime example was an eyebrow-raising statement by Foreign Minister Shoukri, in which he implicitly acknowledged that the Turkish-Libyan maritime delimitation agreement was in Cairo's favor, despite Egypt's public opposition to the deal.
Moreover, an Egyptian official told Cairo-based outlet Mada Masr at the time: "[Our] officials at the Foreign Ministry and the General Intelligence Service were lobbying the Presidency [Sisi] for a quiet acceptance of the deal with Turkey, as it would have granted Egypt a sizable maritime concession." Accordingly, the message of Turkey's top official was that an interest-based approach would benefit both Turkey and Egypt in Libya and the Eastern Mediterranean, and make the opening of a new page in the relations between the two countries possible. Cooperation with Ankara on bilateral and regional matters would ultimately serve Cairo's interest.
At the time, Egypt lost two big regional encounters: one with Turkey in Libya following the defeat of General Khalifa Haftar, whom Cairo backs, and another with Ethiopia over the Nile. The Abraham Accords between the United Arab Emirates (UAE) and Israel created a sense that it would further downsize Egypt's regional role, thus, prompting Ankara to reach out to Cairo.
The al-Ula agreement in 2021—which ended the Gulf Cooperation Council's (GCC) dispute with Qatar—and the presidency of Joe Biden introduced new dynamics to the region, where regional players focused on reaching out to each other, de-escalating tensions, and increasing economic interactions. This new environment facilitated a Turkish-Egyptian rapprochement and boosted Turkey's new diplomatic charm offensive following a period of assertive and militarized foreign policy.
Furthermore, the Turkish government was concerned with the possibility of its domestic political opposition taking advantage of foreign policy issues prior to the coming elections in May 2023. As a result, closing problematic files and opening new chapters with countries that had complex or unstable ties with Ankara became a priority.
A slow but steady process
As a result, 2021 witnessed the official inauguration of the rapprochement process between Ankara and Cairo. To provide the necessary constructive environment for conducting these talks, Turkish media adjusted its tune towards the Egyptian government and a Turkish official asked the Egyptian opposition based in Turkey to adjust accordingly.
In April 2022, Cavusoglu showed optimism concerning the resumption of diplomatic ties at the ambassadorial level. He even went a step further to suggest that a meeting at the ministerial level was possible. Two months later, Turkey's Minister of Treasury and Finance, Nureddin Nebati, paid the first high-level visit by a Turkish minister to Egypt in nine years.
Despite the apparent slow but steady progress, the rapprochement process faced a new obstacle in October 2022. According to Turkish officials, the Egyptians used the Turkey-Libya energy deal as a pretext to halt the fragile normalization process. However, a brief encounter and handshake between President Erdogan and his Egyptian counterpart during the 2022 FIFA World Cup in Qatar put the normalization back on track.
The normalization process gained traction again for two primary reasons: Egypt's massive economic problems and the devastating earthquake that hit Turkey in February. From a Turkish point of view, Cairo's economic meltdown and the friction with its former financial supporters—such as Saudi Arabia—means that Egypt needs to increase its economic, financial, and business interactions with other countries as much as possible in order to alleviate the stress of the economic situation, prevent a social explosion, and prepare for the presidential elections in 2024.
Concerning Turkey, the devastating earthquake is raising the government's economic and financial costs, as the reconstruction bill is estimated to be around $104 billion. This development comes less than two months before crucial elections where Erdogan and his party must face a united opposition front for the first time since the Justice and Development Party's (AKP) rise to power in 2002.
The end goals following disaster diplomacy
Disaster diplomacy opened a window of opportunity for Egypt and Turkey to resume the rapprochement process and even upgrade it. Aside from the fact that normalization is part of a wider de-escalation process between a host of regional countries, the logic behind normalization with Cairo bears several benefits from Ankara's perspective.
On the economic level, there is huge untapped economic potential from Turkey-Egypt commercial cooperation. In 2018, the volume of bilateral trade between the countries crossed the $5 billion threshold for the first time. This happened despite bitter political relations between the duo. Soon after, Egypt emerged as Turkey's biggest trade partner in North Africa.
The year 2022 closed with a new record of bilateral trade between Turkey and Egypt. At the end of 2022, the volume of bilateral trade rose from $6.7 billion in 2021 to $7.7 billion. During that year, Egypt's exports to Turkey registered a record $4 billion—an annual increase of 32 percent from the previous year.
Moreover, at the end of 2021 and beginning of 2022, Turkey became the top importer of Egyptian gas (Turkey importing more gas from Egypt means more precious foreign currency to Cairo's treasury).
From a Turkish perspective, an agreement between Turkey and Egypt on the delimitation of borders in the Eastern Mediterranean and Libya would create a win-win situation for the two countries, open the door for unlimited opportunities for cooperation, and work as a force multiplier when it comes to their common interests.
A delimitation agreement with Turkey that takes into consideration the 2020 Turkey-Libya maritime agreement gives Egypt a large increase in its Exclusive Economic Zone that, according to some calculations, is more than twenty-five times the size of the capital Cairo. Easing tension between Turkey and Egypt in the Eastern Mediterranean could further ease tensions between Libya and these regional players.
From a Turkish perspective, a secure, politically stable, and economically prosperous Libya offers the countries important economic opportunities. For several years, Egypt seemed to prefer playing the spoiler role in Tripoli. Most recently, Egypt angered both its allies and opponents in Libya by seizing part of Libya's maritime zone. Turkey hopes the two countries can cooperate on infrastructure, energy, security, and logistic domains, among others.
Moreover, cooperating and coordinating on bilateral and regional issues would boost the regional role of Turkey and Egypt. For instance, Egypt's foreign minister might visit Turkey during the holy month of Ramadan upon the invitation of his Turkish counterpart.
While Turkey would prefer to speed up the normalization process, Cairo might prefer to wait until the next elections before expediting it. Considering this, Foreign Minister Cavusoglu suggested the possibility of an official meeting between Turkish President Erdogan and Egyptian President Sisi following Turkey's May elections. However, whether Erdogan can hold his post will remain to be seen.
Ali Bakir is a nonresident senior fellow with the Scowcroft Middle East Security Initiative at the Atlantic Council's Middle East programs.
Further reading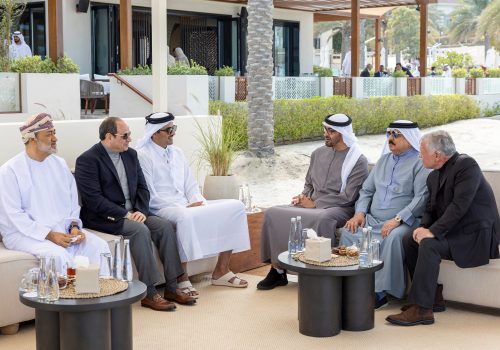 Thu, Feb 2, 2023
MENASource By Ali Bakir
On December 13, 2022, Egypt's President Abdel Fattah El-Sisi issued a presidential decree demarcating the country's maritime borders with Libya.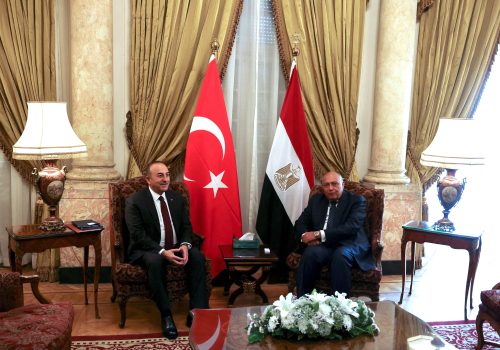 Tue, Apr 11, 2023
MENASource By Shahira Amin
After a decade of ruptured ties and simmering tensions, Egypt and Turkey are inching towards a rapprochement—a move thought unimaginable by some observers a couple of years prior.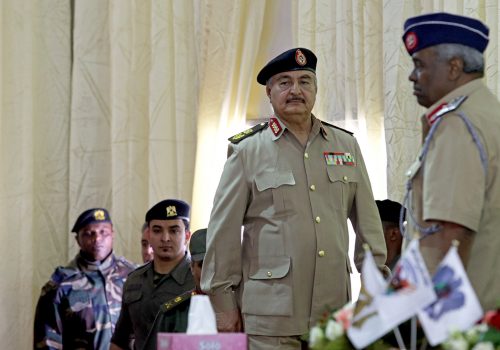 Thu, Jun 18, 2020
MENASource By Alessia Melcangi and Giuseppe Dentice
Two elements are certain in this complex scenario. Firstly, Cairo will not fall into the trap of being drawn into an open proxy war in Libya, since it might have serious repercussions on the security of its porous borders, especially in the south. Secondly, Haftar's next moves will effectively define whether the relations have cooled between him and Cairo or whether Libya is facing yet another aftershock in a marriage that is more tactical than strategic.