Egypt-Turkey normalization: Cairo's perspective 
Two of the Atlantic Council's nonresident senior fellows assess the recent upturn in Egypt-Turkey ties. Below is the perspective from Cairo. For the perspective from Ankara, please see here.
After a decade of ruptured ties and simmering tensions, Egypt and Turkey are inching towards a rapprochement—a move thought unimaginable by some observers a couple of years prior. This thawing of relations was most recently symbolized by Turkish Foreign Minister Mevlut Cavusoglu's visit to Cairo on March 18.
However, the true turning point came during the FIFA World Cup opening ceremony in Qatar in November 2022, where Egyptian President Abdel Fattah el-Sisi and his Turkish counterpart Recep Tayyip Erdogan met each other briefly and engaged in a highly publicized handshake. This signaled the end of hostilities between the former rivals. Later in February, Egypt's top diplomat Sameh Shoukry traveled to the southern Turkish city of Mersin to offer solidarity and support in the wake of massive earthquakes that hit southern and central Turkey and neighboring Syria, wreaking havoc and claiming tens of thousands of lives. These overtures and gestures were necessary to repair the mistrust and animosity that had grown over the years.
Relations between Egypt and Turkey soured in 2013 after the overthrow of Egypt's former President Mohamed Morsi, who hailed from the Muslim Brotherhood, the Islamist movement designated as a "terrorist organization" by Cairo that very year. Morsi, a key ideological ally of Turkey's ruling Justice and Development Party (AKP), was deposed by military-backed mass protests, later condemned as "a coup" by Turkish politicians. From that point onwards, relations between Cairo and Ankara deteriorated, and the two sides continued to trade recriminations.
Tensions between the two countries escalated in 2020, threatening to blow up into a full-fledged military confrontation after Turkey intervened militarily in Libya's civil war—a move that drew backlash from President Sisi, who perceived it as a blatant threat to Egypt's national security. During a visit to a military base in the Western Desert close to the Libyan border on June 22, 2020, Sisi ordered the Egyptian army to "be ready to carry out any mission outside the country"—a clear message to Ankara that he was contemplating the use of military force to defend Egypt's Western border. Sisi's threat came after Turkish-backed Syrian mercenaries who were fighting alongside forces of the United Nations-recognized Government of National Authority (GNA), succeeded in halting the eastward advance of opposing troops led by Libyan General Khalifa Haftar, whom Cairo backed.
"Any military intervention in Libya would be a legitimate means of self-defense as Sirte is a red line for Egypt," Sisi warned in reference to the strategic central Libyan city that serves as a gateway to eastern Libya, a region with vast oil reserves. Gaining control of Sirte, which lies 1,000 km (approximately 621.37 miles) away from the Egyptian border, would have meant access to nearby air bases, posing a direct threat to Egypt's security.
Egyptian media has welcomed the new era in Egyptian-Turkish relations but Cairo appears to be less enthusiastic than Ankara about restoring diplomatic ties and is treading cautiously. Thus with Turkish presidential elections slated for mid-May, the Egyptian leadership would rather wait until after the Turkish elections to move forward with normalization.
The political standoff has not impacted economic and trade ties between Egypt and Turkey, which have remained robust throughout the past decade. Separating their economic exchanges from their political dispute has proved mutually beneficial: Turkish investments in Egypt amounted to an estimated $2.5 billion in 2021, and the volume of trade between the two countries nearly tripled in the period between 2007 and 2020, reaching $11.4 billion in 2020. Turkish companies across a wide range of sectors—such as electronics, textiles, and medical supplies—have continued their operations throughout, unfettered by the diplomatic rift. Nevertheless, expectations are rife that the warming of ties will reflect positively on the two countries' ailing economies through the further bolstering of trade and investments.
Foreign Minister Shoukry has, meanwhile, conditioned the resumption of relations with Turkey on "real actions showing Turkey's alignment with Egypt's principles and goals."
Cairo would like to see Turkish authorities clamp down on exiled Muslim Brotherhood members and supporters residing in Turkey and extradite fugitives accused of committing acts of violence against the Egyptian state. Additionally, it wants Istanbul-based media channels, fiercely critical of the Egyptian government, shut down.
From Cairo's perspective, Ankara has taken steps to show it is serious about rapprochement. In March 2021, Turkish officials urged hostile opposition channels to tone down their criticism of the Egyptian president. Not long afterwards, Mekameleen, a Muslim Brotherhood-affiliated channel notorious for its persistent lambasting of Sisi, announced the suspension of its broadcasts from Istanbul, saying it was moving its headquarters "elsewhere."
Another pre-condition set by Cairo for normalizing relations is non-interference by Turkey in Libya's internal affairs. Cairo insists on the withdrawal of Ankara-backed Syrian militias in Libya, which Egypt sees as a threat. While it is highly unlikely that Ankara will acquiesce to this demand—Turkey has turned a deaf ear to earlier calls by French President Emmanuel Macron to remove all foreign troops from Libya, including those financed by Ankara—some kind of compromise may be reached, such as keeping the Turkish military advisors that were sent to Libya at the behest of the previous GNA while withdrawing the Syrian troops which Cairo labels "extremist militia."
Egypt's warming up to the new unity government in Tripoli—after years of siding with opposing forces led by warlord Haftar—may pave the way for future talks with Libya and Turkey to defuse tensions over the foreign troop presence that Cairo finds unsettling.
There is also a need for multilateral talks to de-escalate inflamed regional tensions over maritime borders: an October 2022 agreement with the unity government in Libya allowing Turkey to explore for oil and gas in an exclusive economic zone off the coast of Libya has drawn protests from Cairo and Athens—as well as other regional governments—which slammed the deal as "illegal."
To the chagrin of the Tripoli-based GNU, Egypt took the bold step two months later in December 2022 by unilaterally delineating its maritime border with Libya. Some analysts said the decision was "aimed at protecting Egypt's economic interests."
Enhanced energy cooperation with Egypt—which has ambitions of becoming a regional energy hub and a major gas exporter to Europe and eastern Mediterranean markets—is something Cairo would welcome. Therefore, Turkey would do well to win over regional rivals by joining the East Mediterranean Gas Forum or at least by engaging with its members—a crucial step toward ironing out its differences with Greece and the Greek Cypriots.
Finally, the Turkish offer to mediate between Egypt and Ethiopia in the Renaissance Dam dispute may serve as an olive branch that could speed up Ankara's reconciliation process with Cairo. Serious commitment to mediation efforts between the two Nile Basin countries may allay Cairo's concerns over the expansion of Turkish ties with Ethiopia—in particular, the sale of Turkish armed drones to Addis Ababa, which Cairo and the US fear may be used by the Ethiopian government against rebel forces in Tigray.
While the Ethiopian parliament has removed the Tigray National Liberation Front from the country's terrorism list after the government signed a ceasefire agreement with the leftist ethnic party ruling Ethiopia's northern region in November 2022, tensions remain high between the government and Oromo Liberation Army, an armed opposition group seeking autonomy for the country's largest ethnic community in the Oramia region of Ethiopia.
With all this in mind, Turkey must turn the page on past rivalries and its quest for regional influence. It should instead build on its deep-rooted social and economic ties with Egypt and shared historical heritage to start a new era of fruitful cooperation. This would very much be in the interests of the two countries and the region.

Shahira Amin is a nonresident senior fellow at the Atlantic Council's Scowcroft Middle East Security Initiative and an independent journalist based in Cairo. A former contributor to CNN's Inside Africa, Amin has been covering the development in post-revolution Egypt for several outlets including Index on Censorship and Al-Monitor. Follow her on Twitter @sherryamin13.
Further reading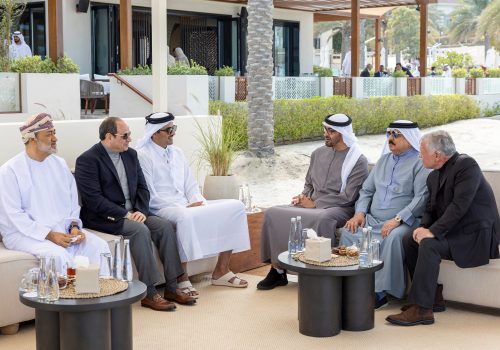 Thu, Feb 2, 2023
MENASource By Ali Bakir
On December 13, 2022, Egypt's President Abdel Fattah El-Sisi issued a presidential decree demarcating the country's maritime borders with Libya.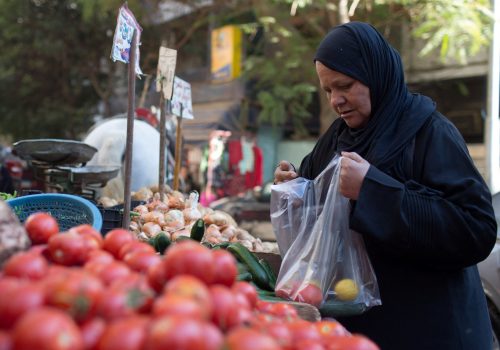 Tue, Jan 24, 2023
MENASource By Shahira Amin
The prices of food and other basic commodities including housing and medical services have soared over the past few months as the country faces rising inflation.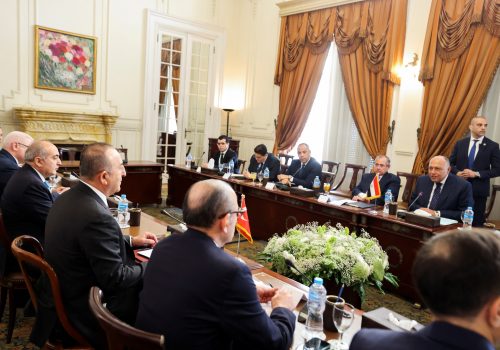 Wed, Apr 12, 2023
MENASource By Ali Bakir
While Turkey would prefer to speed up the normalization process, Cairo might prefer to wait until the next elections before expediting it.