Erdogan leans on Israel, pushes for post-war role in Gaza 
Turkish President Recep Tayyip Erdogan faces a deep dilemma over the war in the Gaza Strip. Solidarity with the Palestinians has been a longstanding principle in his foreign policy—one that contributed to a decade-long rift with Israel and its regional friends after Israeli commandos killed Turkish citizens on the blockade-running ship Mavi Marmara in 2010. Erdogan's electorate—especially his electoral base—see Israel's military response to the October 7 Hamas terror attacks in southern Israel as disproportionate. Yet he has also staked a reset in regional and Western relations on reconciliation with Israel and is unwilling to jettison that process altogether.
Initially, Erdogan chose to navigate this dilemma through a three-pronged approach: clear but careful rhetorical and humanitarian support to Gaza; deploying Foreign Minister Hakan Fidan to seek common ground with other regional actors; and quietly distancing himself from Hamas in the wake of the attacks. Yet, on October 25, Erdogan crossed a rhetorical Rubicon in comments to his AK Party cadres, making an unambiguous rebuke of Israel and expressing a level of sympathy for Hamas that had been understated during the first three weeks of the war.
Turkish authorities have reportedly told Hamas officials that they can no longer guarantee their safety within the country—tantamount to an invitation to leave. Having lost the bet that Hamas could be moderated over time through political engagement, Ankara appeared unwilling to endorse or defend the terror attacks. President Erdogan struck a restrained but critical tone in discussing Israel's military response to gradually improving bilateral ties. Just one month ago, Erdogan met with Israeli Prime Minister Benjamin Netanyahu at the United Nations General Assembly in New York—a meeting that Turkish diplomats worked long and hard to orchestrate.
Erdogan's calls for de-escalation doubtlessly reflect personal views as well as deeply held Turkish public opinion. Numerous Turkish cities have held candlelight vigils and protests in support of the Palestinians. Polling by Areda Survey shows that a majority of Turks would be willing to have Turkish troops join a peacekeeping force for Gaza (should one be constituted), and overwhelmingly support a cessation of hostilities and are critical of the Israeli response. Additionally, the Turkish opposition press has been quite acerbic in their commentary of Netanyahu, with main outlet, Sozcu, running a full front-page visual of him as a vampire. Hurriyet, the highest-circulation pro-Erdogan print outlet, has been more measured, publishing features discussing Israel's security dilemma and the prospects for peace.
While Erdogan has referred to the current Israeli airstrike campaign as a massacre, he initially refrained from rationalizing the Hamas attacks as some left-leaning politicians in the United States and Europe have done. He has also been less personally vitriolic towards Netanyahu than during previous rounds of fighting in Gaza.
Turkish Foreign Minister Fidan has been somewhat less restrained than Erdogan rhetorically, saying on October 20 that US President Joe Biden had effectively condoned the destruction of Gaza. Fidan has also conducted several high-profile trips in the region since the war began, seeking cooperation in calling for a ceasefire, obtaining the release of hostages, and coordinating humanitarian aid. He issued a joint statement with his Russian and Iranian counterparts after a regional mini-summit in Tehran. In addition, he attended the Arab League and Islamic Cooperation Organization sessions on the crisis, which were held in Saudi Arabia and Egypt, respectively. During his Egypt visit, he conducted a two-day visit to Cairo, meeting with his counterpart Sameh Shoukry. Shortly after that, Turkish humanitarian aid was delivered to Gaza via Egypt. Fidan has also consulted with US Secretary of State Antony Blinken regarding efforts to provide humanitarian assistance to Gaza and press for regional de-escalation.
Based on his October 25 remarks, it seems that President Erdogan has concluded that an approach rooted in nuance and balance is not working. In a scathing speech before his AK Party's parliamentary group, Erdogan characterized Hamas as a national liberation movement rather than a terror organization. He accused Israel of acting like a gang rather than a state and declared the cancellation of a carefully prepared, long-awaited trip to Israel that was to occur later this year. Somewhat quixotically, Erdogan also expressed hopes that his country might play a guarantor role of some sort and that the war would not become a religious one. Yet Hamas, unlike Fatah or other Palestinian groups, casts its mission in explicitly religious terms and conducts attacks specifically targeting civilians. There is a fundamental contradiction between Erdogan's goal of a stable post-war arrangement in Gaza and the persistence of Hamas's rule there, given the group's explicit goal of destroying Israel.
Erdogan is hardly alone in viewing Hamas as something more complex than a terror group and in considering Israel's approach to Gaza—isolation and the current campaign of airstrikes—as inhumane and unsustainable. In fact, these opinions have gained increasing traction across the Middle East.
The Turkish president's remarks, therefore, are unlikely to prompt a new crisis regionally. For instance, reconciliation with the Gulf states and Egypt is unlikely to be affected. However, Washington will undoubtedly take notice, and the remarks may delay action on Turkey's F-16 fighter jet purchase, among other things. Whether the reconciliation with Israel is set back or entirely scuttled will depend on whether comments like those made on October 25 become the dominant official narrative from Ankara. After October 28 comments in which Erdogan accused Israel of war crimes, Israeli officials re-characterized the withdrawal of diplomatic staff from Ankara earlier in the week as a reassessment of ties rather than a security precaution.
President Erdogan's ultimate goal is to be present and influential in the post-war settlement regarding Gaza and to be a key player in the mediation and reconstruction process. Like some regional observers, he sees Turkey as uniquely positioned to play such a role. Erdogan has learned from experience that protestations of support for Palestinians absent positive working relations with Cairo and Jerusalem yield no traction and is modulating his country's approach carefully as a result. The Turkish president has called for a return to two-state negotiations as the only path to peace for Israel and the Palestinians, and this will remain the centerpiece of Turkish strategy and diplomacy through the conflict. Whether Ankara can maintain enough credibility with Israelis and Palestinians to play such a role moving forward will depend upon whether the October 25 remarks were a rhetorical flourish for domestic consumption or a decision to stop distancing from Hamas.
Colonel (retired) Rich Outzen is a nonresident senior fellow at the Atlantic Council. He served thirty years in the US Army, including tours in Iraq, Afghanistan, Turkey, Israel, and Germany.
Further reading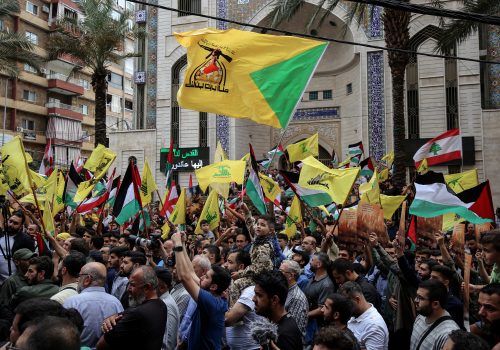 Wed, Oct 11, 2023
MENASource By David Daoud
The genesis of Operation Al-Aqsa Flood appears to originate with Hezbollah, at least in part. The pressing question now is what will Hezbollah do next?
Sat, Oct 14, 2023
MENASource By Shahira Amin
Whether Egyptian President Abdel Fattah el-Sisi will bow under US and Israeli pressure remains to be seen.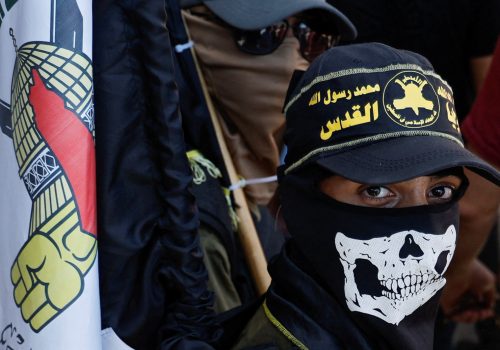 Tue, Oct 10, 2023
MENASource By Jason M. Brodsky
Both Israel and the United States should engage in deep introspection at the policy level over their failure to deter Hamas's brutal attack.