Gaza under siege: A doctor recounts the humanitarian cost of war
"The bombing is so intense I haven't been able to get to the hospital," Dr. Ghassan Abu Sitta messaged me on WhatsApp on October 9. I've known him for nearly a decade, and he is also a board member of my charity. He's a brusque bleeding heart who, like many, floats in and out of the spheres of war and disaster zones and has adopted a dark sense of humor to cope.
When Dr. G, as we call him, finally does get to the hospital, the situation is harrowing. Israel has been relentlessly bombing the Gaza Strip and its two million inhabitants since the militant group Hamas' surprise attack on October 7. Dr. G can't let himself ponder on the gravity of the calamity, and he certainly can't let his mind wander into his own pain. It's a coping mechanism born out of the necessity for self-preservation and, more importantly, to deal with the overwhelming scope of the task at hand.
"Unknown child no. six: Ten or eleven years old. Brought out from the rubble of his family home in Sheik Radwan neighborhood. Half [of his] face missing and a fist-sized defect in his left axilla. Total operative time three hours," Dr. G posted on X, formerly known as Twitter.
I have to Google "axilla"—it's the part of the body where the shoulder and arm connect. I know Dr. G well enough to know that he's defaulting into medical terminology not just because that is what he speaks, but because it creates a wall. He's sticking to the medical side of it, avoiding treading into the emotional space from which there will be no return. He can't risk that now. If he does, he will not be able to breathe, stand, or hold the scalpel.
"That is someone's baby boy," he wrote, closing the X thread.
Dr. G is no stranger to war zones. He's a plastic and reconstructive surgeon who often volunteers when bombs and disasters strike. He's been to Yemen, treated the injured from Syria, went to the scene of the 2020 Beirut port blast, and has traveled to the Gaza Strip numerous times as a volunteer with Médecins Sans Frontières (MSF) at Gaza's Shifa Hospital. He is of Palestinian origin and has a Palestinian identity card, allowing him to get into Gaza on this occasion via the Rafah crossing with Egypt. He did so just before the crossing was bombed and shut down by the Israelis later that same day.
Gaza has been under a blockade for more than fifteen years, but even a siege can be made more suffocating than it was before. This time, there is a complete blockade of food, fuel, medicine, water, and electricity, as Israeli Defense Minister Yoav Gallant laid out on October 9. Israel has always had a policy of collective punishment, according to rights organizations and United Nations experts. Add that to the level of unprecedented violence carried out by Hamas—which has ruled the strip since 2007—with the mass killing and kidnapping of civilians, there is no holding back, and none of Israel's powerful allies are calling for restraint.
The issue is less with Israel's right to respond and more with its response historically being collective punishment. US President Joe Biden's comments on October 11 are viewed by some as the United States giving carte blanche to Israel to go all out. To them, there is a sense that the US is pulling the plug on international human rights, which is contrary to the Biden administration's policy.
This is nothing like Dr. G has ever experienced before.
Shifa Hospital's corridors and grounds are full of families with children sleeping on mattresses or piles of carpets.
"Last night, the bombing did not stop a single minute," Dr. G said, his voice pausing at the enormity of it. "It's only day three, and we have 4,500 wounded in a health system that is already on its knees because of the siege—a health system that has a capacity of 2,200-2,500 beds."
Gaza's civilians live in an open-air prison that is heavily bombed each time Hamas attacks Israel. And, this time, the gloves are off. Israel has already stated that its aim is not precision but rather destruction and is telling Gaza's civilians to leave. This is darkly ironic, of course, because Israel knows that there is nowhere to go, and moving around the Gaza Strip under this level of bombardment is impossible.
Civilians are cramming into the United Nations Relief and Works Agency for Palestine Refugees in the Near East (UNRWA) schools, as if the United Nation's (UN) blue logo can provide a measure of safety. Municipalities cannot clear garbage and sanitation services have shut down. The UNRWA had to close down all fourteen of its food distribution centers; it's just too risky.
"We are not distributing food ourselves, which is very dramatic," Tamara al-Rifai, a UNRWA spokeswoman, tells me. "What is more dramatic is what my colleagues told me this morning, which is that our own food supplies that we are supposed to use in the shelters—where we now have over 175,000 people—are running low. If we don't have more supplies coming in, we are running out of food in a few days."
There is very little drinking water, especially since no more bottles of water or trucks are coming in from Israel. As Tamara points out, everything is connected. With dwindling fuel supplies, they cannot run the desalination systems in schools that have been turned into shelters. There are so many displaced families staying in schools that are not prepared to become shelters, meaning that they lack proper toilets and hygiene kits. Families are trying to take refuge in any building with the two blue letters: UN. This includes health centers, which, in turn, hampers the ability of health workers to provide health services.
No one was ready for this because no one expected this. According to Tamara, the UNRWA can take on 150,000 displaced people, but the numbers are already at 175,000 and increasing by the hour.
"Egypt is being pressed by the UNRWA over the issue of humanitarian access, access of goods, to allow humanitarian personnel in and out, and to pressure the Israelis to protect UN buildings and civilians," Tamara tells me.
Parents try to keep their children calm and distract them, but what can they do when it's not just the bombs that echo through the streets but also the sounds of the chaos between airstrikes? While many of Gaza's residents are not surprised, at the same time, they are horrified by some of the apathy towards their suffering. They are not Hamas. The vast majority of them do not even support Hamas. No one I have spoken to in Gaza celebrated Hamas's recent actions. Many Gazans feel they are viewed as being less than human because, as one man I heard from said, "Our skin is not a different color."
There is no way to evacuate the wounded or get extra supplies. Gaza's power plant is already out of fuel. There is no electricity in Gaza. Fuel to run the generators for hospitals will run out. Fuel to run ambulances will run out. Medical supplies are already dangerously low, from pediatric airway tubes to antiseptics. Dr. G already had to clean the body of a girl that was 70 percent burnt with soap and water because the hospital was out of antiseptic.
The great fear is that Gaza will go totally dark. Not only will fuel run out, but cell phones will die and connectivity will be cut off. Gazans will be killed in large numbers. The extent of it won't be known until it has already happened.
Tamara is already struggling to get through to her UNRWA colleagues in Gaza. Communications are difficult and phone lines are down, all of which hinder the non-governmental organization's operational capability.
In his last post on X, on October 11, Dr. G wrote, "And underneath the mud and gravel and cacked blood, you find the braids and the pink hairband. A beautiful six-year-old girl with horrific facial injuries. Mother dead."

Arwa Damon is a nonresident senior fellow at the Atlantic Council's Rafik Hariri Center for the Middle East and president and founder of the International Network for Aid, Relief, and Assistance (INARA), a nonprofit organization that focuses on building a network of logistical support and medical care to help children who need life-saving or life-altering medical treatment in war-torn nations.
Further reading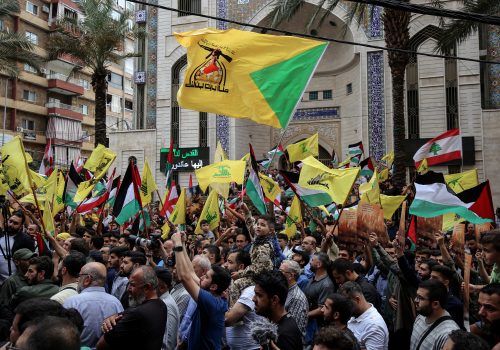 Wed, Oct 11, 2023
MENASource By David Daoud
The genesis of Operation Al-Aqsa Flood appears to originate with Hezbollah, at least in part. The pressing question now is what will Hezbollah do next?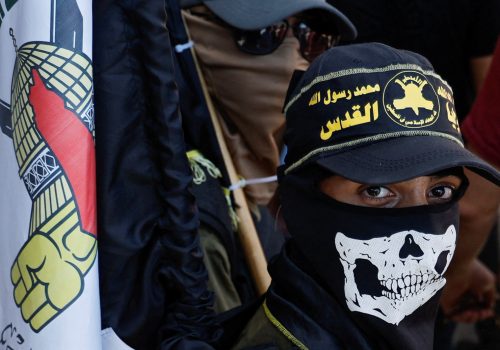 Tue, Oct 10, 2023
MENASource By Jason M. Brodsky
Both Israel and the United States should engage in deep introspection at the policy level over their failure to deter Hamas's brutal attack.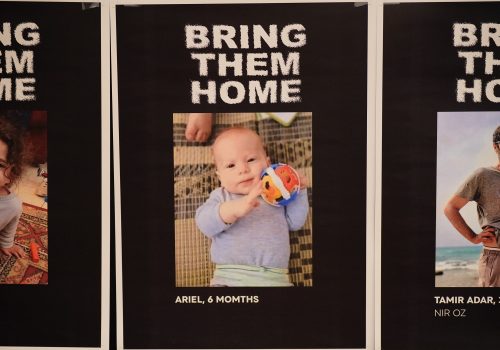 Thu, Oct 12, 2023
New Atlanticist By Jennifer A. Counter
For Hamas and the Palestinian Islamic Jihad, high-profile attacks against Israeli targets help to justify continued support from Iran.