How the international community can help Libya's political deadlock, according to local civil society actors
Libya is in its twelfth year of political turmoil. After almost a decade of civil war, the country currently faces the daunting challenge of selecting a representative government that can unite people from both the East and West of the country. The United Nations (UN)-backed Interim Prime Minister, Abdul Hamid al-Dbeibeh, governs over Tripoli and the West, while General Khalifa Haftar rules Libya's East. Despite the UN's pursuit of a mediated solution, there has been little success. Ultimately, the Libyan people suffer the most from the power vacuum and have yet to exercise their fundamental democratic right of electing their representatives through free and fair elections. What comes next for Libya? Can the international community make a tangible contribution to forming a rights-based democracy in Libya?
The Atlantic Council's North Africa Program is collaborating with Lawyers for Justice in Libya (LFJL) to provide a platform for Libyan civil society. The hope is to amplify the voices of those working to support the Libyan people and to help restore justice for those who have suffered and continue to suffer severe human rights violations.
In this piece, three Libyan civil society representatives give their take on the international community's role in Libya.
'Accountability and redress are the first steps toward some kind of solution'
There can't be an international solution given how the world deals with Libya. The international community is divided and politicized and the priorities of decision-makers shift depending on the circumstances. For example, since the start of the Russian invasion of Ukraine, Libya hasn't been on the world's agenda. Instead, it's been on the back-burner as all energy is focused on Ukraine. In just a year of that conflict, there have been resolutions, sanctions, and even an International Criminal Court (ICC) arrest warrant against a head of state: Vladimir Putin. Meanwhile, the conflict in Libya has lasted for nearly thirteen years and there's no real will to resolve the crisis.
For example, when the ICC issued an arrest warrant for Mahmoud al-Warfali, a former Libyan general indicted on war crimes of murder and ordering the murder of non-combatants, there was a noticeable drop in the rate of abuses. Libyans stopped seeing video clips of mass executions and many militia leaders in the East disappeared. The warrant made Haftar and the groups led by al-Warfali anxious. This shows that an arrest warrant was all that was needed from international actors. It was a simple deed that had a major impact and saved many lives in Libya.
I strongly believe that accountability and redress are the first steps toward some kind of solution; without them, there will be none. The international community should start by prioritizing Libya and working seriously to put an end to human rights violations, strengthening accountability, ending impunity, restoring the ruined judicial system, and setting up a mechanism or an independent court to bring people who have committed atrocities in Libya to justice. This could be the start of a solution. There can be no solution without transitional justice and redress for the victims.
Ali Alaspli, president of Libya Crimes Watch.
A solution must be overseen by the United Nations
Given the state of political deadlock, insecurity, and division in Libya over the past twelve years, it has become almost impossible to reach a solution domestically. This means that the solution must be an international one overseen by the United Nations—not one simply determined by the interests of individual states.
Interference by foreign actors—Egypt, Turkey, the United Arab Emirates, and others—have had a negative impact on the Libyan crisis and directly or indirectly drawn it out. Certain states have stoked the conflict by providing warring parties with weapons, materiel, ammunition, and/or military vehicles. This is in clear violation of UN Security Council Resolution 1973 of 2011 which imposes a complete arms embargo to and from Libya, as well as Article 6 of the Berlin Conference Conclusions of January 2020, in which participants committed "to refraining from interference in the armed conflict or in the internal affairs of Libya" and called on all international actors to do the same. The international community should ensure the arms embargo is upheld.
Putting an end to corruption should also be one of the international community's key priorities regarding Libya right now. Corruption is widespread across most of Libya's institutions and is a major factor in prolonging the conflict. Currently, militias and warring parties are struggling for control over state resources and institutions to seize as much public money as possible. The UN Convention Against Corruption is a key international treaty that should be used to tackle corruption in Libya. The convention aims to promote and facilitate international cooperation in the battle against corruption through information sharing, preventative measures, asset recovery, and fighting money laundering. This convention could be a key deterrent to corruption within and outside Libya if states stepped up their efforts under UN auspices.
Farah Ali*, Lawyers for Justice in Libya partner and human rights advocate.
Civil society must play a genuine role in the process
The international community should put pressure on all sides of the conflict—political and military—to start the process of holding elections and abide by their results. But, firstly, any political agreement among Libyan actors should include clear provisions to ensure civil society has a genuine role. This can be done by giving it a major voice in dialogue aimed at reaching a political solution.
It is clear that there has been a distinct lack of proper communication between the international community and Libyan civil society. Most importantly, it must be noted that the situation of Libyan civil society is deteriorating by the day. It has become increasingly more dangerous for civil society actors to continue their work. Simply working for a civil society organization can result in serious accusations, such as "spreading moral deviance" in society or spying on the Libyan state on behalf of foreign powers. This line of thinking has become widespread on the official level and among the public. Correcting it will require enormous effort.
The international community must guarantee the presence of Libyan civil society actors in political dialogue meetings. This would help give civil society a say in future political agreements. The international community should stipulate that civil society should be strengthened and protected in future agreements and compel the Libyan authorities to respect such agreements. This would, in turn, strengthen civil society and make it more effective.
Finally, the international community must support a mechanism for direct communication between civil society and the Libyan authorities when abuses are committed against civil society actors. This would allow the international community to obtain information about the abuses and seek an end to them.
International support in Libya should not be limited to ad hoc or short-term projects. Instead, they should be strategic and based on long-term, cohesive plans.
Mohamed Salem,* Lawyers for Justice in Libya partner and human rights advocate.
*Name changed to protect identity.
Further reading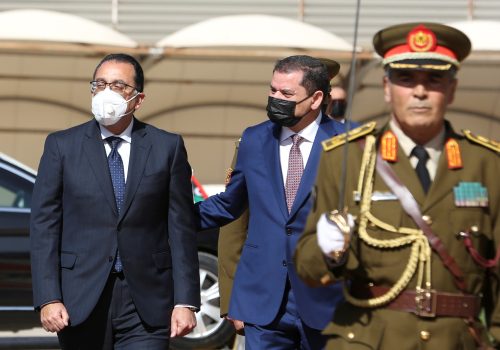 Wed, Feb 1, 2023
MENASource By Alia Brahimi
On January 5, after months of talks brokered in Egypt, Libya's rival legislative bodies finally agreed to begin discussions to develop the constitutional basis for elections.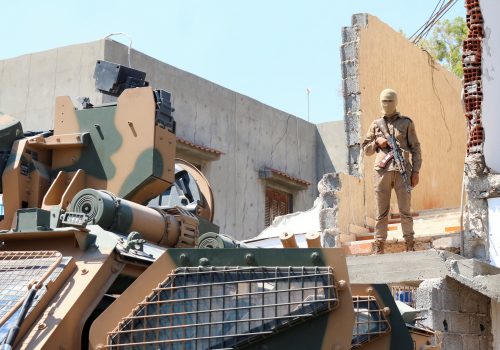 Tue, Nov 15, 2022
MENASource By Emadeddin Badi
After two months into the job, Abdoulaye Bathily may be quickly realizing that Libya's war never abated, and that it is now simply fought by other means in the halls of the United Nations and corridors of foreign capitals.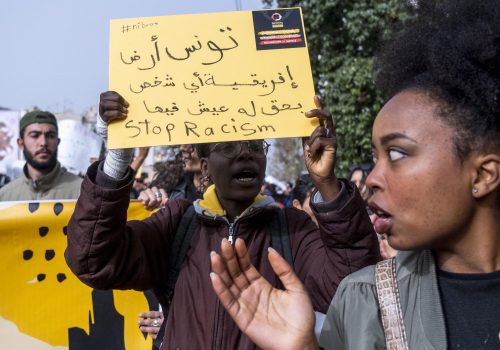 Mon, Mar 6, 2023
MENASource By Sarah Zaaimi
North Africa undoubtedly faces a serious migration problem that will continue to aggravate if not addressed regarding its social, cultural, and historical dimensions and root causes.