Watch the full event
The days of the United States foreign service being staffed by people who mostly are "male, pale, and Yale" are history, two top US diplomats said Wednesday. As the State Department seeks to re-engage with the world, recruiting from diverse communities and retaining that talent for the long term are at the top of the agenda.
"Diversity includes everything, and the purpose is not simply to put another group at the top of the pyramid," said Gina Abercrombie-Winstanley, the State Department's first ever chief diversity and inclusion officer, at an Atlantic Council Front Page event honoring Black trailblazers in foreign policy. "Visible diversity is necessary but insufficient," she added, stressing the need to consider neurodiversity, background, and lived experience in recruitment.
Abercrombie-Winstanley was joined at the Atlantic Council by another trailblazing Black ambassador, Linda Thomas-Greenfield, the US representative to the United Nations (UN). A day after attending what she called an "electrifying" State of the Union address by US President Joe Biden, Thomas-Greenfield laid out her vision for how the foreign service can reach out to minority communities by fostering greater awareness of the possibility of a career in the State Department.
"You try to be what you see," Thomas-Greenfield said. For students at historically Black colleges and universities and at the high school level, she hopes that seeing alumni in the foreign service will inspire them to become diplomats.
Read on for more highlights from the special event honoring Black History Month.
Natural-born diplomats
"I have often argued that we are not inherently better at the job, but that we are prepared. Because as women, as minorities in this country, we have always started in a position of not being in power," Abercrombie-Winstanley told Rama Yade, the senior director of the Atlantic Council's Africa Center (and a trailblazing Black diplomat in her own right in France). "We have to make friends. We have to be able to convince people to support our positions. Those basic qualities, frankly, make for better diplomacy."
Abercrombie-Winstanley noted the importance of having a diverse set of top-level officials to reflect the entire United States. "As people like Ambassador Thomas-Greenfield, the Vice President [Kamala Harris], or Secretary [of Defense Lloyd] Austin walk into rooms around the world, it should be a firm, gratifying reminder that America is a very diverse place."
She also reflected on how her position as Black foreign service officer during a thirty-year career that included a posting as US ambassador to Malta shifted her view of herself. "I feel more American when I am overseas. Here I am an African American; when I am overseas, I am American."
Pushing for diversity in all corners
As the first person to hold her position, Abercrombie-Winstanley faces a particularly daunting challenge of uncovering problems of racial inequality that have never been addressed before. "Many departments don't always ask the questions that will turn up the bad news. We asked the questions, we got the information, and we share it because we want people to hold us accountable."
She noted that while lower and mid-level positions are often more diverse than they have been in the past, it's a different story for senior-level posts. "Our workforce notices the extreme lack of diversity in our senior positions—whether it is parity or diversity—and that the process of getting to these positions is very opaque."
"We are telling our leaders to make sure that you're giving career-enhancing opportunities not just to people who remind you of yourself, but people who don't remind you of yourself, who may bring something different to the table," Abercrombie-Winstanley said.
While she laid out the monetary and moral case for diversity and inclusion initiatives, Abercrombie-Winstanley compared her diversity, equity, inclusion, and accessibility reforms to taking action on cybersecurity: "We may not love it, but we do it. So I don't mind what's in your heart, what's in your head—it's what you do."
"An obligation and duty to respond"
Thomas-Greenfield told CNN anchor and senior political correspondent Abby Phillip that her decision to reenter the field of foreign service after retiring was due to her dismay at the Trump administration's handling of foreign affairs. "As I sat on the sidelines watching our diminishing role and leadership, I felt we all had a responsibility to do whatever we could to help. I felt an obligation and duty to respond to that call."
With a background in African affairs, Thomas-Greenfield keeps the continent at the forefront of her efforts. "I have been on the African continent for thirty years. Africa is a core interest for the United States and its people, and Africa is the last frontier of possibilities."
Even as Chinese diplomatic engagement and economic investments grow on the continent, Thomas-Greenfield expressed confidence that Washington can outcompete Beijing in Africa. "We're not competing with China. I would say the opposite: China is trying to compete with us," she said. "We have a strong African diaspora. There's no way that China can compete with those kinds of engagements that we have. We're offering to our partners in Africa an alternative that focuses on human rights."
That advocacy could include an expanded role for Africa at the UN, which Thomas-Greenfield said is overdue for reform. "We now have 193 countries in the UN system. When the UN was created, there were only two independent African countries. Now we have fifty-plus. So we think the Security Council needs to be fit for purpose; it needs to be more inclusive," she said. "It needs to take into account the changes that we have seen throughout the world. We have to bring this to some kind of end result that leads to a more inclusive United Nations Security Council."
The problem of pigeonholing
Thomas-Greenfield did not always dream of a diplomatic career. "I didn't know the foreign service existed in high school," she said. It was only upon taking her first trip to Africa—to Liberia—when she decided to join the foreign service.
Thomas-Greenfield said working in Africa was a delight, even though such postings were often a sign of discrimination for Black foreign service officers. "I know that our system did historically pigeonhole African Americans to Africa and occasionally to the Caribbean. And so there I was, an Africanist, loving to work on the continent and having to kind of justify that I wanted to stay in Africa and not go anywhere else."
She noted that pigeonholing Black officers is much less of a problem than it used to be. For example, US Ambassador to Qatar Timmy Davis is African American. When asked what advice she would tell her teenage self, Thomas-Greenfield kept it simple: "Dream big. If your dreams are not big enough to scare you, they're not big enough."
---
Nick Fouriezos is a writer with more than a decade of journalism experience around the globe.
Further reading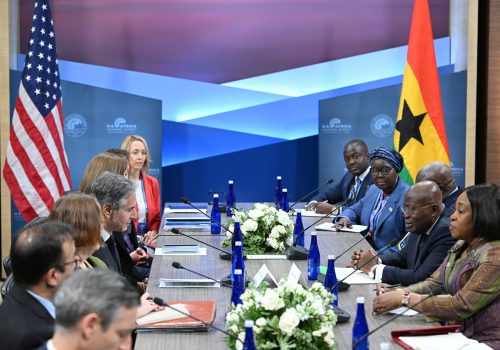 Wed, Jan 18, 2023
AfricaSource By Rama Yade
After an eight-year hiatus, the US-Africa Leaders' Summit returned to Washington last month amid heightened global geopolitical tension and economic uncertainty. Why? Because Africa's voice, economic potential, and geopolitical posture are more critical than ever. And the United States knows it. The United States has traditionally focused on security priorities in its African engagement. This […]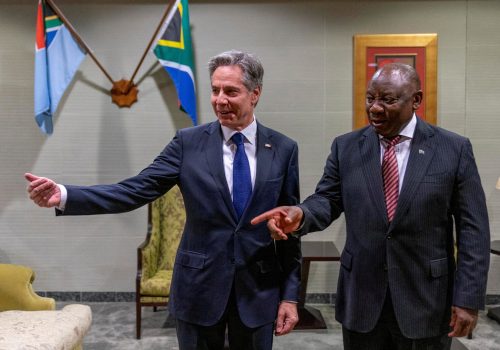 Tue, Aug 30, 2022
AfricaSource By Rama Yade
Africans are looking at the United States' focus on the war in Ukraine and on tensions in the Indo-Pacific, and they're wondering: Will the United States truly consider African countries as strategic partners as China and Russia claim to do?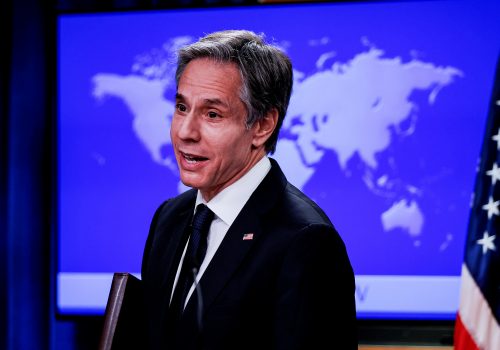 Mon, Jun 21, 2021
New Atlanticist By Daniel Malloy
The US secretary of state spoke at an Atlantic Council Front Page event in honor of Pride Month, setting out the department's priorities on LGBTI issues.