Watch the full event
As World Bank President David Malpass prepares to hand over the reins to his successor, he has one big worry about the global economy: a "reversal in development."
"That means poverty is higher… than five years ago, that education and literacy problems are worse than they were five years ago," he said at an Atlantic Council Front Page event on Tuesday hosted by the GeoEconomics Center. That reversal is unfolding, he explained, because of the COVID-19 pandemic and Russia's full-scale invasion of Ukraine, which together hit the global economy with a "double whammy."
But even if these crises come to an end, development won't necessarily get right back on track, warned Malpass, who will be succeeded in the coming weeks by former Mastercard Chief Executive Officer Ajay Banga. Next week, the boards of governors of the World Bank and International Monetary Fund (IMF) will meet in Washington to discuss reshaping development for a new era as central banks around the world raise interest rates to fight inflation.
"The dislocation is huge," Malpass said, explaining that countries looking to continue their growth strategies from the past decade will now see higher interest rates reflected on their contracts. Thus, instead of looking to return to pre-COVID development economics, Malpass explained, countries should be looking at this moment as "an inflection point into some new [economic] growth model"—and adjusting their strategies accordingly.
"We don't want it to be a lost decade for growth," Malpass said. Preventing one, he added, will require sorting out global debt restructuring and increasing the resources available to the World Bank.
Below are more highlights from the event, moderated by Bloomberg Surveillance co-host Lisa Abramowicz, as Malpass dove into the World Bank's role in the world, its relationship with its contributors, and global financial and monetary challenges.
World Bank, global problems
Malpass pointed out how over the past few decades, as countries face increasing costs, the bank's contributions from shareholders and donors have "been relatively flat." Given that "there were no more donations from the advanced economies," the World Bank instead leveraged its balance sheet to expand funding for programs such as its International Development Association, which works to combat extreme poverty.
The flat donations are, in part, due to countries allocating spending to their own international development programs, Malpass admitted, but he noted that all bilateral aid hasn't grown very much.
There's one big exception to this trend. "China has substantially increased its contribution to the World Bank," he explained. In response to critiques about China's lending practices, Malpass argued that the country is the "world's second-biggest economy, so… there needs to be some component of China's involvement and engagement."
At the same time, Malpass explained, the World Bank is working with Beijing on improving its development practices and avoiding such practices as requiring nondisclosure clauses and asking countries for collateral. "Billions and billions of dollars… are flowing with insufficient transparency," Malpass warned. "That's a high priority as the world interacts with China in a global context."
"What we want China to see is that it is strongly in its interest to see the world growing," Malpass added. "That can be done through a difference in lending practices—also a faster restructuring of debt." Why hasn't that debt restructuring happened yet? Beijing is "looking for a way to have a constructive restructuring dialogue with the world," Malpass explained.
In discussing which countries the World Bank prioritizes for its lending programs, Malpass said the question often involves whether to focus on long-term projects or fast disbursements of money. "There's a lot of pressure on the World Bank to just lend the money to the country, even if they're not doing well" on governance and corruption. "We still operate in those countries, but we tend to do it more with social safety nets" and "direct assistance to the people of the country" so that they can survive food shortages and economic hardship.
Currency: Dollar and digital
Despite today's high inflation, the dollar is still strong, Malpass said, adding that he isn't worried about preserving the dollar's status as the world's reserve currency. "You earn that by dependability and by how fast you can trade the currency," he said. "The US still has dominance in that."
In the meantime, China's renminbi, which is one of a handful of currencies that make up the IMF's Special Drawing Rights reserves, has the potential to grow as a reserve currency, Malpass argued. But "competition is good for a currency," he said, adding that it will push the United States to "really have strong financials… so that the dollar can remain the world's most important currency."
Malpass briefly discussed the risks that cryptocurrencies pose: He noted that, for example, they grant a measure of anonymity, making it easier to lose track of terrorism financing. Central banks will have to "speed up their settlement process," he said, to offer a digital currency option that competes with cryptocurrencies while avoiding those risks.
Crises underway—and on the horizon
Malpass said that the recent string of bank failures starting with Silicon Valley Bank has increased the risk of a recession. As small and regional banks are under increasing stress, he added that the financial system needs to maintain access to the kind of small loans and local community service these banks provide.
With members of the OPEC+ oil cartel, which includes the Persian Gulf countries and Russia, announcing a voluntary cut to oil production on Sunday, Malpass had a grim outlook for global growth. He explained that as oil prices go up, the costs of agricultural inputs and healthy food will rise as well, with devastating impacts on food systems and health.
The World Bank responded to Russia's full-scale invasion of Ukraine by offering direct grants to Kyiv and setting up trust funds that the United States has used to send non-military support to Ukraine. The bank has also conducted damage assessments to help international partners understand the amount of money needed to rebuild the country—and it will continue working on reconstruction with the United States and the European Union, Malpass said.
Katherine Walla is an associate director of editorial at the Atlantic Council.
Watch the full event
Further reading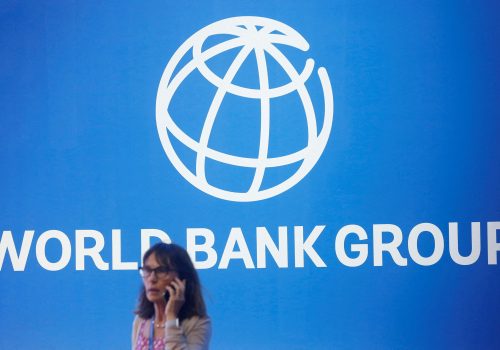 Tue, Apr 4, 2023
New Atlanticist By Nicole Goldin, Mrugank Bhusari
With a new president on the horizon and an appetite for reform in the US and beyond, the World Bank is ready for change. It can start by focusing on these five policy priorities.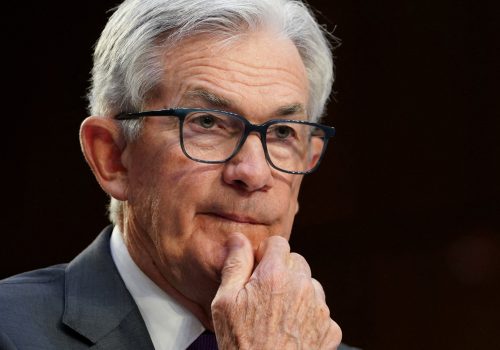 Mon, Mar 20, 2023
New Atlanticist By Hung Tran
It is difficult for central banks to balance controlling inflation with preserving financial stability amid a banking crisis, but that is no excuse not to try.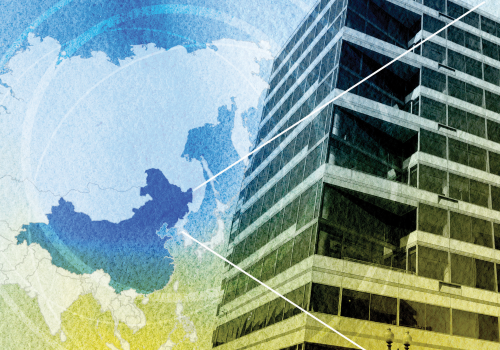 Mon, Oct 17, 2022
Report By Victor Shih
Despite its size, China has an inadequate voice in traditional Bretton Woods Institutions. This paper examines aspects of the dissatisfaction China has with existing global governance institutions such as the World Trade Organization (WTO) and the International Monetary Fund (IMF). It also discusses the proposed changes to these institutions according to discussions with Chinese experts.